WTF does tonight's special message from Robert Mueller tell us? Wonkette tries to answer that question!
January 18, 2019 09:58 PM
HOLY ACHTUNG TWITTER IS FREAKING OUT! Special Counsel Robert Mueller's office (SCO) has issued a statement, almost 24 full hours after Buzzfeed's story on Donald Trump ordering Michael Cohen to lie to Congress about the failed Trump Tower Moscow deal started blowing everybody's minds. Mueller's spokesman says actually BuzzFeed got it a bit wrong. This is significant because 1) Mueller's office NEVER talks, and B) well, they're not actually saying BuzzFeed got it WRONG wrong. Just, you know, kinda wrong.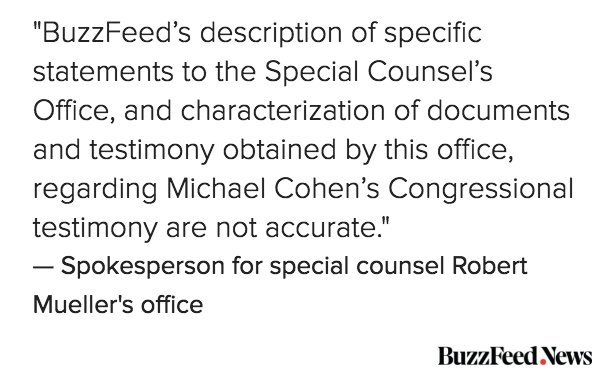 Wow, that statement is lawyered as fuck. BuzzFeed described "specific statements" wrong, and its "characterization of documents and testimony" was just an eensy bit off, and maybe if BuzzFeed moved this sofa over here it would take advantage of more natural light in the room, and honestly, BuzzFeed should trim up this one paragraph of its article, because those sentences DO NOT SPARK MARIE KONDO'S JOY.
Otherwise, it's great!
First of all, we want everybody to relax. Donald Trump is still a criminal.
Keep reading...
Show less