Florida Dem Gov. Candidate Nikki Fried: 'Let's Go Sue Brandon!'
State/Local Politics
April 22, 2022 09:58 AM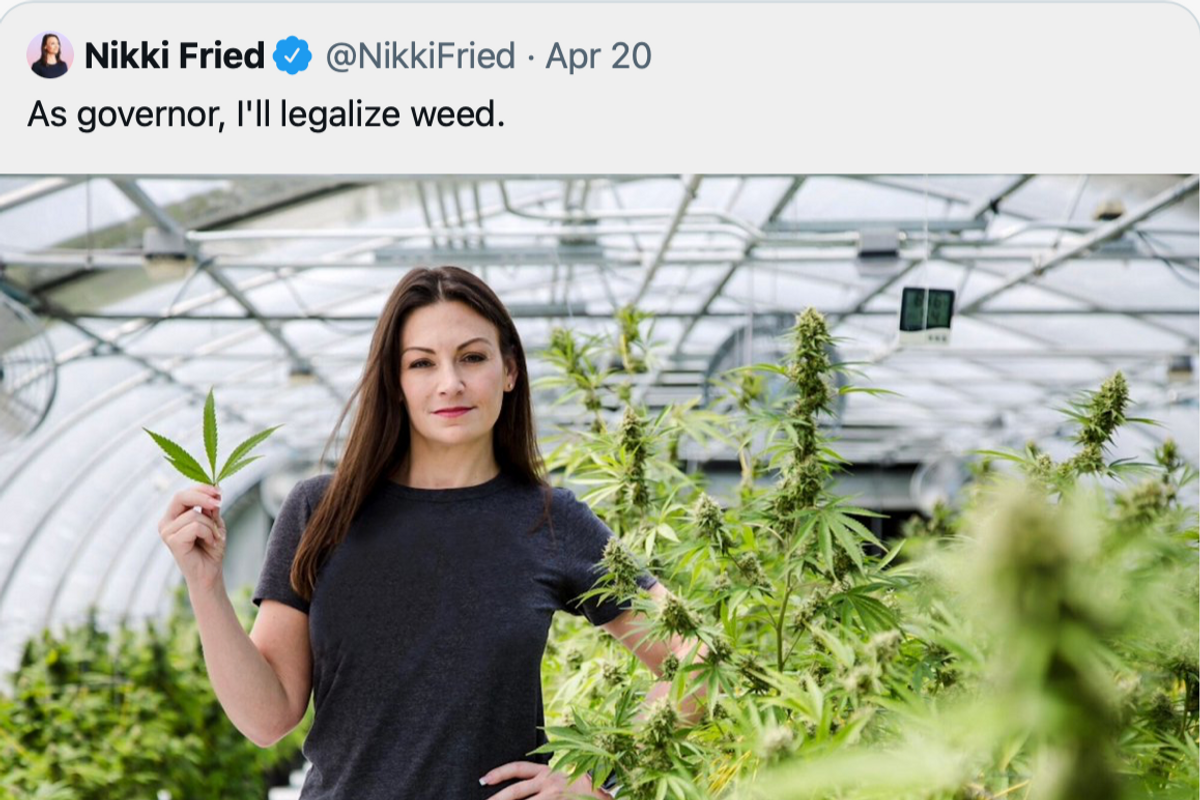 Twitter
Florida Commissioner of Agriculture Nikki Fried, an honest-to-goodness Democrat we swear, is apparently running for governor on a "I, Too, Think Joe Biden Sucks" platform. Tuesday, Fried gave a heartfelt "peace out" to the federal mask mandate that a right-wing hack Florida judge just overturned. (The Department of Justice has since filed an appeal because the Centers for Disease Control and Prevention believe the mandate remains "necessary for the public health.")
PREVIOUSLY: Florida Dem Gov Candidate Nikki Fried So Happy Mask Mandate Is Gone!
Very serious people believe that Fried must dance a carefully coordinated centrist gig if she's to defeat Disney-bullying GOP Gov. Ron DeSantis. It seems the only chance a Democrat has to beat the incumbent governor who barely won his last election is if they are just slightly less terrible.
It's a bold, Kyrsten Sinema-style strategy, and although Fried isn't dressing like an Aaron Neville cosplayer, she's gone one up on Senator Filibuster and sued the Biden administration. Yes, really!
I\u2019m suing the Biden Administration because people\u2019s rights are being limited. Medical marijuana is legal. Guns are legal. \n\nThis is about people\u2019s rights and their freedoms to responsibly have both.https://nbcnews.to/3MmscsB

— Nikki Fried (@Nikki Fried) 1650460125
---
Fried tweeted on, appropriately enough, 4/20: "I'm suing the Biden Administration because people's rights are being limited. Medical marijuana is legal. Guns are legal. This is about people's rights and their freedoms to responsibly have both."
No, she's not high. Fried is suing the president, a member of her own party, because of a federal rule that bars medical marijuana users from buying guns or maintaining concealed-carry permits.
NBC News, which obtained a draft copy of the suit, reports:
The lawsuit targets a federal form that asks whether the gun buyer is an unlawful user of drugs and specifies that marijuana is illegal under federal law. A person allowed by the state to use marijuana must then check "yes," which results in denial of the purchase. Lying by checking "no" runs the risk of a five-year prison sentence for making a false statement.
Fried's office oversees concealed weapons permits and regulates some aspects of medical marijuana. Her suit contends that the federal form violates the Second Amendment rights of law-abiding medical marijuana patients, as well as defying a congressional budget prohibition against federal agents' interfering with state-sanctioned cannabis laws. See, Biden is a lawless president who doesn't respect separation of powers and hates gun owners. That's the message you want to send going into midterms.
If Fried wanted attention, she sure got it. When you search the Internet for "Biden administration sued," her laidback lawsuit tops the list! Awesome.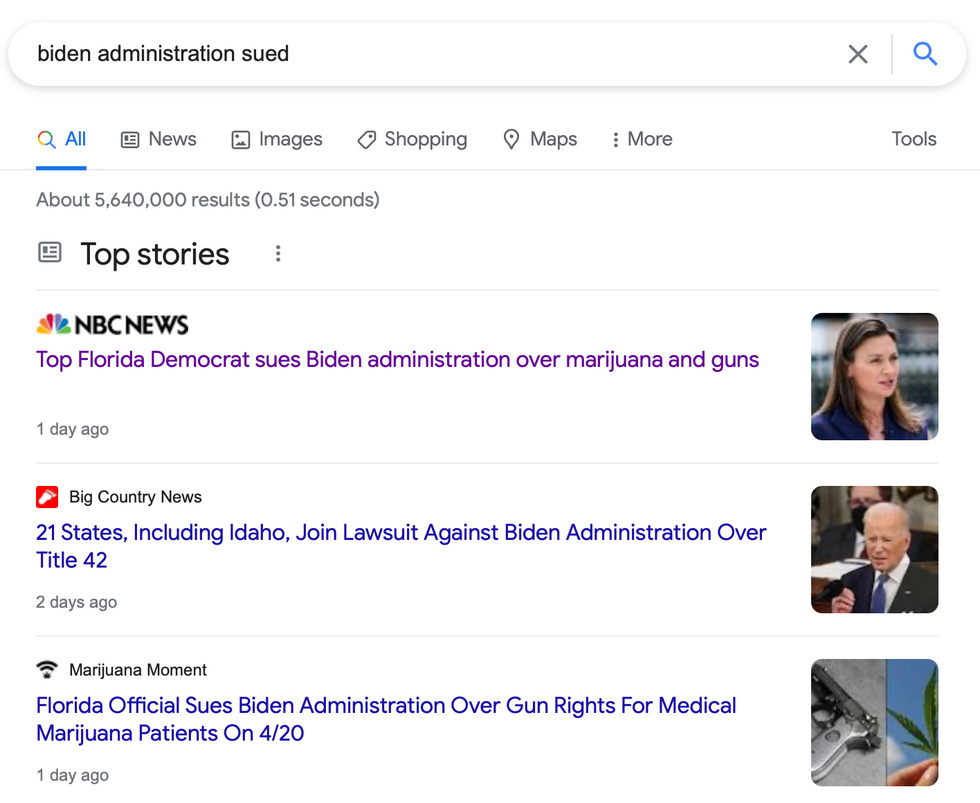 Google
Biden has pretty regressive views on marijuana, but he supports medical marijuana usage and coverage of Fried's suit implies he doesn't. That's not great press for him, especially when his approval rating among young voters has cratered. Democratic House candidate Elijah Manley tweeted his support for the suit: "I read the article, and the lawsuit makes sense. Why are people being denied the right to own and purchase a gun because they consume weed? It's time to end this Jim Crow-era drug policy. Once again, Nikki Fried is right. #420day."
There's no evidence the rule is racially discriminatory, at least not by design like actual Jim Crow-era laws. Biden doesn't need this, either.
I hate guns and am fine with any rule that keeps them out of the hands of even groovy people, but I can appreciate someone disagreeing with the apparent double standard. After all, people who drink regularly aren't prohibited from buying guns — although I wouldn't mind if they were. You want a gun? Live like the Pope, damnit.
Fried told NBC News: "Medical marijuana is legal. Guns are legal. This is all about people's rights. And I don't care who I have to sue to fight for their freedom."
I haven't won a statewide race in Florida, so what do I know, but ... she couldn't just talk to him? Biden's a friendly a guy who loves to talk, particularly to Democrats in a position to remove a major pain in his ass.
Fried announced her suit around the same time that the Miami Herald ran an article about her longtime marijuana advocacy and the potential conflict of interest regarding her fiancee, Jake Bergmann, the founder of a company that's one of Florida's biggest suppliers of medical marijuana. So, there's that.
In slightly related news, House Speaker Nancy Pelosi officially endorsed Rep. Charlie Crist's campaign for governor on Monday.
I'm honored to receive the full support and endorsement of my colleague and friend, @SpeakerPelosi, as we work to build a Florida that truly works for all Floridians!pic.twitter.com/kqHgCsyA1k

— Charlie Crist (@Charlie Crist) 1650287752
She might have the right idea.
[NBC News]

Follow Stephen Robinson on Twitter.
Do your Amazon shopping through this link, because reasons.
Yr Wonkette is 100 percent ad-free and entirely supported by reader donations. That's you! Please click the clickie, if you are able.
Stephen Robinson
Stephen Robinson is a writer and social kibbitzer based in Portland, Oregon. He writes make believe for Cafe Nordo, an immersive theatre space in Seattle. Once, he wrote a novel called "Mahogany Slade," which you should read or at least buy. He's also on the board of the Portland Playhouse theatre. His son describes him as a "play typer guy."