Jesse Watters Was Just Making Hilarious Joke About Deflating Woman's Tires, Why Didn't You Laugh?
fox news
April 27, 2022 09:15 AM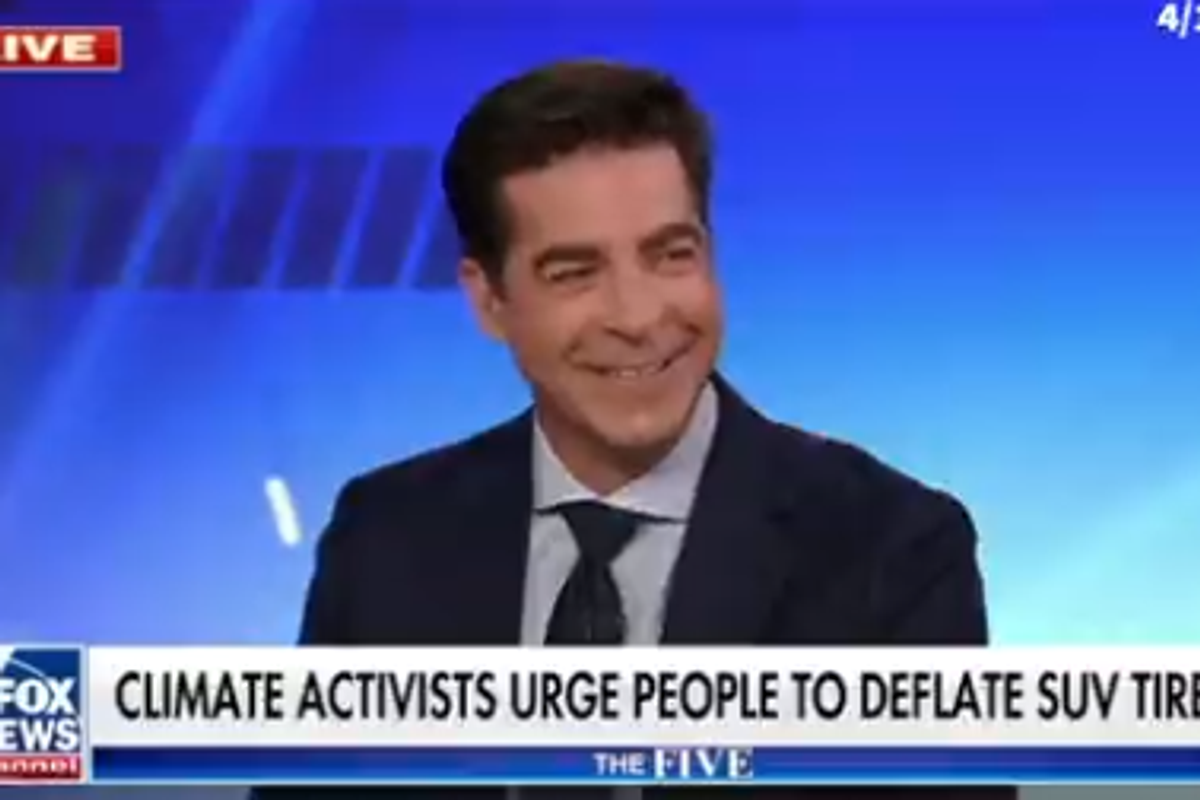 A whole week ago, Wonkette had a story about how Fox News creep Jesse Watters confessed on live TV that one of his moves when he was trying to woo his now-wife, who was married at the time, was when he let the air out of her tires so she'd have to get in his car instead. And now they're married! The Aristocrats!
No really, he just said this stuff out loud on TV.
This was largely unprompted. None of his cohosts had asked, "Hey, what's a time you acted really rapey," or anything like that. It was a conversation about environmentalists deflating SUV tires. And Watters was like OH! OH! OH! I HAVE STORY ABOUT "DEFLATE TIRES!"
By the way, this happened on April 11, and it was days later before anybody reported on it. We guess it was just de rigueur for Fox News? Or maybe everybody was busy calling the cops?
Well now, here at the end of April, Watters is saying actually when he said he let the air out of a woman's tires so she'd have to get in his car instead, it was a joke. Wocka wocka!
Jesse Watters reveals the reason he was off the air for the past week-plus was that he threw his back out.\n\nHe adds that he was just joking 2 weeks ago when he said he flattened his now-wife's tires so she'd go out with him.\n\n"I always end up leaving after I say something!"pic.twitter.com/DQfkpRmpoW

— Justin Baragona (@Justin Baragona) 1650924394
---
Watters now says he was joking and unable to respond earlier to the growing controversy because he'd hurt his back and was indisposed.
Wait what? He was being hilarious but was unable to say so until now because his back was ouchie?
At the end of Monday's episode of "The Five," Watters was asked to explain the mystery around his absence in the aftermath of his jarring statements.

"I threw my back out," he claimed. "Look, there I am!"

His co-host Greg Gutfeld claimed Watters' clarification he was joking on that show two weeks ago was cut from that day's broadcast. His colleagues said they'd been asked by worried viewers if he was on suspension over his remarks.
Wait, he said during that show that he was kidding — again, very good joke! — but they didn't air it, then he threw his back out and now it's weeks later and we're talking about this again? What?
"That was a joke," Watters claimed. "I never deflated anyone's tires."
Knock knock!
Who's there?
Jesse Watters and you have to go in my car right now because I let the air out of your tires!
Jesse Watters and you have to go in my car right now because I let the air out of your tires WHO?
What the fuck.
The New York Daily News notes that on the original broadcast, nobody else on "The Five" seemed like they were playing along with one of young Jesse's well-known hilarious jokes about kidnapping women. Greg Gutfeld said, "You're basically the Zodiac killer!" But he didn't take a well-timed beat and say "... NOT!" afterward to tell us it was a joke. Greg Gutfeld is a skilled comedian. He has the hilarious funny bone chops to say "... NOT!"
Alas.
Hopefully next time Jesse Watters starts making jokes they'll do a laugh track or give Judge Boxwine a horn to honk so everybody can enjoy the jokes together.
Follow Evan Hurst on Twitter right here!

Wonkette is funded ENTIRELY by a few thousand people like you. If you're not already, would you pls consider being the few thousandth and one?
Evan Hurst
Evan Hurst is the managing editor of Wonkette, which means he is the boss of you, unless you are Rebecca, who is boss of him. His dog Lula is judging you right now.
Follow him on Twitter RIGHT HERE.