Breaking: Some Democrats Discover Joe Biden Is Little Bit Old
joe biden
June 13, 2022 09:30 AM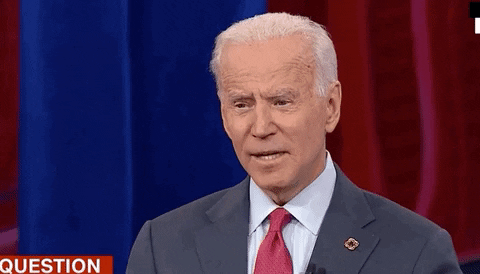 Giphy
The White House is probably not thrilled with this weekend's New York Times article that suggests "many Democratic lawmakers and party officials" have started viewing President Joe Biden as "an anchor that should be cut loose in 2024." Anchor comparisons are rarely flattering.
As the challenges facing the nation mount and fatigued base voters show low enthusiasm, Democrats in union meetings, the back rooms of Capitol Hill and party gatherings from coast to coast are quietly worrying about Mr. Biden's leadership, his age and his capability to take the fight to former President Donald J. Trump a second time.
Yeah, we're still not rid of Donald Trump, who might soon announce his third presidential run (especially if the House January 6 committee recommends the Department of Justice indict him). So it seems like Democrats are nervous, at least those the Times interviewed. Reporters Reid J. Epstein and Jennifer Medina spoke with county leaders, members of Congress, and disappointed Biden voters. They are not optimistic.
---
[T]he repeated failures of his administration to pass big-ticket legislation on signature Democratic issues, as well as his halting efforts to use the bully pulpit of the White House to move public opinion, have left the president with sagging approval ratings and a party that, as much as anything, seems to feel sorry for him.
C'mon, don't feel sorry for the president! People still stand up when he enters a room. That's something.
A major Democrat interviewed on the record was David Axelrod, the chief strategist for Barack Obama's presidential campaigns. Maybe Axelrod is a little rusty, because he seems to think a great strategy for Democratic success is reminding everyone that Biden's very old.
"The presidency is a monstrously taxing job and the stark reality is the president would be closer to 90 than 80 at the end of a second term, and that would be a major issue [ ... ] "

"Biden doesn't get the credit he deserves for steering the country through the worst of the pandemic, passing historic legislation, pulling the NATO alliance together against Russian aggression and restoring decency and decorum to the White House," Mr. Axelrod added. "And part of the reason he doesn't is performative. He looks his age and isn't as agile in front of a camera as he once was, and this has fed a narrative about competence that isn't rooted in reality."
When past Democratic presidents were on the ropes, they were usually offered specific advice for turning things around: Obama should try coming off as less cerebral. Bill Clinton should stop hooking up with interns. However, even if he's open to the idea, Biden can't stop aging.
Biden plans to run again, but Steve Simeonidis, a Democratic National Committee member from Miami, said he "should announce his intent not to seek re-election in '24 right after the midterms." Biden effectively giving up after his party potentially suffers major losses is not inspiring. His advanced age is hardly brand new information.
For instance, retired school teacher Ann Hart, a Democratic Party co-chairwoman in Iowa's Allamakee County, endorsed Mr. Biden prior to the Iowa caucuses. She now says she can't imagine how an almost 80-year-old Biden manages the presidency. We assumed Democratic primary voters could count and understood that if Biden was 77 in early 2020, he might be an octogenarian by the midterms. Biden didn't spring this on us.
According to the Times, few Democrats expect that anyone with White House ambitions would defer to Vice President Kamala Harris if Biden declines to run in 2024. It's suggested that Harris has a "had a series of political hiccups in her own office," and as evidence links to the Times's own "Heir Apparent Or Afterthought? The Frustrations Of Kamala Harris" piece from December. Democrats interviewed suggested other candidates who lost to Biden in 2020, including Amy Klobuchar, Pete Buttigieg, Elizabeth Warren, Cory Booker, Beto O'Rouke, and Bernie Sanders, who is actually older than Biden.
Cristóbal Alex, who was a senior adviser to Biden's campaign, claimed congressional Democrats aren't doing enough to boost Biden.
"I am worried that leaders in the party aren't more aggressively touting the success of the administration," he said. "The narrative needs to shift, and that can only happen with a powerful echo chamber combined with action in Congress on remaining priorities. The American people feel unsettled."
Democratic officials having second thoughts about Biden isn't new. There were reportedly discussions about replacing him on the ticket with Hillary Clinton in 2012, but Obama stood by his wingman. We'll have to see if Democrats in general remain as loyal to Biden.
Follow Stephen Robinson on Twitter.

Do your Amazon shopping through this link, because reasons.
Yr Wonkette is 100 percent ad-free! Please subscribe, donate, and otherwise help keep us alive and kicking!
Stephen Robinson
Stephen Robinson is a writer and social kibbitzer based in Portland, Oregon. He writes make believe for Cafe Nordo, an immersive theatre space in Seattle. Once, he wrote a novel called "Mahogany Slade," which you should read or at least buy. He's also on the board of the Portland Playhouse theatre. His son describes him as a "play typer guy."