Republican Braingeniuses Won't Certify New Mexico Primary Results Because Screw You Is Why!
Right Wing Extremism
June 15, 2022 01:06 PM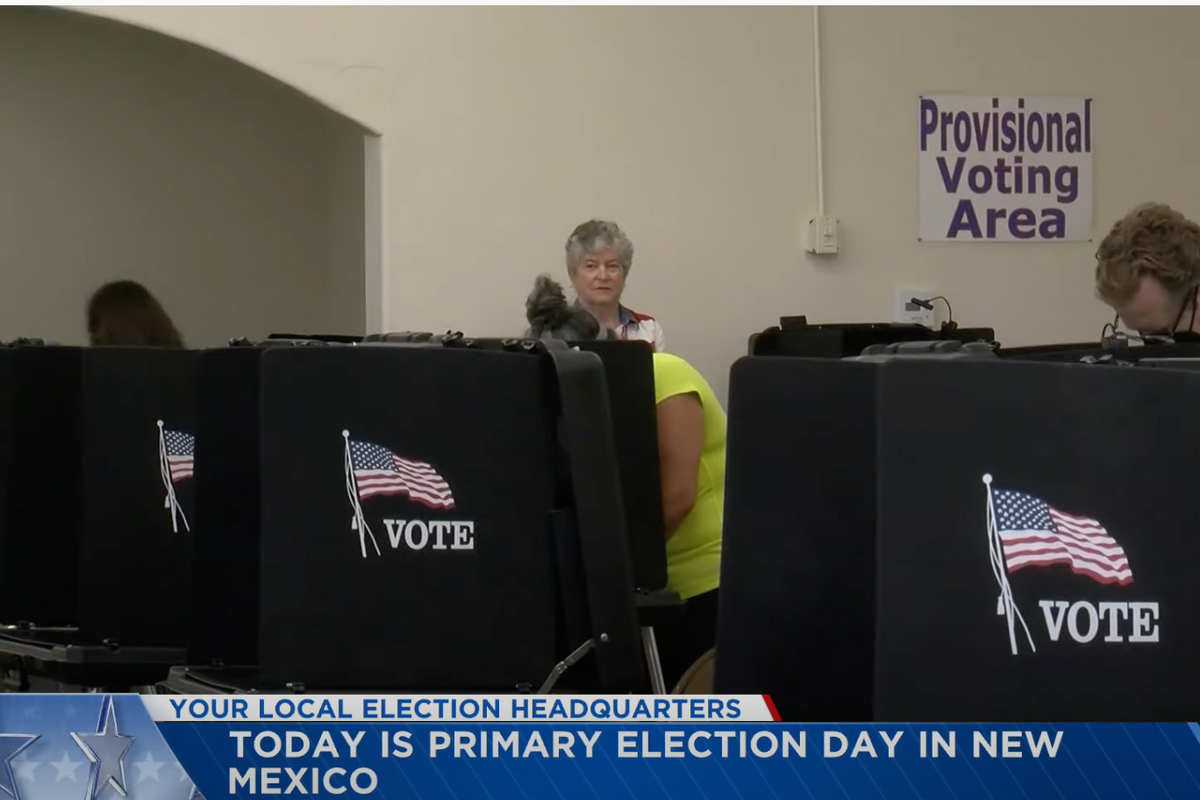 A rogue band of Republicans voted unanimously Monday against certifying election results from New Mexico's June 7 primary. The three-member Otero County commission, defying County Clerk Robyn Holmes, provided no specific evidence of discrepancies. Instead, the GOP commissioners offered repeatedly debunked Big Lie conspiracies about Dominion voting machines.
"I have huge concerns with these voting machines," Otero County Commissioner Vickie Marquardt said Monday. "When I certify stuff that I don't know is right, I feel like I'm being dishonest because in my heart I don't know if it is right."
We've all seen the Terminator and Matrix movies. We have reason to distrust machines, but there is no compelling evidence that Dominion voting machines are generating corrupted elections results or want to kill us all.
PREVIOUSLY:
Dominion Voting Systems To Rudy Giuliani: F*ck Around And Find Out.
Dominion Voting Releases The Kraken On Sidney Powell
Smartmatic Voting Machine Company Sues OANN And Newsmax For PAY UP BITCHES
---
New Mexico's Dominion machines have been disparaged repeatedly by David and Erin Clements of Las Cruces in their review of the 2020 election in Otero County and voter registration rolls at the request of the commission. The Clements are traveling advocates for "forensic" reviews of the 2020 election and offer their services as election experts and auditors to local governments. Election officials including County Clerk Robyn Holmes say the Clements are not certified auditors nor experts in election protocols.
A notable member of the Otero County commission is Cowboys for Trump co-founder and Big Lie promoter Couy Griffin. Griffin was recently convicted of illegally entering US Capitol grounds — although not the building itself — on January 6, 2021. He is scheduled for sentencing later this month.
Griffin acknowledged that the commission's nonsense could delay the outcome of local election races, which would potentially deny candidates access to the general election ballot in November.
Democratic Secretary of State Maggie Toulouse Oliver has asked the state Supreme Court to order the scofflaw board to do its job. County canvassing boards have until Friday to certify election results. The canvassing boards can request that voting precinct boards address specific discrepancies, but "voting machines are the devil" is not an issue rooted in reality.
Toulouse Oliver said in a statement: "The post-election canvassing process is a key component of how we maintain our high levels of election integrity in New Mexico and the Otero County Commission is flaunting that process by appeasing unfounded conspiracy theories and potentially nullifying the votes of every Otero County voter who participated in the primary."
She also accuse the commission members of willfully violating the state election code, which is probably a crime, we guess.
Last week, the Otero County commission voted to recount ballots from the statewide primary election by hand, remove state-mandated ballot drop boxes because absentee voting is also the devil, and summarily end the use of Dominion voting machines in the general election. Holmes is a Republican, but she nonetheless pointed out that the commission's directives conflict with both state and federal law. She said she'd only perform a hand recount under a court order: "The election law does not allow me to hand tally these ballots or to even form a board to do it. I just can't. And I'm going to follow the law."
Holmes noted that the state-owned vote tabulation machines from Dominion are tested by Otero County officials in public view and that the machines also are independently certified in advance. Griffin said he and fellow commissioners don't see the process as trustworthy.

"That's a source that we don't have any control or influence over," he said.
There's absolutely zero reason for us to care what a convicted insurrectionist has to say about anything. Why is Griffin even still on the board? He wasn't busted for unpaid parking tickets.
Although Joe Biden won New Mexico, Donald Trump carried Otero County with 61 percent of the vote. The commission seemingly trusts the county results but has less faith in the state's audited vote count. County Commissioner Marquardt literally laughed at the possibility of the state Supreme Court intervening in this dispute: "And so then what? They're going to send us to the pokey?"
She said "pokey." I don't think the election deniers are afraid of us.
Follow Stephen Robinson on Twitter.
Do your Amazon shopping through this link, because reasons.
Yr Wonkette is 100 percent ad-free! Please subscribe, donate, and otherwise help keep us alive and kicking!
Stephen Robinson
Stephen Robinson is a writer and social kibbitzer based in Portland, Oregon. He writes make believe for Cafe Nordo, an immersive theatre space in Seattle. Once, he wrote a novel called "Mahogany Slade," which you should read or at least buy. He's also on the board of the Portland Playhouse theatre. His son describes him as a "play typer guy."