Rep. Barry Loudermilk Did Not Have Sexual Relations With That ... Did Not Lead Recon Tour Through Capitol!
January 6
June 15, 2022 03:45 PM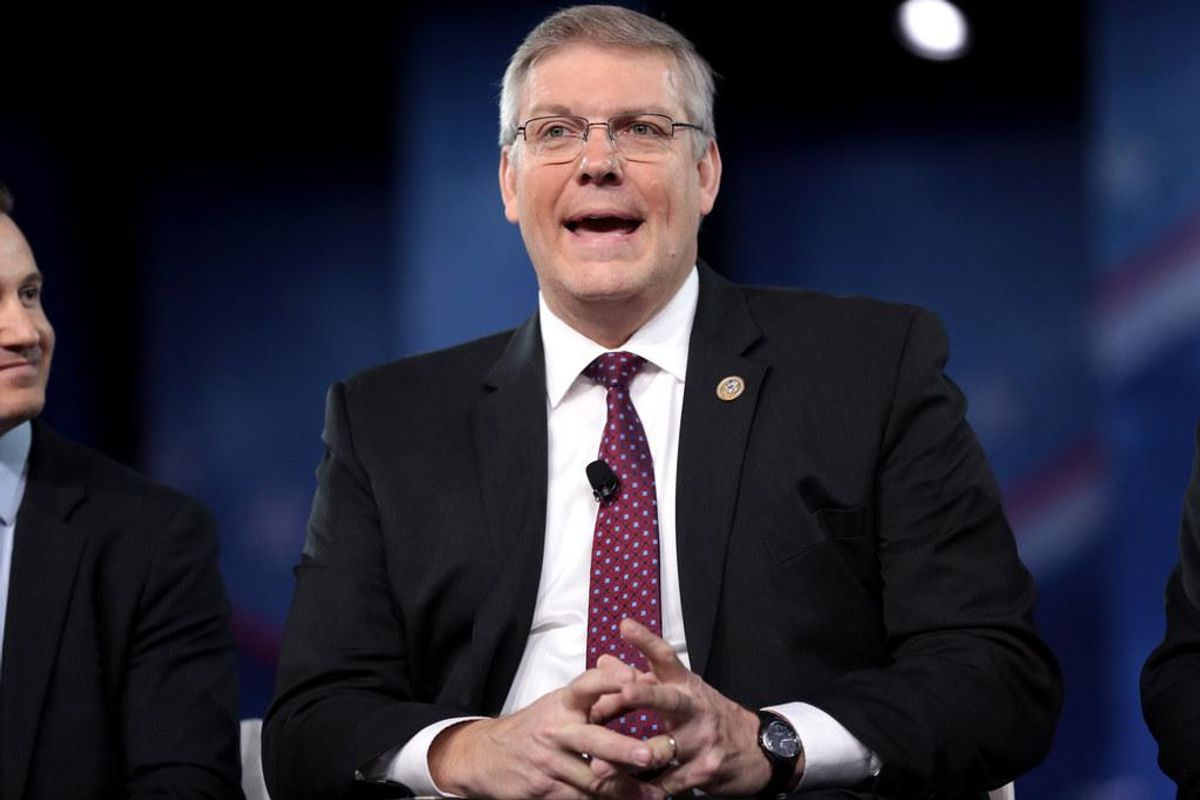 www.flickr.com
The thing about shouting "We call on Capitol Police to release the tapes" is that you better be pretty goddamn sure there are no tapes. This is a lesson Rep. Barry Loudermilk (R-Pants on Fire) is learning the hard way.
The Georgia congressman just walked dick-first into the hard wall of the House January 6 Select Committee, daring them to release security footage of the tour he gave to a large group of civilians on January 5, when the Capitol complex was supposed to be locked down. If he thought Rep. Liz Cheney was going to do him a solid and pull a Rose Mary Woods for old times' sake, he was sorely mistaken.
"While we had hoped to show you the video evidence when you met with us, and since you have thus far declined, the Select Committee provides the video in question for your review, which is available at this link," Chair Bennie Thompson wrote.
---
\u201cSurveillance footage shows a tour led by Loudermilk to areas in the House Office Buildings, as well as the entrances to Capitol tunnels.\n\nIndividuals on the tour photographed/recorded areas not typically of interest to tourists: hallways, staircases and security checkpoints.\u201d

— January 6th Committee (@January 6th Committee) 1655302216
In a letter reiterating his May request to sit down with Rep. Loudermilk, Rep. Thompson noted that the "group stayed for several hours, despite the complex being closed to the public on that day."
"Surveillance footage shows a tour of approximately ten individuals led by you to areas in the Rayburn, Longworth, and Cannon House Office Buildings, as well as the entrances to tunnels leading to the U.S. Capitol," Thompson continued, adding these are "areas of the complex not typically of interest to tourists, including hallways, staircases, and security checkpoints."
Still images show Loudermilk's guests photographing "a staircase in the basement of the Longworth House Office Building" and "the tunnel leading from the Rayburn House Office Building to the Capitol."
The video footage is even more alarming, with one of the individuals on the tour filming a friend marching from the Ellipse toward the Capitol on January 6, brandishing a sharpened flagpole and promising that it was "for a certain person."
We are basically at the Capitol. We are probably close to two million true American patriots. They are swarming and converging, mainly from Constitution Avenue, but from all routes in. There's no escape, Pelosi. Schumer. Nadler. We're coming for you. We're coming in like white on rice for Pelosi, Nadler, Schumer even you, AOC. We're coming to take you out and pull you out by your hairs. How 'bout that, Pelosi? Might as well make yourself another appointment. When I get done with you, you're going to need a shine on top of that bald head.
Which should put to bed any bullshit protestations that these people were there for any purpose other than to commit serious violence.
In response Loudermilk pointed to a letter from the US Capitol Police to Committee on House Administration Ranking Member Rodney Davis attesting that no one from the tour group entered the tunnels to the Capitol building itself on January 5. But they do concede that Loudermilk abandoned the "tourists" after about five minutes, leaving the group, which later swelled to 15 people, to wander unchaperoned for two hours. One of them took pictures of Rep. Jerry Nadler's office, the day before heading back and filming his friend making explicit threats to the New York Democrat.
Loudermilk insists that he's been totally exonerated by the Capitol Police's letter, irrespective of the fact that the people he let loose to case the joint returned later planning to murder his fellow members of Congress. He's even sticking by the ethics complaint he filed against Democratic Rep. Mikie Sherrill for daring to demand that members of Congress who gave tours to the rioters should be investigated.
"The truth will always prevail. As I've said since the Jan. 6 Committee made their baseless accusation about me to the media, I never gave a tour of the Capitol on Jan 5, 2021, and a small group visiting their congressman is in no way a suspicious activity. Now the Capitol Police have confirmed this fact," he tweeted, taking advantage of a layman's unfamiliarity with the Capitol complex to pretend that he hadn't just loosed these maniacs inside the building to film underground access points to the chambers before their planned return a few hours later.
His story has, shall we say, evolved.
Here, let Rachel Maddow break it down for you.
Barry Loudermilk's Lies About Leading Tours Get Taken Apart By Rachel Maddowwww.youtube.com
Liz Cheney is going to shiv as many of her Republican colleagues as she can on the way out of Dodge, and we are here for it! See you tomorrow morning as we liveblog the third day of the January 6 Select Committee hearings.
Be there, will be wild. But not in a threat to democracy way!
[Select Committee Press Release]

Follow Liz Dye on Twitter!
Click the widget to keep your Wonkette ad-free and feisty. And if you're ordering from Amazon, use this link, because reasons.
Liz Dye
Liz Dye lives in Baltimore with her wonderful husband and a houseful of teenagers. When she isn't being mad about a thing on the internet, she's hiding in plain sight in the carpool line. She's the one wearing yoga pants glaring at her phone.