Fly The Sort-Of Friendly Skies This Summer ... Or Don't. Who Knows What Might Happen?
News
June 21, 2022 04:21 PM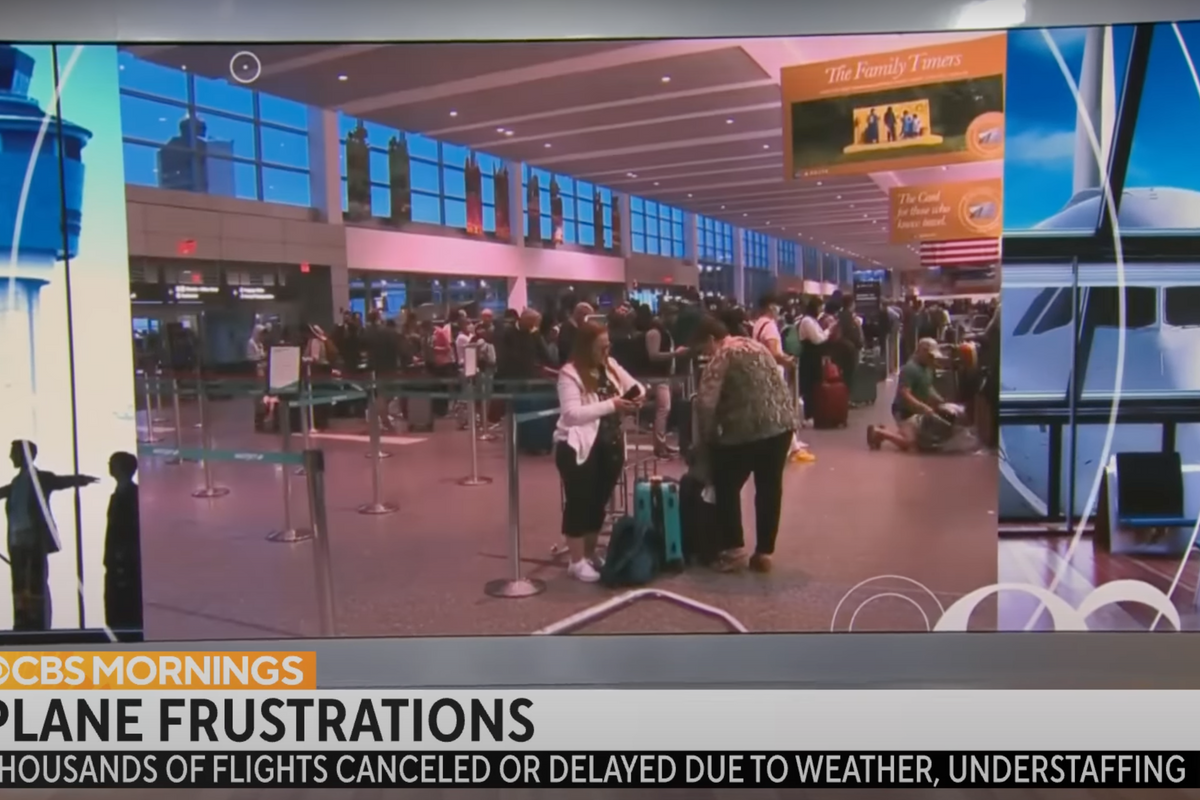 The Transportation Security Administration just reported that its wonderfully pleasant employees screened more than 2.4 million people at US airports Friday. This is the most people who experienced Post-9/11 Security Theatre since Thanksgiving. Americans are ready to travel again ... if only the airlines will let them.

Travelers were once again stranded and generally fucked over last weekend when almost 5,000 flights were canceled and more than 27,000 were delayed since Thursday. But the airlines promised they were going to do better with a "renewed focus on reliability." So far, all that's proven reliable about the airline industry is how much it sucks.
The first signs of trouble arrived Thursday, when nearly 1,700 flights within, into or out of the United States were canceled and more than 7,700 were delayed, according to the flight-tracking website FlightAware. The average length of delays was 83 minutes.
About a third or more of flights on Southwest Airlines, Delta Air Lines, and American Airlines flights were delayed. Almost 50 percent of flights on JetBlue Airways' flights were delayed, which represents a full 100 percent of my experience with JetBlue.
Weather, a reliable scapegoat, was blamed for some of the issues, but the featured performers in this shit show, according to Delta, were "challenges with air traffic control" and "unscheduled absences in some work groups." The airlines have had trouble staffing due to COVID-19's continued existence and the completely predictable result of abandoning mask mandates.
---
PREVIOUSLY: Prepare To Fly The COVID-Friendly Skies!
Regardless of who's to blame, the reality is that you can't trust airlines for shit. Don't think you can fly to your cousin's wedding the day before and actually make it in time for the ceremony. If your grandmother's in shaky health, just go ahead and book the flight home now if you want to attend the funeral.
This poor lady tried to fly from New York to Florida so her son could compete in the International Geography Bee. JetBlue cancelled their flight, which is pretty much their business model.
\u201cDear @JetBlue my flight to Florida got cancelled. My son who is the National Geo bee champion has his competition starting tomorrow. He stood second in his regional. After the hard work a kid loses his chance to compete just because of your flight cancellation.\u201d

— Poli Gupta (@Poli Gupta) 1655393391
She rebooked on three different carriers, but those flights were also cancelled. Her son would never successfully identify which continent includes the Jutland and Iberian Peninsulas now.
You might recall that the American taxpayer (so, not Donald Trump) gave the airlines billions in COVID-19 relief. The airlines shared the love with their shareholders instead of perhaps preparing for that unforeseen moment when people might "travel" again.
Over Memorial Day weekend, more than 2,900 flights were canceled and roughly 26 percent of flights were delayed. The staffing and logistics shortfalls make it hard for airlines to cope when there are legitimate weather issues.
Transportation Secretary Pete Buttigieg had a come-to-Jesus meeting with airline leaders last week. He strongly urged the airlines to "stress-test" their summer schedules, which is corporate consultant speak for evaluating their internal processes to determine if they can actually operate all their planned flights with the staff they have. (It is also the part of "Bar Rescue" when John Taffer throws out all their cocktails and then asks why they haven't served any yet.) Buttigieg also recommended adding more customer-service workers. The airlines could just pout and proactively reduce their summer schedules. However, that's probably better than spending your entire vacation at Chicago's O'Hare Airport.
Buttigieg said his department could take enforcement actions against airlines that fail to live up to consumer-protection standards. But first, he said, he wants to see whether there are major flight disruptions over the July Fourth holiday weekend and the rest of the summer.
Fourth of July travel is expected to reach a pre-pandemic high so a "wait-and-see approach" is probably not ideal. We've already been waiting for days inside airport terminals.
Airline executives walked Buttigieg through steps they were reportedly taking to avoid a repeat of the Memorial Day weekend catastrophe. "Now we're going to see how those steps measure up," he said.
Obviously, they haven't gone that well. Hilariously, Buttigieg's own flight was cancelled the next day and he wound up driving from Washington DC to New York. His one-hour shuttle trip became a four-hour drive, which in my experience probably took five years off his life.
BUTTIGIEG: That is happening to a lot of people, and that is exactly why we are paying close attention here to what can be done and how to make sure that the airlines are delivering.
The airlines are currently delivering more customers to rental car companies and gas stations. Despite historically high gas prices, car travel is expected to set a new record this summer. You know the airline industry has failed when National Lampoon's Vacation starts looking better every day.
Yes, yes, this is your OPEN THREAD!
Follow Stephen Robinson on Twitter.
Do your Amazon shopping through this link, because reasons.
Yr Wonkette is 100 percent ad-free! Please subscribe, donate, and otherwise help keep us alive and kicking!
Stephen Robinson
Stephen Robinson is a writer and social kibbitzer based in Portland, Oregon. He writes make believe for Cafe Nordo, an immersive theatre space in Seattle. Once, he wrote a novel called "Mahogany Slade," which you should read or at least buy. He's also on the board of the Portland Playhouse theatre. His son describes him as a "play typer guy."