Dr. Oz Keeps Forgetting He's Not Running Against His Old Buddy Bernie Sanders
State/Local Politics
July 20, 2022 12:40 PM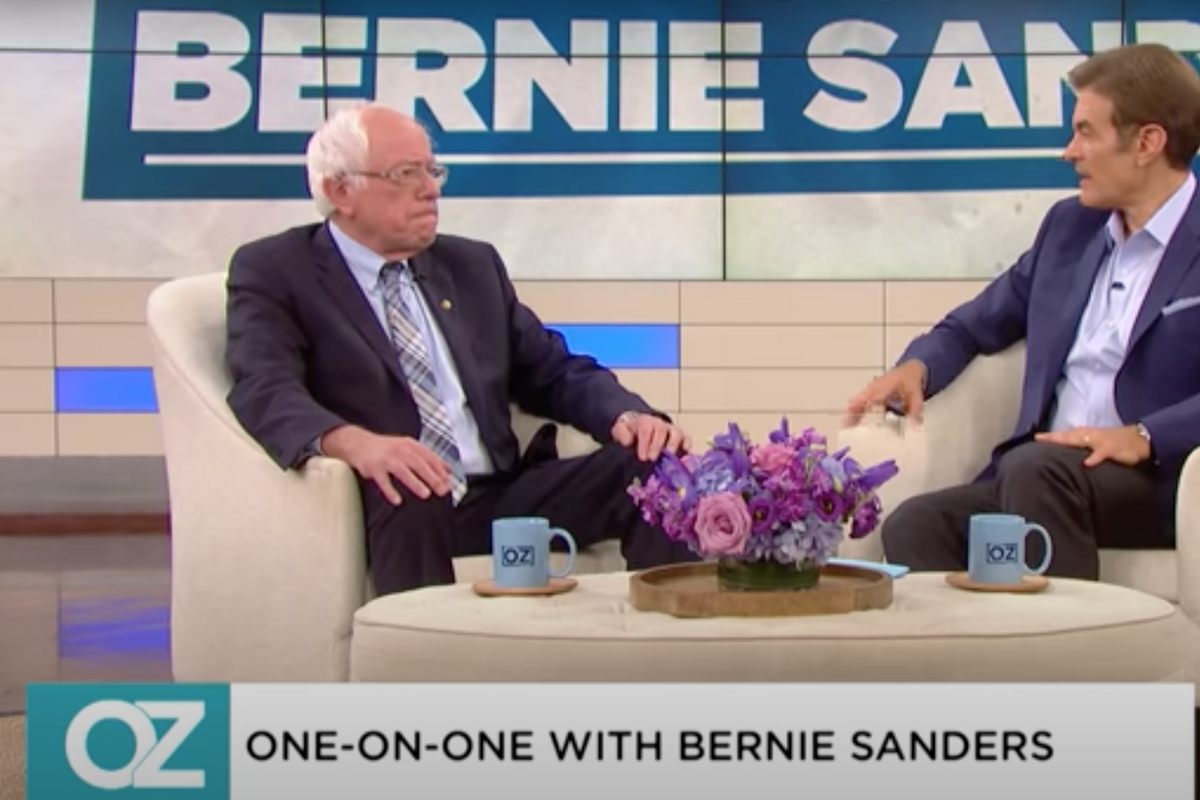 It's become increasingly obvious lately that TV's Dr. Oz is terrible at politics. Pennsylvania's Republican Senate nominee is currently polling far behind Pennsylvania Lt. Gov. John Fetterman, and Oz's apparent comeback strategy is to paint Fetterman as some radical socialist. He's even given Fetterman the nickname "Bernie Sanders 2.0," which might've been clever 25 years ago.
Friday, Oz tweeted this "fact": "John Fetterman will befriend Bernie Sanders in the Senate. He will follow Bernie's lead and be his sidekick. PA and America cannot afford to have another 'Bernie' in the Senate."
Oh no! Fetterman will "befriend" Sanders, maybe even have heart-healthy lunches with him in the Senate cafeteria. He'll serve as the Sundance to Sanders's Butch Cassidy. This is a great pitch for a buddy comedy but it's not the most convincing scare tactic. Tuesday, however, Oz made the minimal effort to link Fetterman to a specific and presumably toxic policy position Sanders holds. Let's see what he's got:
\u201cBernie Sanders and John Fetterman:\nEven they can't tell themselves apart\u2026\u201d

— Dr. Mehmet Oz (@Dr. Mehmet Oz) 1658275380
---
Oooh-kay.
So, the geniuses behind Oz's social media account employed the cutting-edge Spider-Man impersonator meme to hammer the point that Fetterman is a Sanders clone because he supports ending the legislative filibuster. This is one of Bernie's far-left, barefoot hippie positions that's only endorsed by literally every other Democrat except Joe Manchin and Kyrsten Sinema, who both suck.
PREVIOUSLY:
Filibuster? Joe Manchin Doesn't Even Know Her.
Kyrsten Sinema Loves Her Filibuster Better Than You
The average Pennsylvania voter probably doesn't give a fuck about the fucking filibuster. There were no mass protests in 2017 when outgoing Sen. Patrick Toomey helped nuke the filibuster for Supreme Court nominees. But Oz is stuck with Fetterrman's public support for radical democracy, because while Fetterman hasn't outright opposed such marquee Sanders issues as Medicare for All or a $15 minimum wage, he's not actively running on them.
During the Democratic primary, Conor Lamb tried to paint Fetterman as a far-left radical. It didn't stick, but Republicans don't seem interested in different tactics. The National Republican Senatorial Committee's first attack ad against Fetterman claimed the Democrat "sided with socialists, backed a government takeover of health care" and "embraced parts of the Green New Deal that'd cost you 50,000 bucks a year."
The 30-second ad by the National Republican Senatorial Committee's independent expenditure also portrays a group of young people approaching a white van emblazoned with a Fetterman logo and pro-Sanders stickers.

"Left-wing radicals are rolling into Pennsylvania, pushing John Fetterman," the narrator said, as the people take protest signs out of the van reading "End Fracking No More Oil," "AOC is my Queen" and "Republican = Bigot."
The irony here is that Democrats tried (and failed) to anchor Glenn Youngkin to Donald Trump during the Virginia governor's race. It's obviously not sufficient to show that someone's possibly extremist-adjacent. You need to convince voters to reject the actual candidate on the ballot.
The Sanders fixation is odd. He's not technically a Democratic leader like (in theory) Chuck Schumer. It would make far more sense to tie Fetterman to Joe Biden, the incumbent president with about 40 percent approval in Pennsylvania. Fetterman currently enjoys support from voters who don't like the job Biden's doing. Oz needs to shift the negative "Let's Go, Brandon" energy to Fetterman.
Oz also hosted the radical socialist Sanders on his TV show in 2019! (That's probably when Sanders lost my vote.)
\u201c"Barbaric": Sen. @BernieSanders joins me today to discuss a range of topics, including Americans going bankrupt over medical bills.\u201d

— Dr. Mehmet Oz (@Dr. Mehmet Oz) 1568041327
You'll notice that during the interview Oz didn't point and shout, "Oooh, socialist!" He nodded soberly as Sanders discussed Americans going bankrupt over medical bills. It's like every move Oz makes just reinforces Fetterman's point that he's an opportunistic Hollywood phony. At this point, the best thing the Oz campaign could do is stop campaigning.
Follow Stephen Robinson on Twitter.
Yr Wonkette is 100 percent ad-free! Please subscribe, donate, and otherwise help keep us alive and kicking!
Stephen Robinson
Stephen Robinson is a writer and social kibbitzer based in Portland, Oregon. He writes make believe for Cafe Nordo, an immersive theatre space in Seattle. Once, he wrote a novel called "Mahogany Slade," which you should read or at least buy. He's also on the board of the Portland Playhouse theatre. His son describes him as a "play typer guy."