Will 'Tiny,' 'Pretty Weird' New Hampshire Re-elect Dem Sen. Maggie Hassan?
State/Local Politics
July 25, 2022 09:00 AM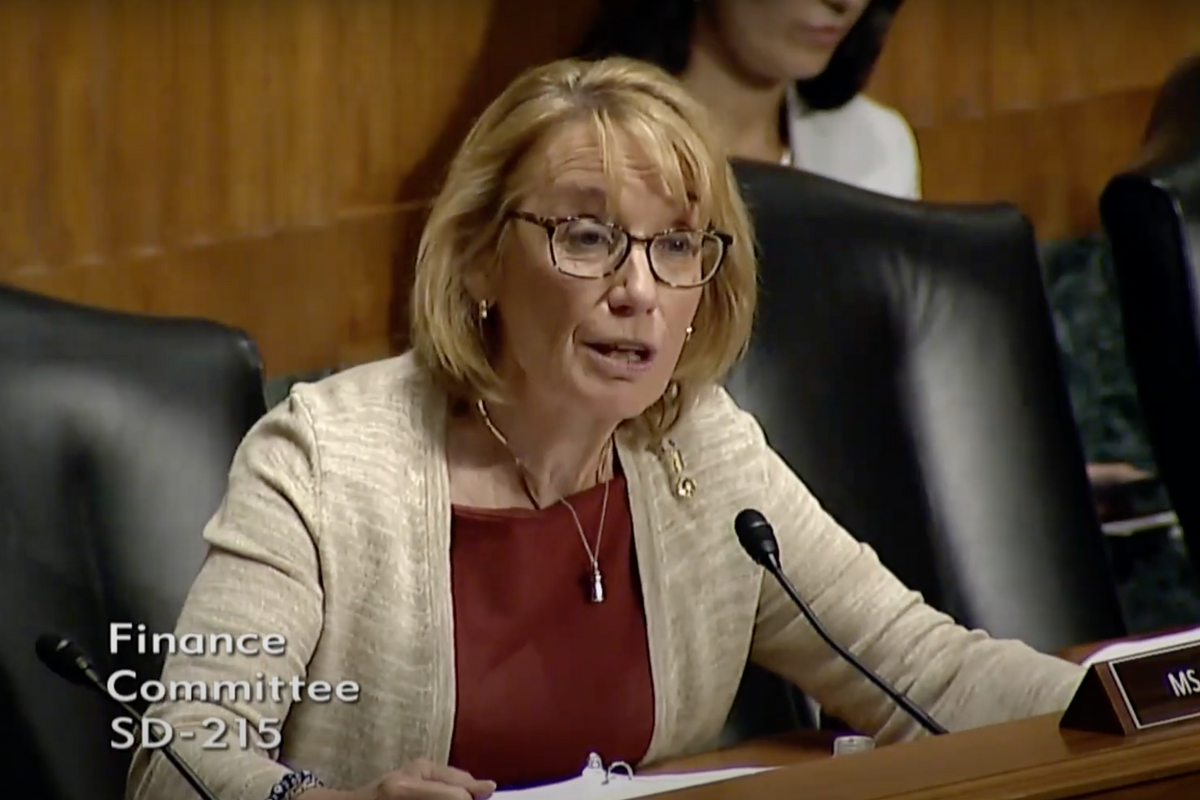 Senate Democrats have no room for error in November's midterms. They need to hold every seat up for re-election and flip at least two more, because Joe Manchin and Kyrsten Sinema are useless. Joe Biden won New Hampshire by seven points, but polls have shown a tight race for incumbent Maggie Hassan, who unseated Republican Kelly Ayotte by just 1,017 votes in 2016.
The statistical whizzes at FiveThirtyEight currently favor Hassan to win, but Nate Silver adds that "the GOP shouldn't write the race off. Hassan's lead is small in most of these polls, and it's still early, with the primary not scheduled until Sept. 13."
PREVIOUSLY: GOP NH Gov. Chris Sununu Not Interested In Going To Senate To Do Nothing For Two Years
Some good news for Hassan is that Republican Gov. Chris Sununu declined a Senate run. He'll continue posing as a pro-choice moderate while signing abortion bounty bills. Sununu was re-elected in 2020 by 32 points on the same ballot as Democratic Sen. Jeanne Shaheen, who won by 16 points. However, it's not so much that Sununu is an electoral powerhouse as New Hampshire is a true "swing" state. The voters are moderate, independent, slightly libertarian and still split their tickets between Republicans and normal people. New Hampshire is also very white and not very religious, so neither of the two parties' bases are represented in big numbers. (Why it's still an early-voting state in the primaries is another discussion.) As Silver observes in his shade-throwing hed: "New Hampshire Is Tiny And Pretty Weird. That Could Help Maggie Hassan."
---
The contrast to a state like New Hampshire is a state like Georgia, which is also a swing state, but not because it has a lot of swing voters. Instead, it's mostly a swing state because it has some very Republican-leaning groups like evangelical white voters and some very Democratic-leaning groups like Black voters and young, college-educated professionals, who roughly cancel one another out. Races in Georgia, then, tend to be more about who can turn out their base. New Hampshire is more about persuasion.
FiveThirtyEight gives Republicans between a 39 and 51 percent chance of regaining the Senate (boo!), but Hassan is somewhat sheltered from Biden's approval ratings. There's little risk that an overall bad political climate for Democrats could result in a Herschel Walker-like candidate beating Hassan.
In what Axios calls a "lucky break" for Hassan, Republicans still have no clear frontrunner who'll accuse her of personally raising gas prices. Republican strategist Ken Spain says Sununu choosing to stay put in the governor's mansion turned the Senate race "from a slam dunk into a coin toss." Obviously, the odds of making a slam dunk are greater than winning a coin toss, but we get his point.
Hassan raised $5 million in the second quarter of 2022 and has $7 million in the bank. That's more than five times the combined amount the three top Republican candidates have raised. New Hampshire Senate President Chuck Morse, retired Army Gen. Don Bolduc, and Kevin Smith (not the director) all raised less in the second quarter of 2022 than they did in the first.
PREVIOUSLY: Trump Vows Vengeance On Mortal Enemies Paul Ryan, John McCain, Kelly Ayotte, That One Crying Baby
Silver argues that incumbents have more of an advantage in smaller states: A senator can more easily maintain a "strong, personal relationship" with their constituents, and there's usually a smaller pool of politicians who can prove formidable opponents. That might explain the Republicans' slim pickings in the primary. Of course, Hassan herself just defeated an incumbent, but she was also the sitting governor at the time. And it was still close! Ayotte also flip-flopped on endorsing Donald Trump, eventually saying she'd write in Mike Pence's name rather than voting for the actual, realistic alternative, Hillary Clinton.
New Hampshire might just prefer actual leaders to moral cowards who fold to fascism. We think Hassan's in good shape for a return engagement in the Senate.
[FiveThirtyEight / Axios]
Follow Stephen Robinson on Twitter.
Do your Amazon shopping through this link, because reasons.
Yr Wonkette is 100 percent ad-free! Please subscribe, donate, and otherwise help keep us alive and kicking!
Stephen Robinson
Stephen Robinson is a writer and social kibbitzer based in Portland, Oregon. He writes make believe for Cafe Nordo, an immersive theatre space in Seattle. Once, he wrote a novel called "Mahogany Slade," which you should read or at least buy. He's also on the board of the Portland Playhouse theatre. His son describes him as a "play typer guy."