Oprah-Approved Celeb Author Wes Moore Still Best Possible Option For Maryland Governor
State/Local Politics
July 25, 2022 01:34 PM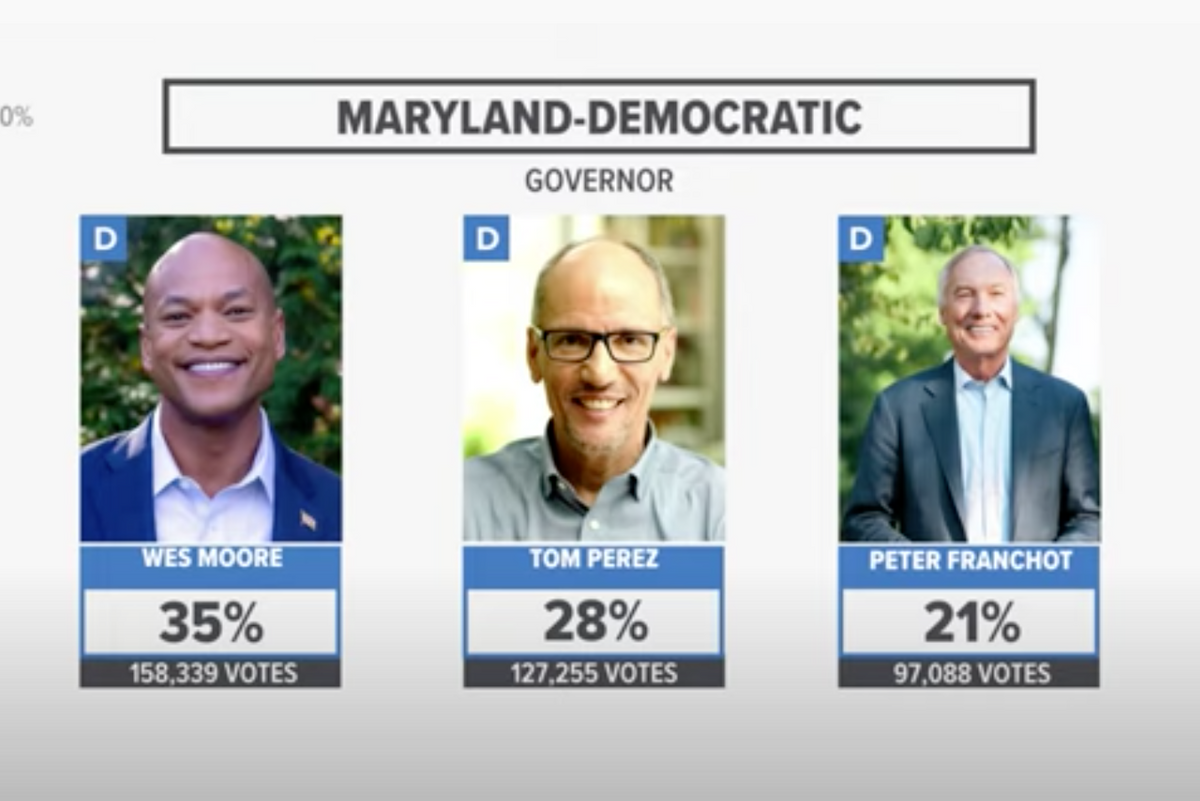 Voting ended almost a week ago, but there's finally a projected winner in Maryland's Democratic primary for governor. Author and former nonprofit executive Wes Moore has prevailed over former Democratic National Committee chair Tom Perez, state comptroller Peter Franchot, and ... the rest (it was a crowded primary).
Moore will face off against Republican Trump toady Dan Cox. The Washington Post describes the November election as a showdown "between a state legislator who rallied the Make America Great Again base and a charismatic political newcomer who, if elected, would be the state's first Black chief executive." OK, I hate to be one of those snide "do better" types, but could the Post at least try to convey the actual stakes here?
Cox isn't simply an experienced state legislator who embraces right-wing rah-rah patriotism. He's an election-denying seditionist who claims Trump is "the only president that I recognize right now" and that some kinda sinister forces (that would be voters) installed Joe Biden in the White House. He called former Vice President Mike Pence a "traitor" because he wouldn't help Donald Trump overturn the election he lost. Cox also spreads lies about widespread voter fraud. That isn't rallying the base. It's promoting the next insurrection.
PREVIOUSLY: Election-Denying Trump Toady Dan Cox Wins Maryland GOP Governor Nomination
---
This is a particularly goofy line from the Post article: "Cox is preparing for battle. On Thursday, he emailed a letter to supporters with the subject line: 'Moore is LESS for Maryland.'" Oh, come on! A teenager running for student council would feel ashamed to use such a sorry-ass schoolyard taunt.
The Post notes that "roughly two out of three Democrats picked someone else, and Moore will need to win them over." OK, first place, this is how primaries work and let's not forget that Moore is running against a fucking fascist. Democrats probably won't need flowers and candy to safely "vote blue no matter who." It's not as if the primary was especially contentious. There were no reductive ideological divides. Perez has already graciously congratulated Moore. He wrote in his concession statement, "Now is the time for us to unite, and I look forward to aggressively working with them to flip Maryland blue this November."
Perez also notes that "In the era of a radicalized Supreme Court, states are now the last bastion of our civil rights." According to 2020 exit polls, at least 60 percent of voters in the state identify as Democrats. This meant outgoing Republican Gov. Larry Hogan enjoyed significant support from Democrats who fell for his Maryland moderate jazz. I'd like to think that Virginia GOP Gov. Glenn Youngkin woke up a lot of folks to the reality that are no more true "moderate" Republicans. Don't let the Mr. Rogers sweater fool you.
Yes, Moore is an Oprah Winfrey-elevated celebrity who has never held political office, so there's legitimate concern about his qualifications. Oddly, despite his lack of relative experience, Barbara Goldberg Goldman, a major Democratic donor and longtime fixture in Maryland Democratic politics, chose to focus on Moore's race as the obvious drawback in a general election. She wrote in an email to party insiders, "Consider this: Three African American males have run statewide for Governor and have lost. Maryland is not a Blue state. It's a purple one. This is a fact we must not ignore."
Goldman rightly resigned as the state party's deputy treasurer once her gross remarks went public. It's overtly racist to suggest that the previous candidates — former lieutenant governor Anthony G. Brown in 2014 and former NAACP president Ben Jealous in 2018 — lost solely because they're Black. Hogan was a formidable candidate.
Moore moves into the next phase of his campaign with the support of House Majority Leader Steny H. Hoyer and Adrienne A. Jones, speaker of the Maryland House of Delegates. In a marked departure from how she's responded to the campaign of Dr. Mehmet Oz in neighboring Pennsylvania, Winfrey openly acknowledges her history with Moore and even filmed a campaign ad for him.
Once Cox won the Republican primary, Cook Political Report moved the race from "leans Dem" to "solid Dem." Cook Editor Jessica Taylor declared, "The bottom line is the Republicans might have had a chance, but now this race is off the table for them."
Mileah Kromer, a political science professor at Goucher College, said there is an "almost impossible path" to victory for Cox. Trump was once president, so obviously nothing's impossible, just tragically improbable. Let's take nothing for granted. Maryland Democrats should still canvas and GOTV as if their lives depend on it, because these days, that's not just hyperbole.
Follow Stephen Robinson on Twitter.
Do your Amazon shopping through this link, because reasons.
Have you heard that Wonkette DOES NOT EXIST without your donations? Please hear it now, and if you have ever enjoyed a Wonkette article, throw us some bucks, or better yet, SUBSCRIBE!
Stephen Robinson
Stephen Robinson is a writer and social kibbitzer based in Portland, Oregon. He writes make believe for Cafe Nordo, an immersive theatre space in Seattle. Once, he wrote a novel called "Mahogany Slade," which you should read or at least buy. He's also on the board of the Portland Playhouse theatre. His son describes him as a "play typer guy."