New Body Cam Footage Shows Uvalde School Police Chief Fully In Command Of Clusterf*ck
popular
July 25, 2022 12:40 PM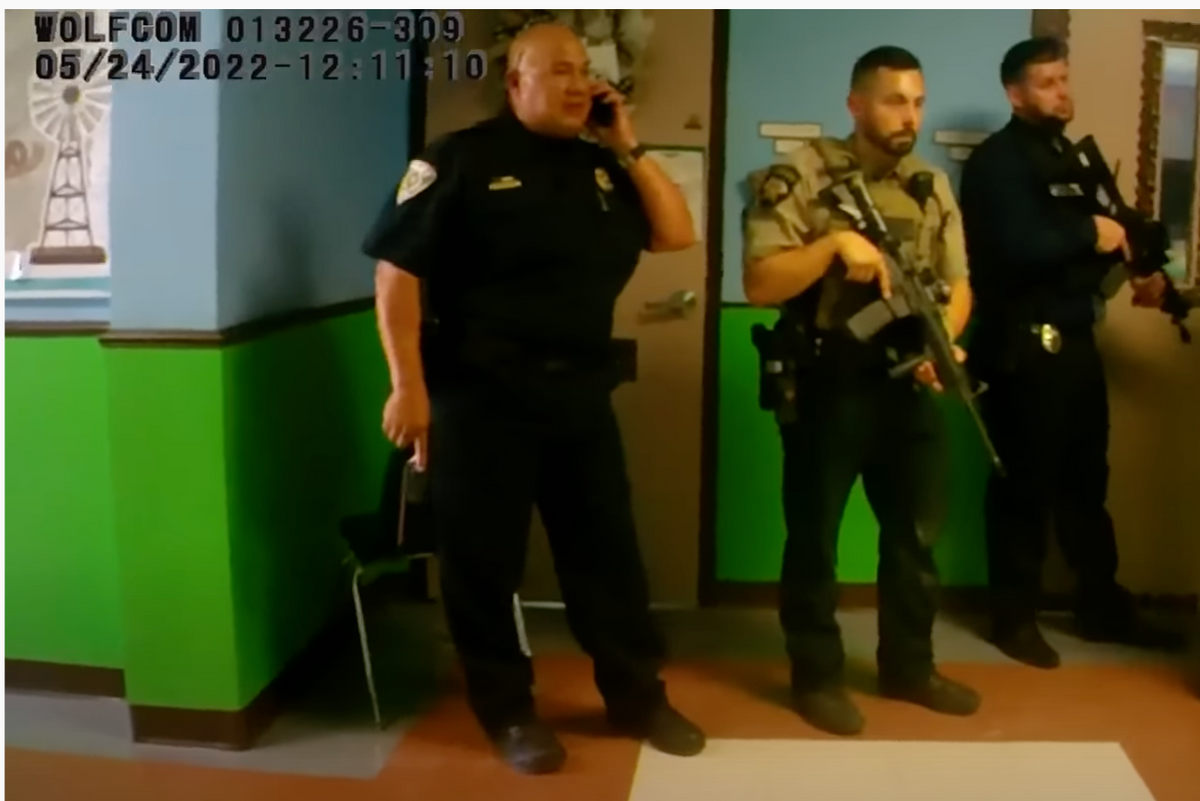 The Uvalde, Texas, police response to the gun massacre at Robb Elementary School was horrific, but the slow-drip revelation of their lies on top of lies is especially appalling, if not actually surprising. Cops are known for their self-serving narratives.
The latest proven lie is Uvalde schools police chief Pete Arredondo's claim that he didn't consider himself in command on the afternoon of the shooting. The first publicly released body camera footage clearly shows Arredondo "giving orders, conveying and receiving information, and officers deferring to his position when confused over their roles or response to the shooting." Arredondo might not have successfully led the response but he was obviously in charge.
PREVIOUSLY:
Another Uvalde Lie Falls Apart: OF COURSE 911 Told Cops Kids Were Calling From Classroom
Police Response To Uvalde School Shooter Delayed By Cop Thumbs Up Cop Asses
Uvalde School Surveillance Video Underlines How Much Nothing Cops Did For 77 Long Minutes
---
Officers followed him where he went and referred to "Pete" being in command when others had ideas for how to approach the situation, body-worn camera footage from an Uvalde police sergeant shows. At one point, Arredondo said that people would wonder why officers were taking so long, and then explained himself.

"People are going to ask why we're taking so long," he said. "We're just trying to preserve the rest of the life."
However, evidence shows that Arredondo was more concerned with preserving the lives of armed cops, instead of the dozens of wounded children on the scene.
Arredondo's lawyer has insisted he wasn't the incident commander, and Arredondo told the Texas House of Representatives investigative committee that he did not "consider himself to have assumed incident command ... My approach and thought was responding as a police officer. And so I didn't title myself."

I'd normally agree that there's no time for labels when a gunman is executing children, but that doesn't excuse the police's cowardly inaction. Arredondo further prevaricated: "As far as ... I'm talking about the command part ... the people that went in, there was a big group of them outside that door ... I have no idea who they were and how they walked in or anything. I kind of ... wasn't given that direction." He was so confused! It's like the actor's nightmare where you're about to go on stage but don't know your lines, except in this case, children are dying while you apparently are twiddling your goddamn thumbs.
The video shows that Arredondo remained in the hallway, providing updates to dispatchers, requesting resources, and directing the position of a sniper. He ordered the classrooms cleared and told a group of cops to "have at it" if they were ready to go. This wasn't just backseat driving. The officers deferred to his rank and position. The Texas House investigative committee accused Arredondo of failing to "perform or to transfer to another person the role of incident commander. This was an essential duty he had assigned to himself in the plan ... yet it was not performed effectively by anyone."
There were almost 400 cops at the scene. Maybe one of them would've done a better job than Arredondo, but he was the one in charge. He can't play hot potato with his command now that he has to answer for 21 dead people.
Arredondo was placed on unpaid administrative leave on June 22. The Uvalde school board had scheduled a meeting this weekend to "consider" firing him but it was cancelled at the last minute. School district superintendent Hal Harrell, who's recommended canning Arredondo, said the board will reschedule the meeting in the very near future. Let's hope that unlike Arredondo, the school board can take decisive action.
[CNN]
Follow Stephen Robinson on Twitter.
Do your Amazon shopping through this link, because reasons.
Yr Wonkette is 100 percent ad-free! Please subscribe, donate, and otherwise help keep us alive and kicking!
Stephen Robinson
Stephen Robinson is a writer and social kibbitzer based in Portland, Oregon. He writes make believe for Cafe Nordo, an immersive theatre space in Seattle. Once, he wrote a novel called "Mahogany Slade," which you should read or at least buy. He's also on the board of the Portland Playhouse theatre. His son describes him as a "play typer guy."