Wouldn't You Just Love To See Tim Ryan Beat Dumpster Fire J.D. Vance In Ohio?
State/Local Politics
July 26, 2022 02:35 PM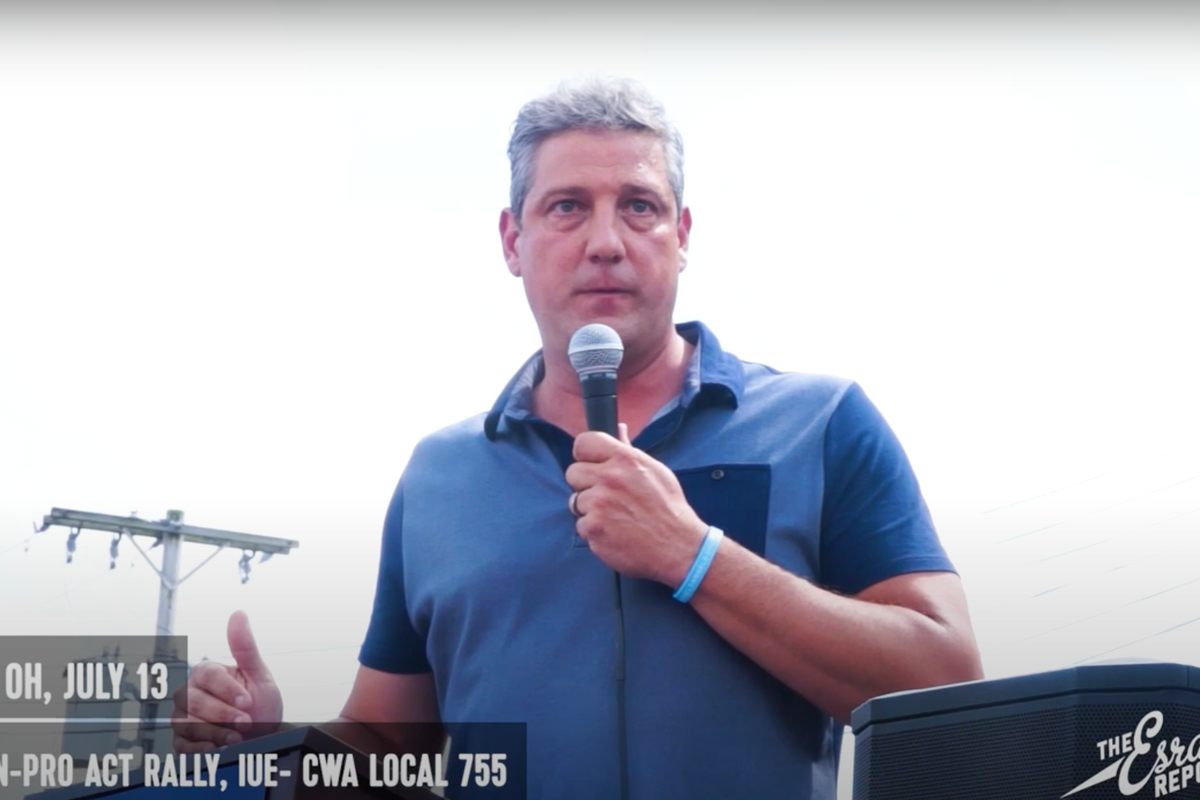 In the decade since Barack Obama carried Ohio (twice!), the state has steadily shifted to the Right. Hillary Clinton and Joe Biden went all in against Donald Trump and still lost by about eight points. However, Virginia once had a Democratic trifecta and Biden's 2020 margin of victory was almost 10 points. A year later, Republican Glenn Youngkin won the governor's race. It's not inconceivable that Democratic Senate nominee Tim Ryan could deliver a similar upset this year in Ohio.
Ryan's campaign rhetoric reminds me of Sherrod Brown, who easily won re-election in 2018.When addressing a crowd in Dayton a couple weeks ago, Ryan said, "This is what we're fighting for. We can't be afraid to stand on stages like this, in communities like Dayton, and say the goddamn word 'union.'"
Ryan has raised $12 million so far for his campaign, $9.1 million in the last quarter, quadrupling what Republican nominee J.D. Vance managed. He's running ads all over Ohio. He's distanced himself from Democrats on inflation and crime, but he's proven a reliable Democratic vote in the House and openly supports killing the filibuster. There's no immediate risk of his turning Sinema on us.
Ohio Republicans are reportedly concerned about Ryan's crossover appeal. A source claims, "People who are Republicans are saying, 'that Tim Ryan guy, he's alright, I like the way he sounds.'" Biden tied Trump among Ohio independents, which is 30 percent of the electorate, but Brown carried them by 12 points. That's probably Ryan's best path to victory, especially considering that Biden's approval rating is 23 points underwater in Ohio.
---
Ron Verb, a conservative radio host in Youngstown, told The Daily Beast that Ryan "is a fraud and a phony," yet he must grudgingly concede that "he is running one of the most effective campaigns I've seen."

Perhaps the biggest boon for Ryan's candidacy is his Trump-endorsed opponent. We might've mentioned it once or twice, but it bears repeating: J.D. Vance is a total asshole.
PREVIOUSLY:
JD Vance, Married A-Hole ... With Children
J.D. Vance Just Suggesting Maybe Women Should Stay Married To Abusive A-Holes

Asshole Republicans win elections all the time. It's hardly disqualifying, but they usually don't coast on their repugnant personalities. Republican insiders are worried about Vance's craptastic campaign. They aren't even sure where their candidate is right now.
Bill Cunningham, a fixture on conservative talk radio airwaves in Cincinnati for decades, told The Daily Beast that voters, party activists, and even statewide officials are telling him that Vance has been phoning it in. Vance is allegedly missing from many of the county fairs, party meetings, and campaign stops where candidates in this state are expected to be.

"The Republican faithful are telling me," Cunningham said, "they can't find J.D. Vance with a search warrant."
Ohio isn't West Virginia. It is still technically a swing state. Cook Political Report gives Republicans a six-point advantage in Ohio. It's easy to fritter that away if you don't actually, you know, campaign. Vance hasn't aired a single advertisement this quarter with his Peter Thiel dollars.
[Vance's] Twitter doesn't share links to donate or his ads, but rather infrequently uploads his latest contributions to Fox News or Breitbart. Much of the money he is earning in his campaign is going towards research and consulting right now, the FEC filings showed.
Ryan, however, never misses an opportunity on Twitter.
\u201cJD Vance thinks parents should stay in violent marriages "for the sake of their kids." That's not just wrong, it's unbelievably dangerous.\u201d

— Tim Ryan (@Tim Ryan) 1658782251
Vance's most recent major appearance was in Israel, where he gushed over the country's high birth rate. Meanwhile, his own campaign donors can't get him on the phone, even though his fundraising numbers are a source of "full-on panic." His campaign is also deeply in debt from the primary where he narrowly defeated creepy asshole Josh Mandel.
Trump was a frequently presence in Ohio. He held more a dozen rallies there in 2016 and, like a true sociopath, defied public health guidelines with repeated visits to the state during the 2020 campaign. Vance however is missing in action, and Ron Verb doesn't spare his feelings: "I think he's running the worst campaign that you could possibly run." This is an election cycle with Herschel Walker and Dr. Oz.
Republicans are pissed that they have to even worry about this race. Here's another veteran Republican strategist ragging on Vance. It's beautiful.
Tim Ryan is talking about kitchen-table issues, and J.D. Vance is out there going to fucking CPAC in Israel. Republicans are like, "Are you out of your fucking mind?'" This isn't some fucking book tour, dude.
Ryan's campaign spokesperson Jordan Fuja called Vance's pathetic campaign effort "an insult" to Ohio voters: "Instead of meeting face-to-face with the people he claims he wants to represent, J.D. Vance has spent the better part of the last month hiding out at home or trying to get as much distance from Ohio as humanly possible."
Damn.
Republicans are clinging to the hope that Biden's low approval and the state's rightward shift guarantee victory, even when their nominee makes news for all the wrong reasons. They might've missed the moral from "The Tortoise and the Hare": Slow and smug won't necessarily win this race.
Follow Stephen Robinson on Twitter.
Do your Amazon shopping through this link, because reasons.
Yr Wonkette is 100 percent ad-free! Please subscribe, donate, and otherwise help keep us alive and kicking!
Stephen Robinson
Stephen Robinson is a writer and social kibbitzer based in Portland, Oregon. He writes make believe for Cafe Nordo, an immersive theatre space in Seattle. Once, he wrote a novel called "Mahogany Slade," which you should read or at least buy. He's also on the board of the Portland Playhouse theatre. His son describes him as a "play typer guy."