Hero Centrist Betsy Johnson Might Just Stick Oregon With A Republican Governor
News
August 01, 2022 11:06 AM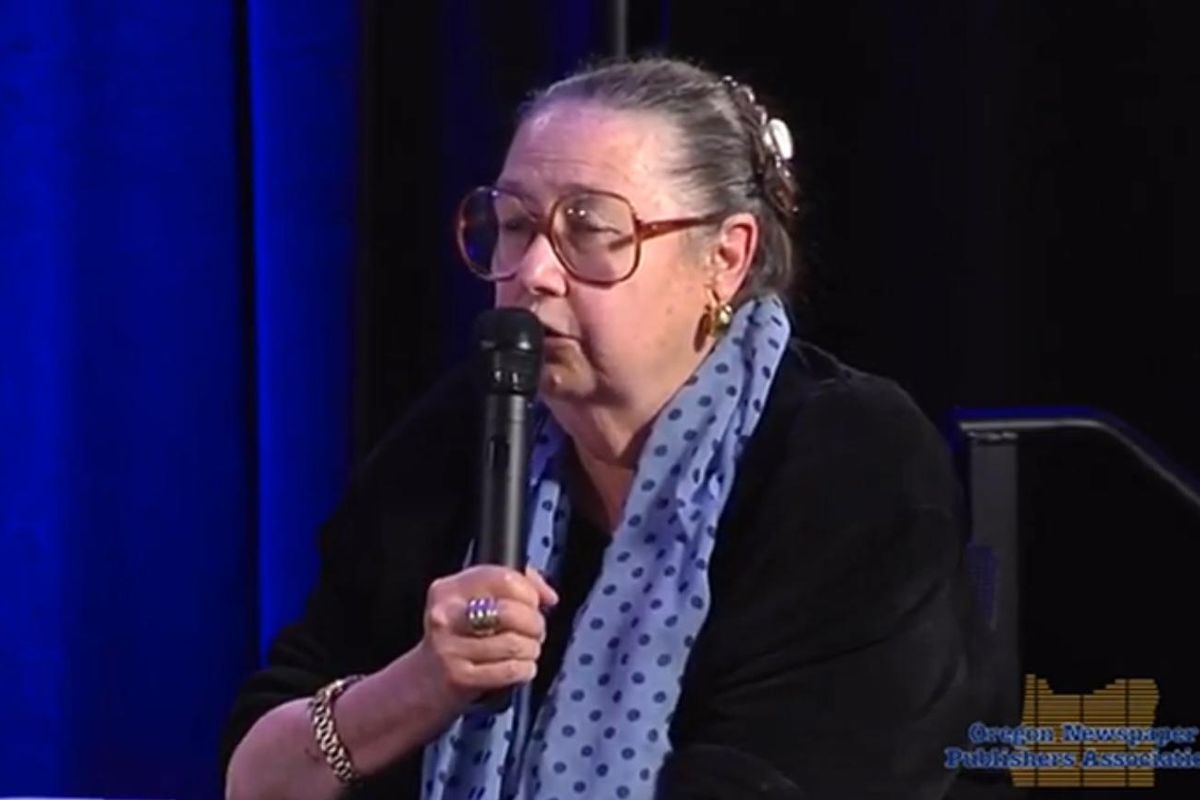 Last week, Cook Political Report updated its rating for the upcoming Oregon gubernatorial race from "Likely Democrat" (hoorah!) to "Lean Democrat" (WTF?). This happened the same day Vice President Kamala Harris told disability rights activists the color suit she was wearing. It wasn't a fashion war crime, like Barack Obama's tan suit, but according to anti-Trump GOP Rep. Adam Kinzinger, this is why Democrats are losing to fascist Republicans. Thanks, Madam Vice President! (Actually, in reality, there was no connection.)
This is hardly encouraging news. The "Lean Democrat" rating is usually just one bad jobs report or contrived critical race theory panic from "How The Hell Did This Blue State Elect A Republican"? True, Oregon isn't all one big "Portlandia" episode: incumbent Democratic Gov. Kate Brown is the nation's least popular governor (yes, they included Florida and Texas), but Oregon has been reliably Democratic statewide for decades. This is important because Oregon Republicans are mostly right-wing extremists who are way too cozy with state militia groups.
PREVIOUSLY: Oregon Gov. Kate Brown Is Nation's Least Popular Governor, So That Seems Unfair
Republicans tried and failed to recall Brown in 2019, and while her popularity declined significantly during the pandemic, a Democratic candidate was still considered the heavy favorite to win this year. However, an obvious spoiler campaign from longtime Brown foe Betsy Johnso has endangered Democratic nominee Tina Kotek's campaign.
---
Cook Political Report editor Jessica Taylor explains:
Three-way election contests are a tricky thing. A well-funded third-party candidate can often play spoiler, allowing the minority party even in a state that largely leans to the opposite party to sneak through a win. Such are the dynamics playing out in the open Oregon gubernatorial race, giving Republicans an increasingly plausible opportunity, even though the state last elected a GOP governor in 1982. As such, we are shifting our rating from Likely Democrat to Lean Democrat.
Johnson served as a Democrat in the Oregon House from 2001 to 2005 and in the state Senate 2005 to 2021. Last year, she left the Senate and the Democratic Party to run as an unaffiliated candidate for governor. Johnson is a timber heiress and a former professional helicopter pilot, which I confess sounds cool. She's already raised more money than Kotek, Oregon's former House speaker, and Republican nominee Christine Drazan, the former House minority leader.
When she was a Democrat, Johnson regularly sided with Republicans on two of their worst policy positions — gun safety and climate. She's reportedly hoping to attract independent voters and Republicans who feel like they keep losing to hippies. As an independent, Johnson actually represents the state's largest electorate. Just 36 percent of 2020 Oregon voters identified as Democrats (Biden won them by 98 percent), and 24 percent identified as Republicans. Biden won the 41 percent of self-identified independents by nine points.
Even deep-blue Portland ultimately went with moderate Ted Wheeler in 2021 over more overtly liberal Sarah Iannarone. It's not inconceivable that Johnson could cut heavily into Kotek's margins in what should be her best regions. Kotek is a mainstream Democrat, but it's a given that both Drazan and Johnson will argue she's no different from Iannarone.
When campaigning, Johnson will often tell potential supporters, "I don't care if you voted for Biden or Trump or you wrote in your dog, I want your vote and Oregon needs your vote." She seems to think this is clever.

During the candidates' first debate Friday, Johnson claimed Kotek would make Oregonians "woke and broke" while Drazan would deny them their reproductive freedom. Johnson stands firmly in the center, it seems, between strawman anti-progressive slogans and actual fascism she's only enabling.
So far, polls show both Johnson and Oregon losing big: A Nelson Research poll from late May had Drazen narrowly leading Kotek 30 percent to 28 percent. Johnson was dead last at 19 percent. Now Democrats will need to invest heavily in a state Biden carried by 19 points. The timber heiress and climate bill killer has gone to a lot of trouble to help put a Republican in the governor's mansion. This is probably the point.
[ Cook Political Report / OPB]

Follow Stephen Robinson on Twitter.
Do your Amazon shopping through this link, because reasons.
Yr Wonkette is 100 percent ad-free! Please subscribe, donate, and otherwise help keep us alive and kicking!
Stephen Robinson
Stephen Robinson is a writer and social kibbitzer based in Portland, Oregon. He writes make believe for Cafe Nordo, an immersive theatre space in Seattle. Once, he wrote a novel called "Mahogany Slade," which you should read or at least buy. He's also on the board of the Portland Playhouse theatre. His son describes him as a "play typer guy."