Peggy Noonan Wanders, Lonely, Through The End Of Capitalism And Office Birthday Parties
Journalism
July 29, 2022 12:15 PM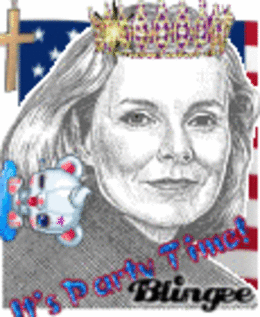 O loneliness! This was the abyss that lived in the soul of Peggy Noonan, sister in good standing of the Order of the Anaesthetic Numbing. What was the nature of loneliness, she asked herself as she wandered the streets of the great borough of Manhattan, home to more people per square inch than a Brazilian favela, and yet since the onset of COVID emptier than her walk-in Ativan humidor?
She paused on the sidewalk and made a mental note to call her doctor and renew her prescription. Then she continued her wanderings, through the great canyons of underused office buildings, abandoned as they were by their former inhabitants, the workers, the great forces that kept the machinery of capitalism humming along. So many had fled the city when COVID struck, gone off to exotic locales such as the Hudson River Valley and Connecticut. So many had not returned, taking the opportunity of COVID reshaping work to stay home, where they could swallow a fistful of benzoates for lunch and mull over their spreadsheets and reports in peace.
How could she blame them? She herself loved to work in her pied-à-terre high above the Upper East Side, where talking monkeys and mythical golems could seek her out.
---
She came out of this stupor to the realization that her wanderings had brought her to the penguin exhibit at the Central Park Zoo. She stood in the dim light, leaning on the glass, watching the flightless fowl in all their glory as they bustled hither and yon around their artificial habitat. Ah, penguins, she thought. Nature's little butlers. You too create your own societies, where you work together in close quarters to feed yourselves and care for your young. I fear we humans have lost that building of community that you carry on. Tell me, how do you do it?
"Well for starters, you assholes locked us up in this small space, so we kind of are tripping over each other anyway," said one of the creatures. He was a tall fellow by penguin standards, closing in on three feet, with an orange beak and a shock of white across his crown like Frankenstein's bride. He stood on the other side of the glass, giving her a baleful look.
"I mean, here we are in this phony little habitat," the penguin snarled. "All crammed in together, sitting on our eggs, eating whatever fish or squid the humans feel like tossing in here a couple of times a day. Listening to Sheila over there bitch about the water temperature or Carl always trying to take our minds off our imprisonment by leading us in singalongs. Do you have any idea how enraging it is to keep being herded into a circle to sing 'Uptown Girl' for the gazillionth time? That's what you get when your keepers all grew up on Long Island. Oh, but you were talking about humans and offices, don't let me interrupt."
I don't want to see office life in America end. The decline in office life is going to have an impact on the general atmosphere of the country. There is something demoralizing about all the empty offices, something post-greatness about them. All the almost-empty buildings in all the downtowns—it feels too much like a metaphor for decline.
"See, some people would view this as an opportunity. Imagine what you humans could do with all those empty buildings. You could convert them into affordable housing, which the country desperately needs. You could turn them into giant paintball courses. You could turn them over to your penguin friends so we could have some goddamn space for once. Christ, what I wouldn't give for an entire office floor to myself, where I wouldn't have to listen to Bill always talk about his fantasy baseball team. We get it, that jerk Howard drafted Judge when he knew that's your favorite player."
The #MeToo movement did a lot to damage mentoring--senior employees no longer wanted to take the chance--but the end of office life would pretty much do away with it.
"Is this really a point you want to make?" The penguin was poking listlessly at a dead squid sprawled on a rock. "That the end of opportunities to sexually harass and abuse underlings has had tragic consequences? Without acknowledging that many of those who were abused saw their own careers end if they didn't play along? Okay, don't listen to me, I'm just a talking penguin with a grumpy attitude, as everyone in here keeps telling me."
There will likely, in each company and organization, be a decline in a sense of mission. A diluting of company spirit looks to me inevitable.
"Oh no, what will you do if everyone isn't totally enthused to spend ten hours a day crammed into a tiny space breathing shallowly because all your co-workers smell like fish, all while building phone apps that alert users every time Netflix adds another crime documentary." The penguin was angrily flapping his stubby flippers at her like a bouncer tossing her out of a bar. "Imagine the end of that sense of mission!"
Here are my two greatest concerns. The first is that in my lifetime the office is where America happened each day. That's why many of our most popular TV programs were about the office, from "The Mary Tyler Moore Show" through "Mad Men," from "ER" through "30 Rock" and "Parks and Recreation."
"I think people will still be able to write TV shows about hospitals, lady. You may have noticed that those employees don't have much of a work-from-home option."
The end of the office will contribute to polarization. Receding from office life will become another way of self-segregating. People will be exposed to less and, in their downtime, will burrow down into their sites, their groups, their online angers. Their group-driven information and facts.
"Being a penguin, I've never worked in an office," the penguin sighed. "But I think this ship has sailed. Employees spend large amounts of time hanging out online when they're supposed to be working already. They've been doing that for like twenty-five years. That's one reason no one wants to talk politics in an office." He whirled at a noise. "Oh goddammit, Carl, no, we're not singing 'Scenes from an Italian Restaurant.' That thing is like twenty minutes long. Carl! I'm talking to you!"
The penguin hustled off as fast as his legs could carry him. Which was not fast. He looked like a bobblehead trying to run across a desk. Not that she would ever see a bobblehead again, Peggy mused as she retreated home to work on this week's column. People mostly kept those on desks in their office.
[WSJ]
Do your Amazon shopping through this link, because reasons.
Help us pay Gary.