MI Primary Update: Tudor Dixon In, Peter Meijer Out, As Republicans Go Full Wackjob
Congress
August 03, 2022 01:56 PM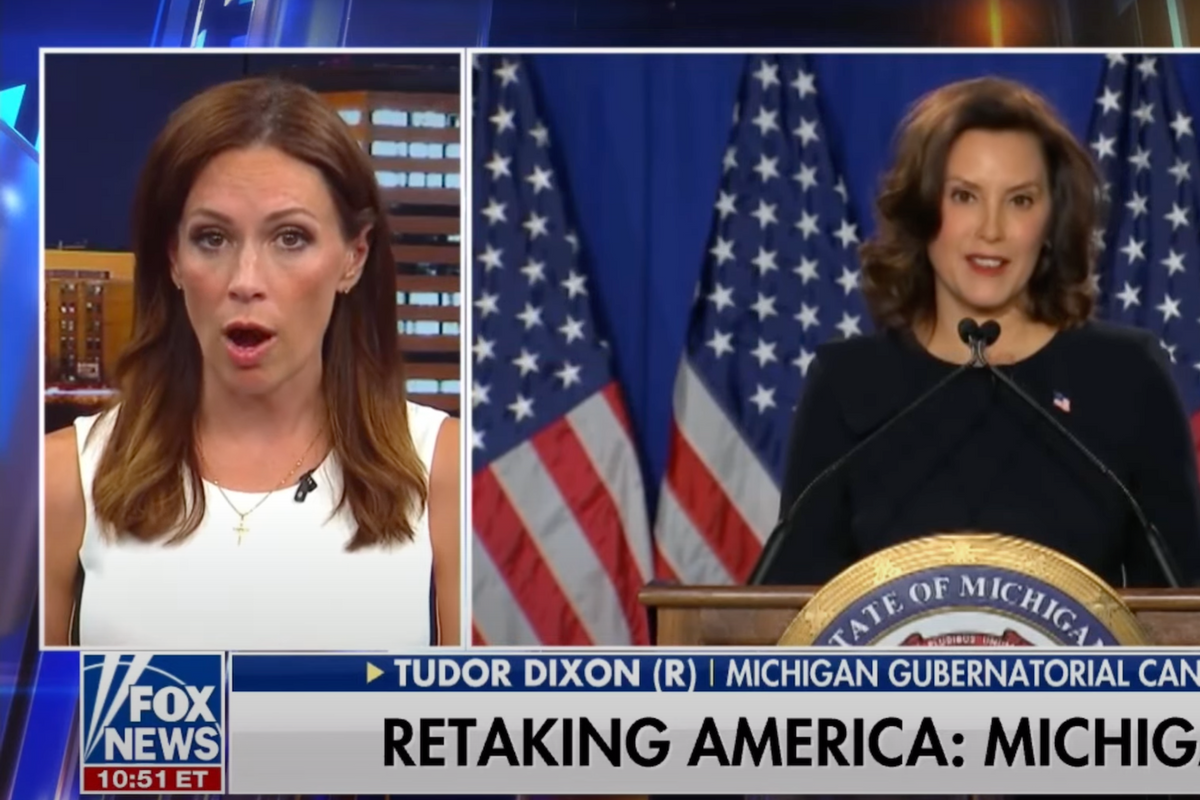 The Michigan primary elections were last night, and first some good news (for me, at least): Rep. Rashida Tlaib easily won her Detroit-area primary so is guaranteed another term in the House. Now, on to the bad news, of which there is much.
Tudor Dixon — yes, that's a real person not a New England home style — crushed all comers in the Republican primary for governor. She was the host of "America's Voice Live" on the Real America's Voice cable network but otherwise has no relevant political experience, which you might think is important. Michigan is a state and all. However, former Secretary of Education Betsy DeVos, who knows something about lacking basic qualifications for a job, asked Donald Trump to support Dixon because she's apparently the "only one who can stand toe to toe with" Democratic Gov. Gretchen Whitmer.
(LOL, remember when DeVos resigned in apparent protest over how Trump had sicced a mob on Congress? She even reportedly wanted Mike Pence to invoke the 25th Amendment on Trump, whose endorsement she's now soliciting for her awful candidates.)
PREVIOUSLY:
Some Fool Named 'Tudor Dixon' Thinks She Can Come For 'Big Gretch' Whitmer
MI GOP Gov. Hopeful Wants To Help Child Rape Victims, By Forcing Them To Give Birth
---
Dixon has claimed the 2020 election was stolen from Trump, and during a May debate, she repeated the lie that Trump "legitimately" won the election in Michigan that he actually lost by almost 200,000 votes. Trump bestowed his favor on Dixon in late July, swooning in a statement:
Tudor Dixon is a Conservative Warrior who built an impressive career in the steel industry while working with her fabulous father, who is now watching her proudly from above.

She raised a beautiful family, and is ready to save Michigan. She's pro-God, pro-Gun, and pro-Freedom, and she won't be stopped! She will stand up to the Radical Left as they try to indoctrinate our children and is ready to take on one of the worst Governors in the nation.
But just a couple days after receiving his endorsement, Dixon started dodging questions about the 2020 election. She'd pulled the old endorsement "hit it and quit it."
Dixon's platform is mostly anti-COVID rants about how Whitmer was a mean mom who grounded everyone during the pandemic. Nonetheless, Cook Political Report rates the governor's race "lean Democrat." We're gonna have to fight like hell to re-elect Big Gretch, not just because Dixon's policies are garbage but because we can't guarantee Gov. Dixon would certify a Democratic presidential victory in 2024.
Now, on to some worse news, Republican Rep. Peter Meijer, who supported Trump's second annual impeachment, didn't escape the insurrectionist-in-chief's wrath. Trump-endorsed candidate John Gibbs defeated Meijer in the Republican primary race to represent west Michigan's Third Congressional District.
PREVIOUSLY: Rep. Peter Meijer's Not A 'Good' Republican Because There Is No Such Thing
Meijer conceded the race around 1:30 Wednesday morning, and Trump called to congratulate his blunt instrument of revenge. Trump was heard saying, "I'll see you soon. I'm very proud of you." Barf.
\u201cGibbs seen here talking to former President Donald Trump. \n\n"I'll see you soon. I'm very proud of you, John," Trump could be heard saying through the phone. (h/t John Barnes)\u201d

— Riley Beggin (@Riley Beggin) 1659503614
Gibbs is an election-denying seditionist who insists President Joe Biden's victory was "mathematically impossible." (Gibbs is obviously very bad at math.) Gibbs was asked yesterday if he'd accept the results of this election, and he said, "We'll see," which is not how democracy actually works. He added, less encouragingly, "If the election's on the up-and-up there will be no problem." Well, he won, and when Republicans win, that means there was no fraud. This is perfectly logical reasoning in failed fascist states.
Republicans, including Rep. Adam Kinzinger, have complained that Democrats helped boost Gibbs's candidacy, but just last week, Kinzinger said Democrats were too woke to win elections. Pick a lane.
\u201c"Don't keep coming to me, asking where are all the good Republicans that defend democracy, and then take your donors' money and spend half a million dollars promoting one of the worst election deniers that's out there." \u2014@AdamKinzinger, to the DCCC\n\u201d

— John A. Daly (@John A. Daly) 1659536649
Republicans have only themselves to blame for Meijer's defeat. The party outright abandoned him. GOP leaders didn't campaign on his behalf. They were all cowards who let Meijer fend for himself because they didn't want to piss off Trump. And as The Bulwark's Jonathan Last observed, Meijer was no hero.

On the other hand, Meijer has spent the last year-plus running away from impeachment and just kind of hoping that his voters would forget about it.

He took no preemptive action to defend himself against the most salient issue for Republican primary voters. He did not aggressively defend himself. He did not make his affirmative case for impeachment. He simply went into turtle guard and hoped for the best.

All while he kept blaming Democrats for the world's problems.
No one made Republican primary voters check the box for an insurrectionist. If Democrats had that much influence over Republican voters, Marjorie Taylor Greene would be back at CrossFit.
Some Democrats suggest Gibbs is easier to defeat than pro-impeachment Meijer, but I'm not sure how that math works out. Gibbs has the base's full support, and while so-called "good" Republicans might avoid him at cocktail parties, they will still vote against the Democratic nominee because Vice President Kamala Harris once described the color of her suit.
If we can end on a positive note, Biden won Meijer's district in 2020 and Democrats believe they can flip the seat even in a tough midterm. Gibbs won't have the incumbent's advantage (nor we hope the incumbent's endorsement). Hillary Scholten is the Democratic nominee and seems normal. After calling the race for Gibbs, Cook Political Report changed the race from a "toss up" to a "lean Democrat." We can only hope ... and vote if eligible.
Follow Stephen Robinson on Twitter.

Do your Amazon shopping through this link, because reasons.
Yr Wonkette is 100 percent ad-free! Please subscribe, donate, and otherwise help keep us alive and kicking!
Stephen Robinson
Stephen Robinson is a writer and social kibbitzer based in Portland, Oregon. He writes make believe for Cafe Nordo, an immersive theatre space in Seattle. Once, he wrote a novel called "Mahogany Slade," which you should read or at least buy. He's also on the board of the Portland Playhouse theatre. His son describes him as a "play typer guy."