Welcome To Wonkette Happy Hour, With This Week's Cocktail, Vacation Rum!
Recipe Hub
August 12, 2022 04:20 PM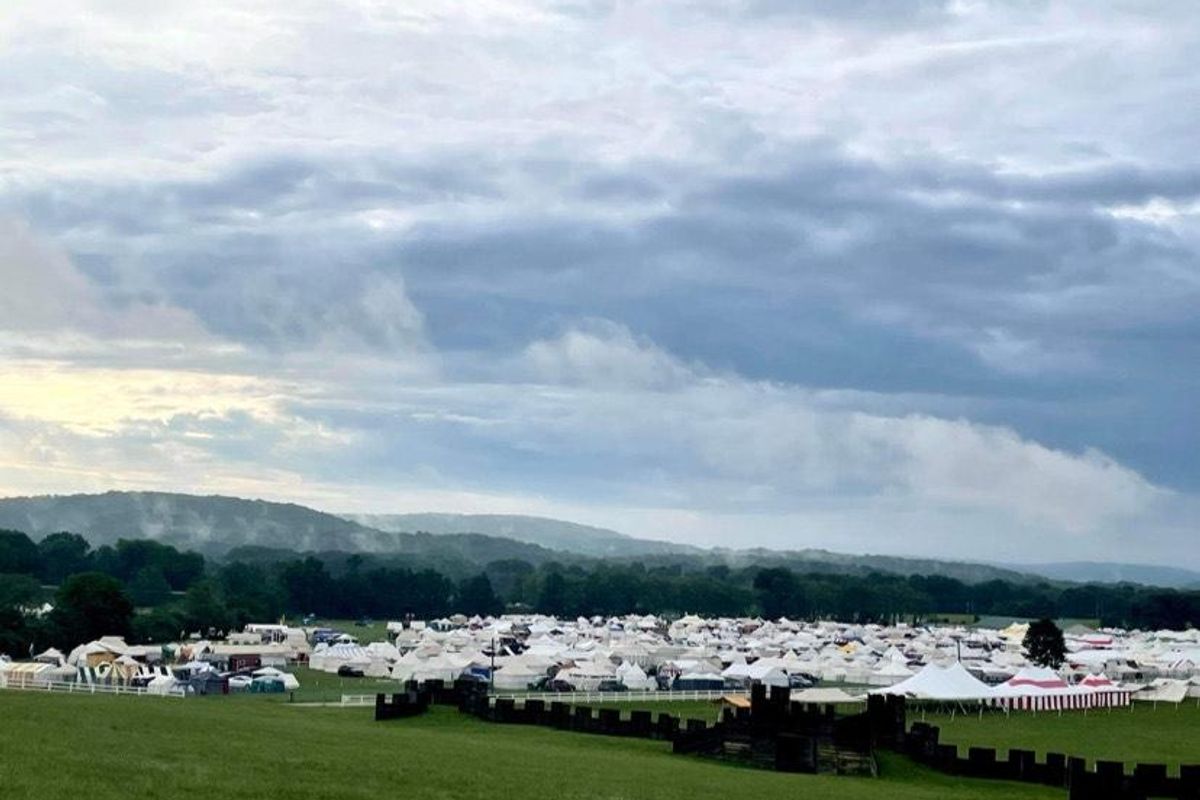 Diana Suciu
Greetings, Wonketeers! I'm Hooper, your bartender, and I am still on vacation! Fear not, however. I haven't forgotten about you. I'm typing away merrily on my laptop on the fields of Pennsic, bringing you the rundown on my favorite beverage. I've made a batch of martinis for a dear friend, and my wife is enjoying the sangria I detailed for you a month ago. But let me share with you my own, special vacation grog. Here's my recipe for Cooper's Rum. Enjoy.
---


Cooper's Rum
4 cups Hamilton 86 rum
2 cups Wray and Nephew Overproof Rum
1 cup House Spiced Rum
½ cup demerara syrup
15 shakes orange bitters
3-4 inches lime twist
¼ lime
Combine all ingredients in a stoppered bottle and shake well. For service, pour a generous amount of rum into a glass and add water to taste. Squeeze ¼ small lime into your glass. Enjoy.
Yes, this is Cooper's Rum, not Hooper's Rum. The Cooper family owns the campground. Cooper's Rum is also the title of a song by Ye Banished Privateers, one of my favorite pirate bands. Pirates aren't technically part of the SCA, but no one complains if you aren't copying Jack Sparrow. So I'm enjoying my best pirate self, fighting with swords, drinking rum, hanging out with friends, and generally loving life. Every year, I try and create the perfect "pirate rum" — a bottle that tastes like what you imagined rum tasted like, the first time you read Treasure Island as a kid. I haven't nailed it yet. It's always fun to try.
This bottle is intended to be imbibed as a one stop daiquiri. Pour yourself some of this over some ice, squeeze a lime quarter into the glass, and you're done. However, it would be a terrific rum base for pina coladas. A little Coca Cola in the glass wouldn't hurt either.
I made a batched rum cocktail like this last year when I went camping for a week. It's my plan to do this every year, applying what I've learned to making a house blend of my favorite spirit. Every year, I learn a little more about the craft, and find a new way to approach the same cocktail. The end result is always different, but still delightful. And, as of this writing, the rum is completely gone. So hopefully, you'll enjoy some photos of my vacation at Pennsic instead of my usual photos of the cocktail and its components.
That being said, let's run down the ingredients on this blend: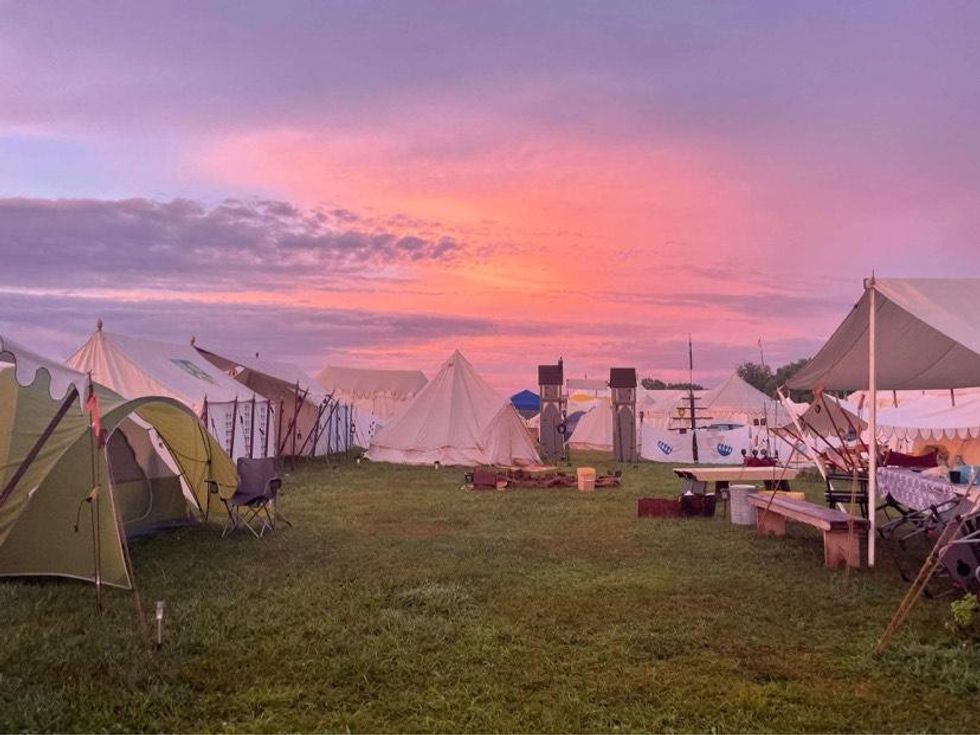 That pretty little conical tent has been home for me and my wife all week. I couldn't be happier.Diana Suciu
Hamilton 86 Rum: This is my favorite rum of all time. Demerara rum is dark, caramel-laden, and rich. I work it into most of my rum cocktails. When in doubt, I prefer this as a base for a solid rum blend.
Wray and Nephew Jamaican Rum: Jamaican rum tastes nothing like Puerto Rican Bacardi Rum. It's strong, and funky, and earthy. It tastes like nothing quite so much as overripe bananas and soft mangos. You either love it or hate it. There's no in between. As the primary ingredient in a cocktail, it's a hard sell. But as a secondary flavor, it can cut through the unctuousness of a darker rum and provide more character. Be cautious; this is 141 proof stuff. A little goes a long way.

House spiced rum: We made this a few weeks ago for the Cuba Libre. If you've got some left over from that recipe, by all means use it. If not, use a good blended rum like Pusser's or Plantation Special Dark. I'd add a teaspoon of vanilla extract, an allspice berry, a whole clove, maybe an orange peel. The original house spiced rum we made together is fairly intense. Using fewer spices would be preferable.
Demerara Syrup: This is one part sugar in the raw and one part water, gently heated until the syrup is clear. It's my sweetener of choice for any rum cocktail. A very sweet wine or cordial can be used here instead. I've been making cocktails with mead instead of sugar all week, and it's turned out very well.
Orange Bitters: Bitters smooth out and mellow any batched cocktail. Orange bitters are a nice, neutral bittering agent that cooperate well with rum anywhere.
Lime Zest: Much like the freezer martinis from last week, a little lime oil from the zest goes a long way. Orange zest would also be great here.
Presentation and Service: This bottle will be ready for service immediately, but letting it sit for a day or two would only improve it. I keep this as cool as I can, but when you're out camping for a week you take what you can get.
And with that, my dear readers, I'm off to grab my rapier and stab several hundred of my friends. This war isn't going to fight itself, after all. Time to go have fun storming the castle.
In summary and conclusion, drink well, drink often, and tip your bartender — donate to Wonkette at the link below! And if you'd like to buy some bar gear or books from Amazon, please click here!
OPEN THREAD!
Matthew Hooper
Matthew Hooper, aka Samurai Grog, turned 50 in 2021 and decided to have a midlife crisis by leaving a boring sales and marketing job to tend bar at the local country club. He's never been happier. He's also a fencer, a dad, a husband, and a punk music fan. Overall, he's way cooler than he ever thought he could be when he was 16.