Brett Favre Diverted Frivolous Mississippi Welfare Funds To Very Serious Volleyball Stadium
Class War
September 14, 2022 02:40 PM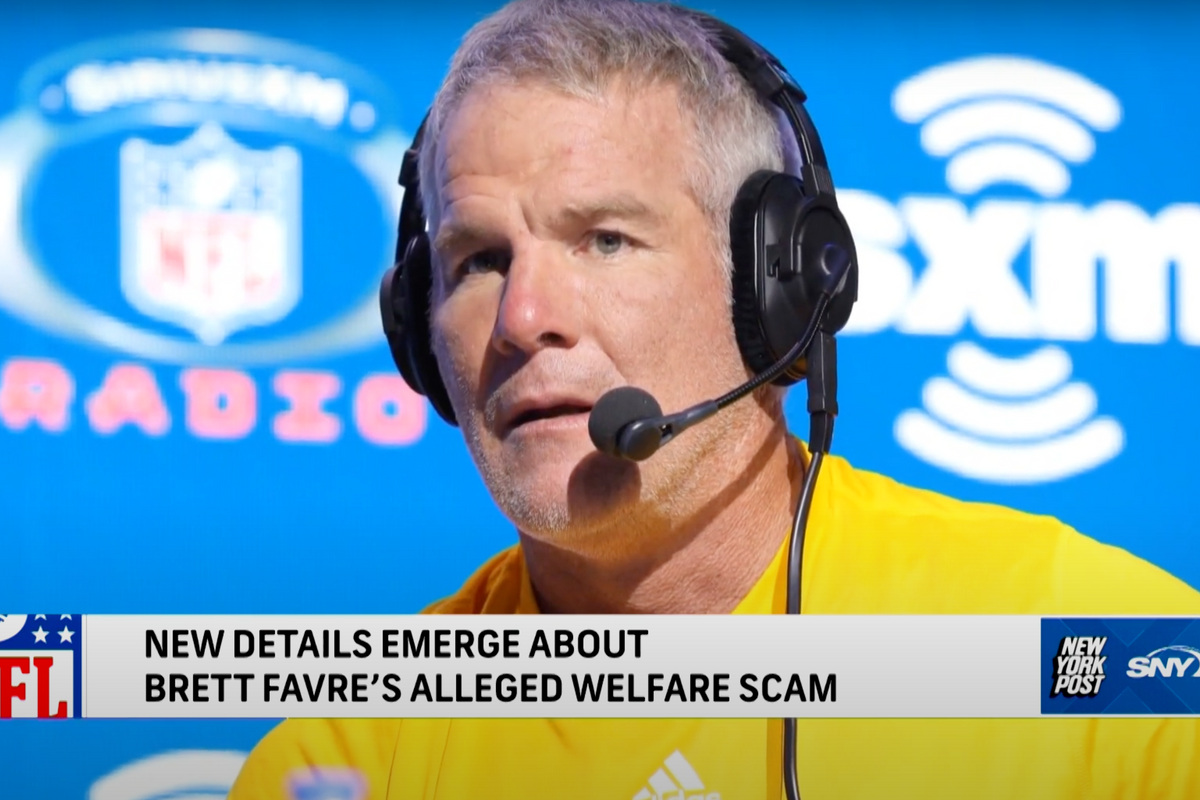 Hey, there's a big ole welfare cheat down in Mississippi, and it's Hall of Fame quarterback and sharer of unsolicited dick pics Brett Favre.
Unlike the dick pic scandal, Favre's welfare fraud scheme is reportedly bigger and bolder. It's possibly the largest public fraud case in the state's history, and this is Mississippi.
Anna Wolfe at Mississippi Todayobtained text messages that reveal how former Mississippi Gov. Phil Bryant helped Favre funnel at least $5 million of the state's welfare funds toward the construction of a volleyball stadium at the University of Southern Mississippi, which is Favre's alma mater and where his daughter plays volleyball. The shameless fraud here was all in the family. (We suggest you read the whole in-depth article. There's great reporting here.)
From Mississippi Today:
The texts show that the then-governor even guided Favre on how to write a funding proposal so that it could be accepted by the Mississippi Department of Human Services – even after Bryant ousted the former welfare agency director John Davis for suspected fraud.

"Just left Brett Favre," Bryant texted nonprofit founder Nancy New in July of 2019, within weeks of Davis' departure. "Can we help him with his project. We should meet soon to see how I can make sure we keep your projects on course."
---
Nancy New, who's unfortunately not a plucky teen sleuth but a sleazy crook, pleaded guilty to multiple felony counts in April related to misusing public money intended for the state's poorest residents. New and her son, Zachary New, acknowledged spending welfare grant money on lavish personal gifts. The released texts show that New's "nonprofit" organization worked with Favre, Bryant, and others on the stadium scam. Favre claimed credit for personally raising the funds himself.
New is a friend of Bryant's wife Deborah, and her "nonprofit" was supposed to spend tens of millions of flexible welfare dollars outside of public view. Instead, forensic auditors discovered that the "nonprofit" blew through at least $77 million in funds that should've bought food for hungry people. These are federal welfare dollars so these assholes aren't just stealing from all of us. They've made us complicit in their crime.
Federal data shows that Mississippi spent about $3.7 million on direct cash assistance to poor families in 2020. Mississippi frequently rejects welfare applications from poor people. About one — as in just slightly above zero — percent of state applicants succeed in receiving welfare funds, but Mississippi isn't located within a few tony blocks on Park Avenue, where that statistic would make sense. It's the poorest US state, with 18.8 percent of residents subsisting under the poverty line.
Wolfe reported in 2019 that "for every dollar Mississippi spends on basic cash assistance for poor families, the state leaves three dollars unspent, rolling over to the next year. It spends the most on 'Work' — grants to training programs, work supports like transportation vouchers, etc." Hilariously, this freaked out Bryant who asked Davis, "How is she figuring this?"
\u201cGov. Phil Bryant screenshotted my tweet below\u2014which touched on my investigation into welfare in the spring of 2019, at the fever pitch of the largest taxpayer theft in state history\u2014and sent it to MDHS Director John Davis. \u201cHow is she figuring this?\u201d he asked. #TheBackchannel\u201d

— Anna Wolfe (@Anna Wolfe) 1649189556
Bryant has long denied any involvement in the welfare grift, but the texts show that there were plans to name the building after him. Maybe it was a surprise.
Favre reportedly asked New if the media could trace his volleyball stadium money back to its actual source. He did this through a text message rather than meeting her on a golf course without any actual clubs. New assured him their scam would remain on the down low and claimed she understood why Favre would be "uneasy about that." She's referring to the truth getting out, not about stealing millions from hungry people.
The state has pursued a civil suit over the larger welfare scandal, but there's been obvious resistance to probing too deeply into the stadium scam. Current Gov. Tate Reeves fired attorney Brad Pigott, who originally represented the state's welfare department, when he subpoenaed the athletic foundation for communications with Phil and Deborah Bryant. But don't call it a coverup! The corruption's gone on for years.
The messages also show that a separate $1.1 million welfare contract Favre received to promote the program – the subject of many national headlines – was simply a way to get more funding to the volleyball project.

"I could record a few radio spots," Favre texted New, according to the new filing. "…and whatever compensation could go to USM."
Gross. Just gross.
It's hardly a shock that someone who'd probably steal candy from an impoverished baby would flip on her accomplices. New alleges that Bryant directed her to make the payment to Favre. Bryant is obviously not thrilled with his former friend, but there's no way this woman was going to jail alone. Does Mississippi even have any prisons with tennis courts? The state's capitol still lacks drinkable water ... in 2022.
\u201cWhen you\u2019re writing about how Mississippi officials misspent tens of millions of federal welfare funds and you\u2019re also on month 3 of having no clean drinking water\u201d

— Anna Wolfe (@Anna Wolfe) 1663104337
According to a motion filed Monday, Favre first asked for funding from the Mississippi Department of Human Services in July 2017. The organization is intended to help "Mississippians move from a state of crisis to self-sufficiency through targeted state assistance programs." This should in no way involve building volleyball stadiums.
"While Favre was pleased with MDHS's $4 million commitment, he knew a state-of-the-art Volleyball Facility was likely to cost more," the filing reads. "To make matters worse, USM apparently had a policy that any construction project on campus had to be funded fully, and the money deposited in USM's account, before construction could begin."

Favre thought of a way to get some extra cash to the program: even more money could flow through his company in exchange for the athlete cutting ads for the state's welfare program. New said she thought it was a good idea.

"Was just thinking that here is the way to do it!!" Favre texted.
Favre reportedly received a $1.1 million welfare contract to promote the program, for which he recorded some radio spots. He's since paid back the $1.1 million and insists he didn't know the money came from welfare funds. Sure. Favre and Bryant have not yet been charged with any criminal wrongdoing, but c'mon.
[Mississippi Today / Clarion Ledger / Sports Illustrated]
Follow Stephen Robinson on Twitter.
Do your Amazon shopping through this link, because reasons.
Yr Wonkette is 100 percent ad-free! Please subscribe, donate, and otherwise help keep us alive and kicking!
Stephen Robinson
Stephen Robinson is a writer and social kibbitzer based in Portland, Oregon. He writes make believe for Cafe Nordo, an immersive theatre space in Seattle. Once, he wrote a novel called "Mahogany Slade," which you should read or at least buy. He's also on the board of the Portland Playhouse theatre. His son describes him as a "play typer guy."