Bezos Whips It Out. Wonkagenda For Fri., Feb. 8, 2019
News
February 08, 2019 08:59 AM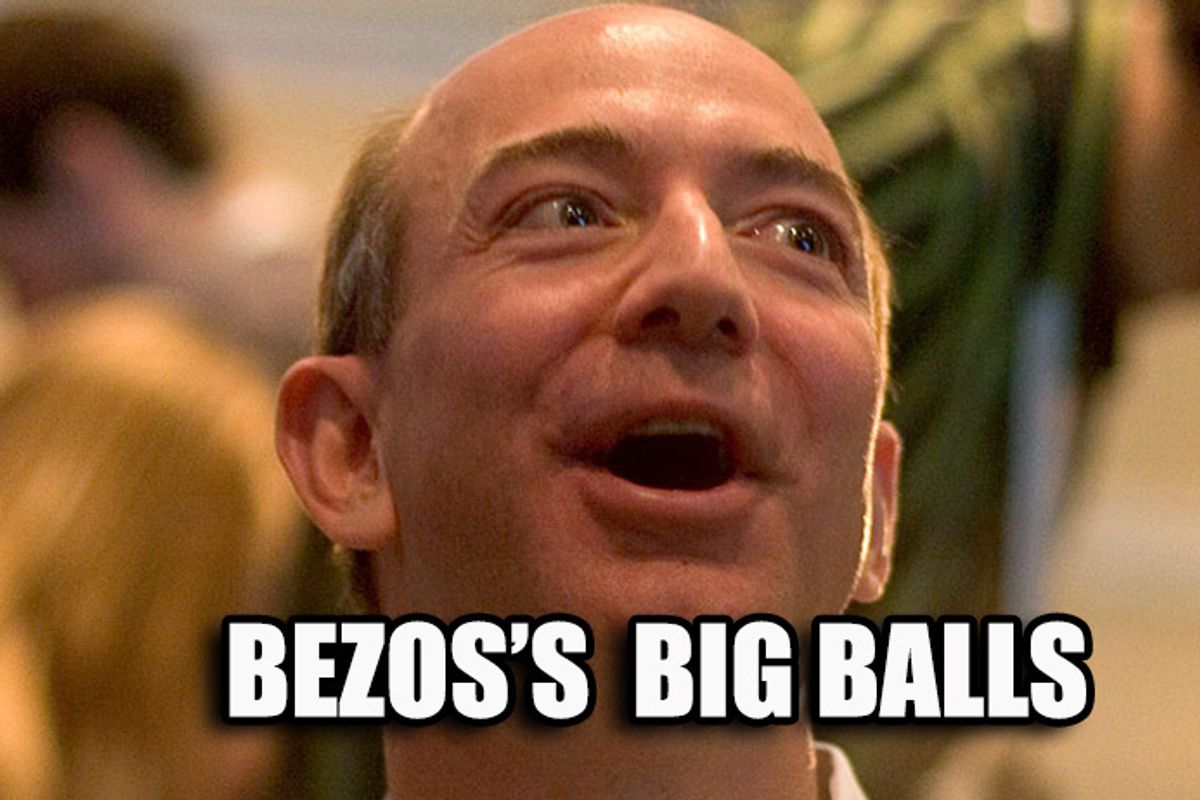 Morning Wonketariat! Here's some of the things we may be talking about today.
---
Amazon CEO Jeff Bezos says the National Enquirer tried to blackmail him with dick pics. Rather than let the National Enquirer, its parent company, AMI, and its scummy Trump-loving head, David Pecker, post his "semi-erect manhood" all over the interwebs, Bezos whipped out emails between his investigators and AMI's legal team. WaPo reports that the photos could have been stolen from Bezos's mistress/girlfriend, Lauren Sanchez, via her brother, who is known to COLLUDE with Roger Stone and Carter Page. AMI denies it did anything illegal (PFF!) or unethical (LOL!), but law nerds are quick to note that this sextortion is the same shady stuff that got Pecker and AMI involved in the Trump-Russia and Stormy Daniels scandals, potentially violating their immunity agreement with federal prosecutors. Fun Fact: Good guy hackers noticed AMI's websites are hosted on Amazon's web servers, which is as hilarious as it is stupid.

Later today Acting AG Matthew Whitaker will appear before the House Judiciary Committee to dodge questions about his role in ALLEGEDLY obstructing the Trump-Russia investigation. After ping-ponging back and forth over threats of subpoenas, Meatball eventually caved and said he'll probably claim executive privilege on any Trump-Russia questions Democrats will undoubtedly ask. Unfortunately for Meatball, Democrats just got their hands on documents saying he "failed to return thousands of dollars that would have been distributed to the victims" of an ALLEGED patent scam his big-dick-toilet company perpetrated. Womp Womp!
Robert Mueller's team says Paul Manafort breached his plea deal by lying to federal prosecutors. BUT WAIT, THERE'S MORE! Manafort was also trying to cover for Konstantin Kilimnik, his shady Ukrainian partner who attended Trump's inauguration, and was holding back on Mueller's team in the hopes of possibly getting a pardon from Trump.
Emily Jane Fox gossips that Melon Trump's former aide Stephanie Winston Wolkoff was eventually quit-fired for pointing out all the shady and stupid things going in Trump world. When she brought up shady payments during the planning of the inauguration -- now the focus of a SDNY investigation -- Wolkoff was told to know her role and shut her pretty little mouth. Other fun tidbits include Melon's Jacketgate, and how Wolkoff was scolded for saying "Be Best" sounded illiterate.
The only person the Trump administration could find to lead the State Department's anti-Russian fuckery campaign was former Navy pilot and intel officer turned Fox News talking head, Lea Gabrielle. The person heading the Global Engagement Center speaks both Arabic and Russian, and previously previously served as the third-highest civilian in the DOD. It's still unclear what the Trump administration has actually done to combat Russian fuckery, but one anonymous Trump minion tells CNN that she'll likely act as window dressing to distract from the administrations having zero fucks to give.
Trump's White House is facing the brutal reality that Democrats and Republicans don't want to give President Pampers his goddamn wall (or "peaches," or steel slats, etc.) Facing the prospect of a massive Republican revolt, Politico notes Trump has temporarily tabled declaring a national emergency while legislators continue negotiating a government funding bill that definitely won't contain $5.7 billion for WALL. Earlier this morning, Tennessee Republican Rep. Chuck Fleischmann, the top Republican on the House Appropriations Committee, told the gang at Fox and Friends that the odds of another government shutdown were "nil, or next to none"
During a House hearing on Trump's baby jails, HHS officials denied playing a roll in the creation of Trump's baby jail policy. Officials from DHS and DOJ decided to skip the hearing, likely to avoid lying to Congress (again). An attorney representing a family interned at one of Trump's baby jails testified that the policy was clearly designed in order to kidnap and imprison children, and that it's still happening "on a smaller scale." The hearings prompted Illinois Democratic Rep. Jan Schakowsky to comment, "What's been happening is more than irresponsible and sloppy. I think what we're really talking about is state sponsored child abuse, and I would go as far as to say kidnapping."
Rep. Jerry Nadler announced that the House Judiciary Committee will move forward with the Bipartisan Background Checks Act on Wednesday, Feb. 13, the day before the anniversary of the mass shooting at Marjory Stoneman Douglas High School in Parkland, Florida.

The DCCC has identified the 44 most vulnerable House Democrats in 2020, and almost all of them were part of the #BlueWave in 2018. It's never too early to start thinking about what you can do for your country!
Aside from it being his birthday, Michael Bloomberg is thinking about using Valentine's Day and the anniversary of the Parkland shooting to announce his 2020 run. Vanity Fair gossips that Bloomberg still isn't sure if he'll run because they're worried about pissing off Joe Biden.
Conservatives are PISSED that SCOTUS Chief Justice John Roberts just joined the court's liberal justices to block a Louisiana law that would have forced the last few abortion clinics in the state to close.

State attorneys general are leering at Trump's DOJ over a legal opinion on internet gambling that curiously benefits Trumpian mega donor Sheldon Adelson. The DOJ casually released its opinion during Trump's shutdown, likely in an attempt to mitigate blowback.
Texas's chief elections officer, David Whitley, is defending his efforts to scrub legal immigrants from state voter roles by rolling pebbles under his shoe and murmuring, "I dunno." When asked why he purposely sent out erroneous data to county officials, Whitley responded with a shruggy emoji. The Houston Chronicle's editorial board posted a blistering op-ed calling on the state legislature to reject Whitley, citing violations to the US constitution, civil rights, and the 1964 Voting Rights Act.
Now that Trump has effectively killed the landmark 1987 Intermediate-Range Nuclear Forces Treaty, Moscow is already building nuclear weapons it said it wasn't building. SURPRISE! [Tom Lehrer]
Alex Jones and his basement dwelling trolls think the recent spat of media layoffs are part of a secret Obamanatti plot to kill off far-right fever dreams on the interwebs, not the fallout from Facebook's clickbait pivot to video and general corporate greed. According to James Woods, we're all commie "pinkos" anyway.
After Amber Athey, a Daily Caller mouthpiece, began crying about a member of Congress on the NRATV, a Media Matters reporter began posting Athey's anti-semitic, homophobic and racist tweets that use phrases like the N-word, and calling people a "faggot." Athey later posted a half-assed apology for being a hypocritical pottymouth.
Former New York Times EIC Jill Abramson isn't exactly admitting to plagiarism, but she does tell CNN that, "The language is too close in some cases and should have been cited as quotations in the text," and that the blatantly plagiarized passages will be "fixed."
Last week Techcrunch revealed that Facebook and Google used sketchy language to get people to let them spy on their phones for cash and gift cards. In the fallout, Apple yanked the apps from its App Store, as well as privileges Google and Facebook need to conduct day-to-day business, causing an uproar in nerdworld about monopolies in tech. Yesterday three senators sent letters to Facebook, Apple, and Google demanding to know what the hell they were doing, how long they were doing it, and how many of those people were underage.
Motherboard has a brilliant investigation showing how AT&T, Sprint, and T-Mobile have sold customer GPS data to bounty hunters and bail bond firms (who then resold the data access on the black market) FOR YEARS. In many cases the data tracking feature -- which was designed for emergency services and first responders -- was so accurate that a cellphone/person could be pinpointed inside specific rooms of buildings. On a scale of one to fucked up, this is the equivalent catching a peeping Tom.

Finally, Yr Wonkette is deeply saddened to report the passing of former Democratic Michigan Rep. John Dingell. Dingell was first elected to represent the Michigan 15th in 1955 after the passing of his father, John D. Dingell Sr., a New Deal Democrat. Dingell would serve until 2014, making him the longest serving member of Congress. Throughout his career, Dingell hugged the trees and saved the babies by pushing environmental protections and expanding healthcare. Were it not for the work pioneered by Rep. Dingell, we wouldn't have Obamacare. Dingell was 92.

And here's your morning Nice Time! IT'S MAVERICK!

Missouri with Maverick:)www.youtube.com

Follow Dominic on Twitter and Instagram!

We're 100% ad-free and reader-supported, so consider buying us coffee, or get a subscription!

Dominic Gwinn
Dominic is a broke journalist in Chicago. You can find him in a dirty bar talking to weirdos, or in a gutter taking photos.