Came Tumbling Down. Wonkagenda For Fri., April 26, 2019
News
April 26, 2019 08:59 AM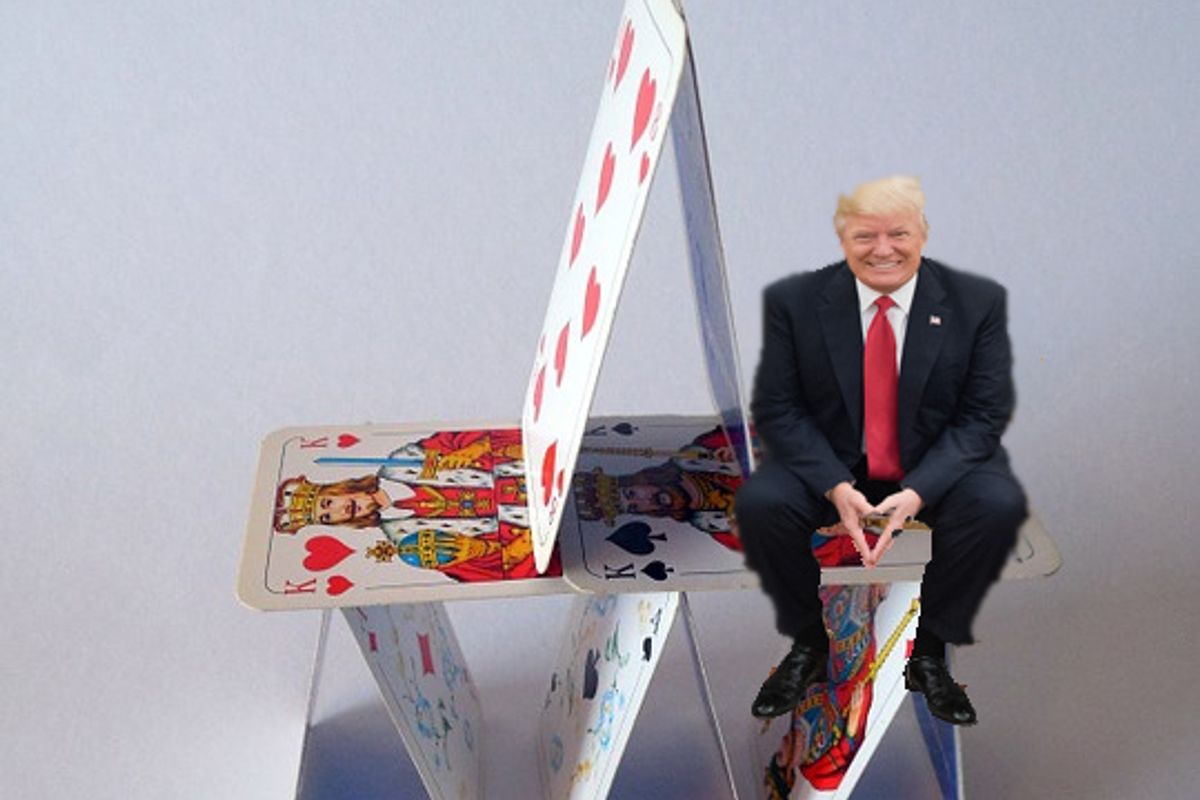 Morning Wonketariat! Here's some of the things we may be talking about today.
---
Trump called into Hannity last night (again) to bitch, moan, and ramble. Trump screamed about the Mueller Report and repeated his new catchphrase, which prompted Hannity to pucker his lips up to Trump's asshole and whisper that the media owes him an apology. Later, per Hannity's prompt, Trump said he had no regrets he didn't #LockHerUp because of #HerEmails -- but then he said he'd changed his mind (again) after the election, and started pestering people to find #HerEmails. Other highlights include Trump rooting for Pete Buttigeig, shitting on other 2020 Democratic candidates, and whining about the late Sen. John McCain. ¯\_(ツ)_/¯
Fox News TV lawyer Judge Andrew Napolitano wrote mean words about Trump and even filmed a video detailing many of the ways Trump obstructed justice. Napolitano then described why he thinks AG Bill Barr perverted federal statutes in an effort to protect Trump from himself.

Fox News judicial analyst Judge Andrew Napolitano: "When the president asked Corey Lewandowski ... to get Mueller f… https://t.co/OWu5GlM2XZ

— Kyle Griffin (@Kyle Griffin) 1556233810.0

Fox News is tearing itself apart, according to new gossip from Gabe Sherman. The network's news division is pissed at the loudmouth talking heads for making their reporters look like partisan hacks, demanding the brass curb the obnoxious rightwing orgy that starts up once the sun goes down. This has incensed people like Hannity, who maintains he and the other blithering idiots make the money, so he's threatening to leave in 2021.


In an attempt to keep all the lackeys from rage-quitting, Mick Mulvaney has been hosting happy hours and installed a popcorn machine. The efforts to boost the low staff morale go hand in hand with Mulvaney's ass kissing of "the boss," as well as the rest of Trump World.
North Korea has sent the US a $2 million bill for the medical care of Otto Warmbier. WaPo reports a US envoy sent to retrieve Warmbier's body in 2017 signed an agreement to pay the bill, per Trump's instructions. The bill is said to be lost somewhere in the bowels of the Treasury Department, and it's unclear whether or not Trump paid it. As usual, Trump shitposted he never paid the bill ('cause he NEVER pays bills), blamed everything on Obama, and tweeted something about being the "greatest hostage negotiator." Note: Warmbier, 21, fell into a mysterious coma shortly have bing sentenced to 15 years in a North Korean labor camp for attempting to steal a propaganda poster. Warmbier died 15 months later.

Reps Elijah Cummings, Jerry Nadler, and Bennie Thompson have sent a nastygram to acting DHS Secretary Kevin McAleenan demanding documents related to all the "You're Fired"-ings at DHS earlier this month. The move follows reporting that Stephen Miller went on a blind rampage after senior DHS officials refused to violate federal immigration laws. Trump's White House responded with their own letter that basically tells Congress to suck a toad penis.
A US District Judge in San Diego has given the Trump administration six months to identify the thousands of immigrant children taken from their parents as part of its "zero tolerance" immigration policy. The administration will now have to create a statistical model for how kids were separated, including kids under five, kids detained in El Paso, and kids traveling without a sibling, as well as a system to ID the all the kids thrown in baby jail by Customs and Border Patrol since April 2018.
The USA Today Network partnered with a bunch of local newsrooms across the country for a deep dive into all the fuck-up cops who get rehired in small towns that don't have the money or time to actually vet folks.
A federal judge says that white nationalist Coast Guard asshole who was stockpiling guns in preparation for a rampage against Democratic politicians and journalists can be released as long as he has "a whole lot of supervision." The judge notes the crazy bastard hasn't been charged with terrorism related offenses. You know, jail cells have lots of supervision.
A three-judge panel has ruled that Michigan's congressional and legislative maps were gerrymandered all to hell by Republicans, and ordered the state to draw new maps in 2020. The court gave the state until August 1 to draw the new maps.
The New York Civil Liberties Union has sent a nastygram to New York Republican Rep. Peter King for blocking constituents on social media when they call him a dick every time he makes a dick move (an almost daily occurrence). The ACLU says it's ready to slap his ass with a lawsuit if he doesn't unblock them, likening it to "ejecting them from that town hall" as it "limits their participation in our democratic process, striking at the heart of the First Amendments guarantee."

After Trump shitposted a chopped up video of Rep. Ilhan Omar that triggered a wave of death threats, Twitter CEO and douchebag extraordinaire @Jack Dorsey personally called Omar to mansplain why he wasn't going to take down the video. In typical Silicon Valley fashion, @Jack did say he was sorry, and that they needed to do a better job policing hate speech.
House Majority Leader Steny Hoyer has outlined the floor schedule for the upcoming legislative working period beginning next week. First on the agenda is a bill to keep the US in the Paris Climate Accords, followed by additional funding for disaster relief, an extension of the national flood insurance program, updates to retirement account laws and Obamacare (respectively), and amendments to expand the scope of the Civil Rights Act. Other measures on the agenda are strengthening the Consumer Financial Protection Bureau, protections for Dreamers, and raising the minimum wage to $15 an hour.
The House Appropriations Committee is breaking out its abaci and spreadsheets in preparation for markups on 2020 spending bills next week. It's possible that the Labor-HHS-Education bill could drop first, with Military Construction-VA, Legislative spending, Defense and emergency disaster relief bills to drop shortly thereafter. Roll Call reports House Appropriations Chairwoman Nita Lowey has told House Budget Chairman John Yarmuth that she will set a $664 billion defense limit and $631 billion nondefense limit. Let the money games begin!
As we head into the 2020 campaign, Trump has effectively taken control of the economy by breathlessly screaming about jobs numbers, the stock market, and threatening the Fed -- and he's pissed nobody cares. Politico reports bean counters are nervous about a looming recession, and political wizards are worried there's no magic trick to unfuck the economy if/when Trump breaks it. In a related story, WaPo reports Trump officials are begging Republicans on the Hill to quickly and quietly raise the debt ceiling in fear that any kind of fight over the debt limit could trigger an uncontrollable collapse of the stock and labor markets. This is what a house of cards looks like.
Author Sarah Smarsh says she's met with Senate Minority Leader Chuck Schumer about a potential run at the Senate seat being vacated by Kansas Republican Sen. Pat Roberts. McClatchy reports that Smarsh hasn't made a decision, and that several notable Democrats, including former US attorney Barry Grissom and former Rep. Nancy Boyda, have also been weighing their own campaigns for Roberts seat.
Former VEEP and 2020 candidate Joe Biden says he's really sorry he was a dick to Anita Hill during the Clarence Thomas hearings back in the 1990s. Hill says Biden "set the stage" for people like Justice Rapey McPrivilege, adding, "He needs to give an apology to the other women and to the American public because we know now how deeply disappointed Americans around the country were about what they saw. And not just women. There are women and men now who have just really lost confidence in our government to respond to the problem of gender violence."
Biden has only been in for about 24 hours, but he's already making some big moves. While eggheads argued about using fear tactics in his opening video, Politico reports Trump was scared shitless of Biden's opening salvo being aimed directly at him. At the same time, Biden announced he'd hired Symone Sanders, Bernie Sanders's former press secretary, as a senior advisor, and has already been raking in endorsements from centrist politicos who've been notably silent until now.

Nurses sent Washington state Republican Sen. Maureen Walsh 1,700 decks of cards after she bitched nurses "probably play cards for a considerable amount of the day." Walsh's comments came in opposition to a bill that would mandate nurses receive an uninterrupted rest and meal break during their shifts. Bonus There's a Change.org petition calling for Walsh to follow a nurse during a 12-hour shift, and her office has said she would happily accept the challenge.
In the wake of the devastating Camp fire in Northern California, students still lack basic necessities like food, shelter, textbooks and WiFi. Buzzfeed reports students are living in tents while teachers hold classes in airports, malls, and warehouses, while students without birth certificates are struggling to get IDs and government assistance. But at least Trump raked the forest.
On top of ALL that, the LA Times reports utility companies want to jack up the rates on customers so that their investors can pocket more cash.
The AP, the USA Today network, and McClatchy have teamed up for an exhaustive series on how evacuations from forest fires quickly create deadly gridlock. It's brilliant reporting for nerds that looks at how decades of infrastructure planning can suddenly clash with the fearless emergency workers and a panicked public.
A racist old coot in California has been arrested after ALLEGEDLY posing as an ICE agent and robbing construction workers in California. In a social media post, the El Dorado County Sheriff's Office describes how 56-year-old Patrick Mullany had been stalking construction sites, handcuffing workers, taking their money for "court fees," and threatening to deport them. A neighbor tells a local news station Mullany had been obsessed with Mexicans, and called them "dirty."
Let's all point and laugh at Kentucky's piece of shit Republican Gov. Matt Bevin. A new Morning Consult poll shows Bevin is the least popular governor in America. Great job!
Now that he's destroyed the landmark INF treaty, Trump wants a trilateral nuclear arms treaty with Russia and China. The effort stems from Trump losing his shit over the cost of a nuclear arms race, reports of unregulated nuclear weapons from Russia. Trump thinks he can strong-arm both nations into supporting the agreement by potentially attaching it to a trade agreement. No, you're not going crazy, this is laughably unrealistic.
Brazilian dictator-in-training Jair Bolsonaro is afraid of gay people turning Brazil into a homocracy. Bolsonaro tells a magazine that he has no problem with tourists coming to Brazil to sex up local women, "But we can't let this place become known as a gay tourism paradise. Brazil can't be a country of the gay world, of gay tourism." He seems terrible.
If you want to vomit, Vanity Fair has a profile on Bari Weiss. It's rather long, and Weiss's tone-deaf defense of the alt-right and rapey dudes will have you inventing new cuss words, but it (kind of) explains why baby boomer Reaganites think she's winning one for the Gipper.

Boston's Satanic Temple has been granted tax-exempt status by the IRS. The group says it will now launch legal battles against religious discrimination and pursue faith-based government grants, as well as access to public spaces used by other religions. HAIL SATAN!
Mathieu Shamavu, a park ranger at the Virunga National Park in Congo, has set the new standard for selfies. Shamavu was checking his phone when he noticed two female orphaned gorillas posing behind him, so he snapped a quick pic of the gorillas mimicking his movements. The gorillas later tweeted, "Feeling cute, might delete later, LOL!"
And here's your morning Nice Time: MEERKAT PUPPERS!

Meerkat babies celebrate 1st birthday with Cake Smash Partywww.youtube.com
Follow Dominic on Twitter and Instagram!

We're 100% ad-free and reader-supported, so consider buying us coffee, or get a subscription!
Dominic Gwinn
Dominic is a broke journalist in Chicago. You can find him in a dirty bar talking to weirdos, or in a gutter taking photos.