Welcome To The News Dump. Wonkagenda For Thurs., July 5, 2018
Elections
July 05, 2018 09:10 AM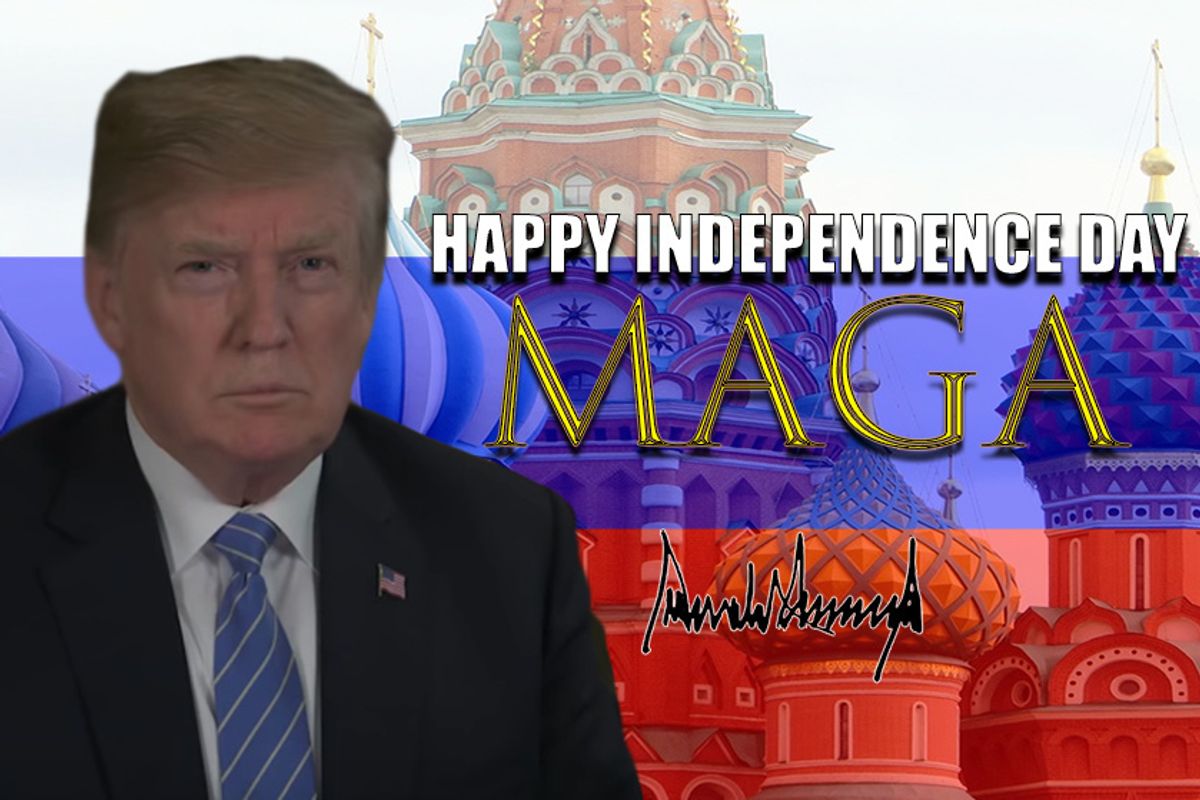 Morning Wonketariat! Here's some of the things we may be talking about today.
---
First things first: here's three little piggies!

The Senate Intel Committee released their assessment on the 2016 campaign and concluded that Russia definitely engaged in cyber fuckery to swing the election for Trump, backing previous reports from the intel community.
Bloomberg reports that Mueller is tapping more career prosecutors and FBI agents. LOCK'EM UP!

A federal judge has thrown out a lawsuit alleging the 2016 Trump campaign and Nixonian "ratfucker" Roger Stone conspired with Russia and Wikileaks in the DNC hack based on a technicality, adding that the two plaintiffs, former DNC staffers, had "the wrong forum."
Michael Avenatti is being slapped by the IRS over unpaid taxes, charges he says are politically motivated after the assistant US Attorney wrote, "The Debtor and its principle [sic] Michael Avenatti made misrepresentations to the United States that it's [sic] claim would be fully paid. The misconduct of the Debtor and its responsible office [sic] Michael Avenatti should not be condoned by this Court." The ghost of Richard Nixon strikes again!
Michael Cohen scrubbed his Twitter and Linkedin accounts of Trump references. :(
Someone is paying troll farms in Indonesia and India to make blog posts distancing Trump from Russian mobsters in order to dilute Google search results. Curiously, there's also an astroturf movement of bots on Twitter claiming to be pro-Trump former Democrats who are "walking away."
CNN got a hold of the "Separated Parent's Removal Form" that the Trump administration is giving to undocumented immigrant parents, forcing them to choose between deportation and baby jails.
On the eve of Trump's trade war, economists and eggheads are warning that there will be no winners, noting that farmers in red states are already feeling pinched by Trump's idiotic "whac-a-mole" trade policy. Last night (/this morning) the Chinese government said it will not shoot first, but noted that it will retaliate against the American heartland.

Trump's threats to pull the US out of the WTO could plunge the US into a recession, according to some un-American pencil pushers who think the rest of the world will just move on without us.

A new report from the Organization for Economic Cooperation and Development shows that the US's unemployed and at-risk workers get screwed by big businesses AND Uncle Sam. The report adds the US has one of the largest income inequalities, second only to Israel.
Trump's called in central casting for a SCOTUS justice to replace Anthony Kennedy, reportedly looking for someone who "looks" the part. #Murica
Several liberal groups are spearheading a multi-million dollar campaign to block Trump's SCOTUS pick by targeting Sen. Lisa Murkowski and Sen. Susan Collins. Meanwhile, the conservative Judicial Crisis Network is promising to target red state Democrats with their own campaign.
Ohio Republican Rep. Jim Jordan is brushing off charges that he intentionally ignored widespread sexual abuse of wrestlers he coached at Ohio State University, stating "We've got truth on our side." However, lawyers for Ohio State say that Jordan is full of shit, arguing Jordan never returned any phone calls or emails when asked for an interview.
Scott Pruitt BEGGED Trump to "You're Fired" Jeff Sessions and let him temporarily run the DOJ so he could "You're Fired" Robert Mueller before fucking back off to Oklahoma to run for public office (again). Pruitt denies the report, and says he and Sessions are BFFs who sing the F.U.N. song all the time.
The quest to unfuck the criminal record of Joe Arpaio has taken another turn, and the DOJ is whining that the 9th Circuit Court of Appeals can't appoint a special prosecutor to pursue an appeal of Arpaio's record.
Transgender troops may not be banned, but they're drowning in a sea of bureaucracy and red tape.

Utah Republican Rep. Rob Bishop says that Puerto Rico shouldn't forget all the creditors waiting to pick at what's left of the indebted island territory, telling a federal appellate court that it should "deal fairly with its existing creditors and respect their rights." #TaxationWithoutRepresentation
Trump is confident there will be no #BlueWave in November, and that has many former Bush officials shaking their heads.
A number of black female leaders have sent a mean letter to Nancy Pelosi and Chuck Schumer over their "recent failure to protect" Rep. Maxine Waters from attacks. Pelosi's office responded by calling on the administration to stop attacking Waters, adding that Trump had "sullied the bully pulpit with reckless disregard for the safety of others."
Illinois Republican Gov. Bruce Rauner is refusing to tell people to vote against the actual Nazi Republican candidate Arthur Jones, instead saying he shouldn't be there. Note: State Republicans repeatedly refused to intervene in Jones's candidacy, allowing him to run uncontested for a congressional seat.
According to his friends, Texas Republican Rep. Louie Gohmert says that the DOJ might be spying on him for working on a 48-page "exposé" about Robert Mueller. Citing no evidence, Gohmert told Tucker Carlson on Monday night that it's retaliation for "not properly kowtowing to the deep state."
House Minority Whip Steny Hoyer has been hospitalized and diagnosed with pneumococcal pneumonia.
In an email blast to board members and donors, Sen. Dianne Feinstein says she won't seek an endorsement by the California Democratic Party, and instead is asking state party leaders to forgo endorsing a candidate to avoid infighting.
Michael Avenatti tweeted he'll run against Trump in 2020, "but only if I think that there is no other candidate in the race that has a REAL chance at beating him." #HesRunning
A federal judge has ruled that Tennesee can't take drivers licenses from people who can't pay court fees, potentially setting a national precedent.
Joey "Jaws" Chestnut won this years Nathan's Famous hot dog eating contest after sucking down 74 wieners in 10 minutes.
Oregon State Rep. Janelle Bynum was canvassing houses in her district when one of her constituents called the cops and reported a suspicious black lady typing on her cellphone. Bynum did receive an apology from the resident, telling a local paper, "It boils down to people not knowing their neighbors and people having a sense of fear in their neighborhoods, which is kind of my job to help eradicate. But at the end of the day, it's important for people to feel like they can talk to each other to help minimize misunderstandings."
Paul Campos's theory that Elliott Broidy is covering for Donald Trump by admitting an affair with former Playboy model Shera Bechard is looking a little more plausible now that Broidy has announced he'll no longer pay hush money payments to Bechard.
A British couple have been hospitalized after being poisoned by the same military-grade nerve agent that infected former Russian spy Sergei Skripal and his daughter back in March.
Last year Trump started polling aides and world leaders about invading Venezuela until HR McMaster sat him down and explained why the US can't just invade another country.
Trump will meet Queen Elizabeth next week, but he won't get the full red carpet treatment.
On Tuesday night the Polish government purged 27 of its 72 Supreme Court justices, spurring tens of thousands to take to the streets in protest of perceived Russian influence and aggression. Now many of the justices are fighting back.
Wilbur Ross will let shady Chinese tech firm ZTE do business in the US for about a month. Right now ZTE is scrambling to shuffle all of its executive leadership in order to look legit.
Iraqi Shiite cleric Moqtada al-Sadr has gone from insurgent to politician in a short period of time after an electoral victory earlier this year, but many in Washington, Baghdad and Tehran remain wary.
The Montreal Jazz Festival canceled performances by Slav after somebody realized white people singing slave songs is, at the very least, bad optics.
A number of hardcorde Hollywood conservatives, including Jon Voight, Robert Davi, and Stacey Dash are secretly making a bootleg Roe v. Wade movie in New Orleans, but the locals keep screwing up production, telling them all to fuck off.
The New Zealand Court of Appeal has ruled that the the Internet's most whiny titty-baby and pirate, Kim Dotcom, can be extradited to the US to face charges on racketeering and criminal copyright charges. In case you forgot, here's our 'splainer on on Kim Dotcom.
And here's your morning Nice Time!
We're 100% ad-free and reader-supported, so consider buying us coffee, or get a subscription!
Follow Dominic on Twitter and Instagram!
Dominic Gwinn
Dominic is a broke journalist in Chicago. You can find him in a dirty bar talking to weirdos, or in a gutter taking photos.