ROUND 4! Wonkagenda For Wed., Oct. 16, 2019
popular
October 16, 2019 08:59 AM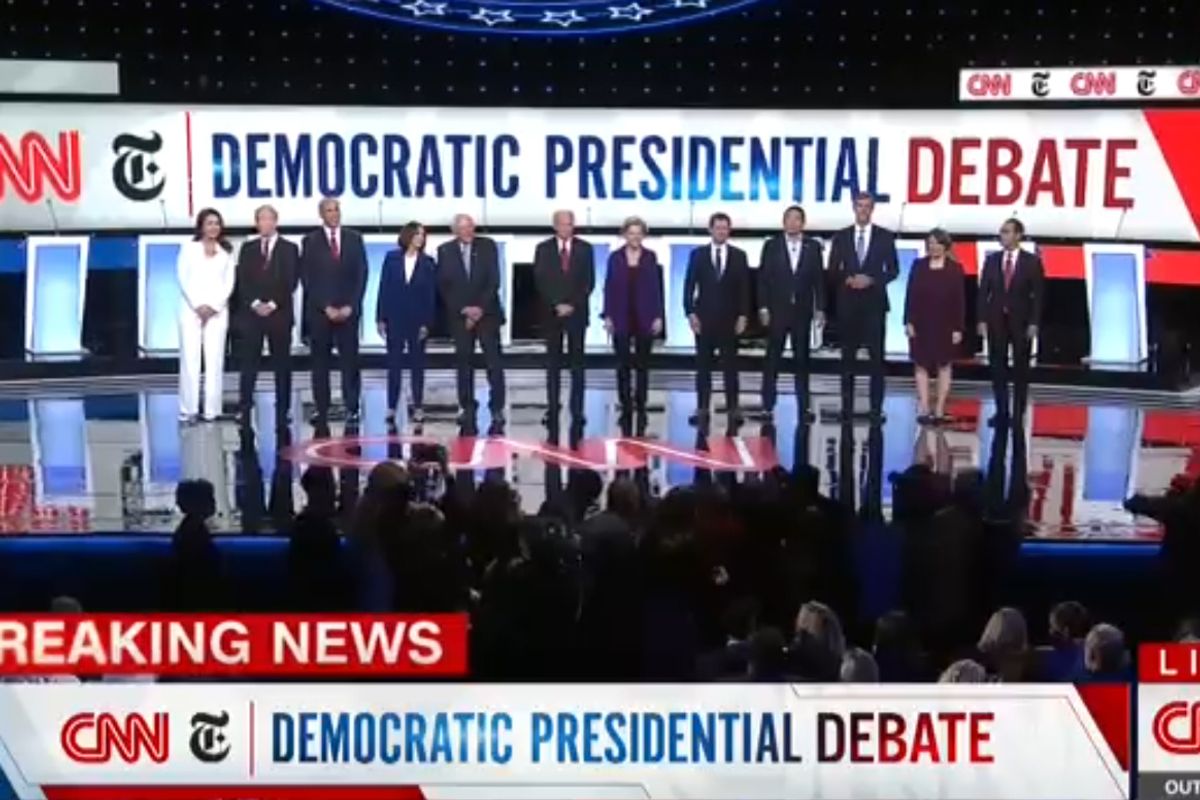 Morning Wonketariat! Grab a cup of black coffee and shake off that hangover! Here's some of the things we may be talking about today.
---
Last night's debate was a dogpile on Sen. Elizabeth Warren, Mayor Pete Buttigieg told Rep. Tulsi Gabbard to take a flying fuck at a rolling pineapple, and Amy Klobuchar spent the night throwing out bad jokes and salad combs. Once again Biden stepped on his own shit, Beto choked on his own dig, and everyone ignored Andrew Yang. The big winner (aside from Chevy cars) of the evening was Warren who successfully swatted away attacks from her 2020 rivals. Both the Washington Post and Politico note that knives came out for Warren as she has now, arguably, become the frontrunner.
[Big Takeaways / Fact Check / Transcript / Speaking Times]
How many of you guys actually know who the fuck I am? Do you know one of my campaign platforms is to stop circumcis… https://t.co/zUKrWVtHmn

— Dominic Gwinn (@Dominic Gwinn) 1571184949.0
Politico reports Joe Biden's campaign is getting dusted in the dash for the cash as donors flock to the campaigns of Mayor Pete Buttigieg and Senators Bernie Sanders and Elizabeth Warren. Recent FEC reports show that super rich guy Tom Steyer led in both fundraising and spending, while the campaigns of Biden, Beto, Booker, Castro, Harris, Klobuchar, and the other Tim Ryans are all in the red.

Three out of the four members of "The Squad" are expected to endorse Sen. Bernie Sanders's 2020 run. Sanders teased the endorsement last night in promoting an upcoming rally in Queens, New York, this weekend.

Yesterday George Kent, a senior State Department official in charge of post-Soviet "shithole countries" with almost 30 years of experience, broke with the White House's order to STFU about Ukrainium One. Kent told House investigators he was cut out of policy meetings involving Ukraine, describing the move as "wrong," and that he was told to "lay low." According to people in the room, Kent said the State Department's policy was being run by "the Three Amigos."
The Washington Post reports that Rudy Giuliani tried to give Turkish President Recep Tayyip Erdogan a freebie by urging Trump to cough up an exiled Turkish cleric and US permanent resident.
Since Ukrainium One is like some kind of Scooby Doo Russian novel, Buzzfeed has a VERY HANDY list of all the players in Ukrainium One (so far).
Mike Pence, Rudy Giuliani, the DOD, and the White House's Office of Management and Budget say they won't comply with a congressional subpoena to cough up documents related to Ukrainum One. Pence's office is bitching that it'll only cooperate if Congress returns to the "regular order of legitimate legislative oversight requests." Yesterday House Speaker Nancy Pelosi told Republicans to eat a bowl of shit by declining to hold a formal (and unnecessary) vote on an impeachment inquiry.
The House is expected to vote on a a resolution condemning Trump's retreat withdrawal of US forces in Northern Syria. Several senators are expected to release additional sanctions proposals on Thursday, but there's no word on whether Senate Majority Leader Mitch McConnell will actually put the bill on the floor. Politico reports the White House's Syrian 360 has calmed senior Republicans' hot flashes with rank-and-file members who, fearful of a mean tweet, have begun retreating back their their safe spaces and blaming this all on Obama and Democrats.
The Military Times is quoting a senior military official as saying the nuclear weapons we've stashed in Turkey are "now essentially Erdogan's hostages." Officials say we can't remove the 50 B61 gravity bombs without pissing off the Turks and jeopardizing NATO, nor can we really afford to leave them there either. Late this morning Erdogan said he won't meet with Mike Pence to discuss a ceasefire, telling Sky News, "I'm not going to talk to them. They will be talking to their counterparts. When Trump comes here, I'll be talking," but that's now in dispute following comments by Secretary of State Mike Pompeo on Fox Business.

Uber and Lyft have decided to skip a congressional hearing on labor and safety practices today. Earlier this week Uber laid off "about 350" employees, and said it had "zero" drivers in an effort to avoid liability lawsuits. FUN FACT: In 2017, Uber "denied" being "in the business of providing transportation."
Twitter (finally) said it hasn't banned or suspended Trump because he hasn't explicitly violated Twitter's rules. Last week Sen. Kamala Harris penned an open letter to Twitter CEO Jack Dorsey saying Trump has used the shitposting platform to "target, harass, and attempt to out" whistleblowers. Last night Harris tried to force the issue at the Democratic debate by urging her 2020 rival Sen. Elizabeth Warren to join her call for Twitter to ban Trump, but Warren didn't take the bait (for one of a few reasons).
Facebook SAYS it's allowing politicians to lie on its platform, but Buzzfeed did some digging and found Facebook is deleting political ads thanks to a few gaping loopholes in its new ad policies.
The family of a British teen killed in a car crash by the wife a US diplomat who promptly fled the country were invited to the White House Wednesday. Upon arrival, the family was told the woman, Anne Sacoolas, was "in the building and was willing to meet" with them. The grieving family declined the meeting and said it should happen "in the UK so the police can interview her." A lawyer for the family says the whole thing was a stunt by the Trump administration, which had hoped the families could hug it out in front of cameras. The family says, "We didn't want to be sort of railroaded, not into a circus as such," and their lawyer adds, "Most sensible folk and not a nincompoop in a hurry would understand that."
A Florida Man has been asked to stop calling 911 to report that his roommate stole $20 worth of his weed. Wacky tobacky is still illegal, and police declined to file charges.

Someone called dispatch because his weed was stolen. Deputy Zalva is making contact. #TweetAlong https://t.co/eDTZv8YhiD

— Pasco Sheriff (@Pasco Sheriff) 1570930496.0
Here's a lovely photo essay about a photographer who Photoshops his cats into family vacations, like space, scuba diving, hang gliding, and hippy festivals.
And here's your morning Nice Time:IT'S COLE AND MARMALADE!

EPIC DIY Pyramid for Cats!www.youtube.com
Follow Dominic on Twitter and Instagram!
We're 100% ad-free and reader-supported, so consider buying us coffee, or get a subscription!
Dominic Gwinn
Dominic is a broke journalist in Chicago. You can find him in a dirty bar talking to weirdos, or in a gutter taking photos.