'Get Over It.' Wonkagenda For Fri., Oct. 18, 2019
popular
October 18, 2019 09:02 AM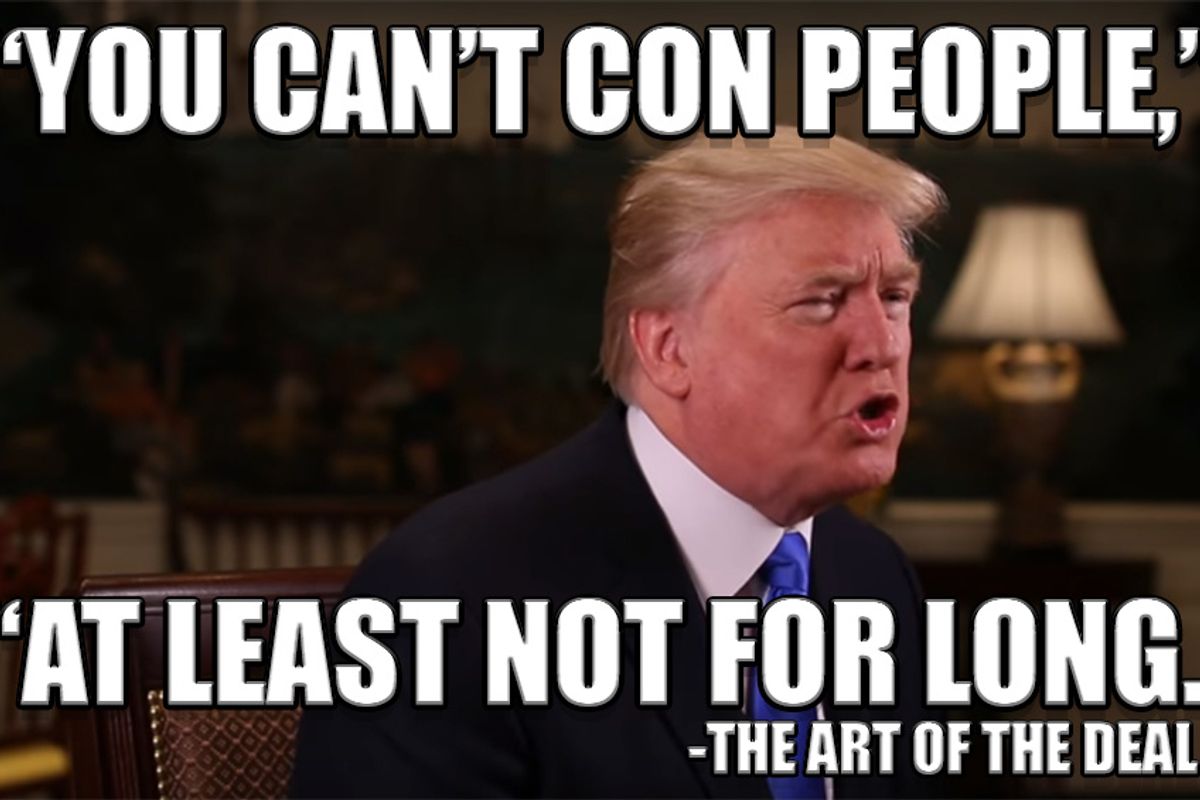 Morning Wonketariat! Here's some of the things we may be talking about today.
---

After White House (acting) Chief of Staff and OMB Director Mick Mulvaney came out and admitted they tried to blackmail Ukrainian President Volodymyr Zelensky for HER EMAILS and dirt on Joe Biden's kid, Trump's TV lawyers came out and said they had no idea why Mulvaney tried to shoot someone in the middle of Fifth Ave. A DOJ official noted, "If the White House was withholding aid in regards to the cooperation of any investigation at the Department of Justice, that is news to us." Mulvaney fired off an angry letter denying the things he'd already admitted during his on-camera press briefing, and blamed the media for reporting the things he said.

Mulvaney has issued a statement essentially blaming the media for reporting what he said. https://t.co/FzHSg8Gcmq

— Daniel Dale (@Daniel Dale) 1571349759.0
Last night, Sean Hannity attempted to do damage control by calling Mulvaney "dumb," then claimed the summary transcript of Trump's call with the Ukrainian president TOTALLY EXONERATED Trump. This morning, Joe Scarborough likened Mulvaney's sweat-drenched performance to a person who "pooped his pants."

Energy Secretary Rick Perry is being quit-fired due to his proximity/involvement in the Ukrainium One implosion. There's so much other stuff happening this morning that there's not enough time to go any deeper into this one.

The Daily Show's Trevor Noah breaks down how the administration literally admitted to all of its crimes yesterday.

So Much News, So Little Time: Trump Scandal Lightning Round | The Daily Showyoutu.be
After touring an overpriced luxury handbag factory with Labor Secretary Eugene Scalia and the walking corpse of Commerce Secretary Wilbur Ross in Texas yesterday, Trump yelled, screamed, and lied (of course) to his sycophantic Front Row Joes for 90 minutes in Dallas where he claimed "hateful" Democrats were "destroying this country." Trump also blubbered about whistleblowers, bullshitted about his trade war(s), told a "Sir" story, and made up some nonsense history of the Middle East, calling Turkey's President Recep Tayyip Erdogan "a gentleman" who needed "a little tough love," framing his genocide of the formerly US-backed Kurdish allies to "two kids [fighting] in a lot ... let'em fight ... and then you pull' em apart." Oddly enough, Trump didn't really mention the implosion of his Ukrainium One fever dream, but he did take a moment to whine about 2020 Democratic candidate Beto O'Rourke, who was simultaneously holding a "Rally Against Fear." Beto called out the "false, bullshit fear" of Donald Trump, and featured some of the 2020 challengers to Texas Republican Sen. John Cornyn. BONUS: A Dallas CBS affiliate reports that during the rally an armed man wearing body armor was arrested and taken to a local hospital.

Vice President Mike Pence announced a ceasefire in Syria between Turkey and the formerly US-backed Kurds. The Kurds now have five days to GTFO out of the land they've fought and died for next to US special operators over the last few years. The move effectively shows Pence caved in negotiations. This morning the New York Times is reporting that Syrian Kurdish fighters are still under fire from the Turkish military and its allies, but Pence denied the charge, raising questions about whether or not the US can even maintain the ceasefire. Pouring salt in that bloody wound, the Washington Post reports that ISIS/ISIL/whatever is now going balls-out and trying to regroup as the Kurds are forced to abandon the prisons holding them.
Rachel Madow took damn near 30 minutes last night to break down how Trump's fuckery with Eurotrash and corporate sleazebags strangely coincides with Vladimir Putin's foreign policy wish list. [Morning Maddow]

Trump Helps Putin Tick Through Russia's World Affairs Wish List | Rachel Maddow | MSNBCwww.youtube.com
Utah Republican Sen. Mitt Romney went on the Senate floor yesterday and suggested that Trump wussed out under pressure from Erdogan, adding, "Are we so weak and inept diplomatically that Turkey forced the hand of the United States of America? Turkey!?" Geezie Petes, Mittens, tell what you really think about this big, heckin' goof up! [Video]
The former commander of US Special Operations Command and staunch advocate for making your bed Gen. William McRaven has an long, sobering op-ed where he says Trump is destroying everything our country stands for by abandoning our allies with his nationalist retrenchment policies. McRaven concludes, "If this president doesn't demonstrate the leadership that America needs, both domestically and abroad, then it is time for a new person in the Oval Office."
Nancy Pelosi is brushing off timelines being floated by Senate Republicans that Trump's impeachment will wrap up soon.
The CDC is confirming that suicide rates for young people jumped 2007 to 2017. While homicide rates have declined as the number of suicides has risen, in 2015 and 2016 homicide rates increased in a few cities, like St. Louis and Chicago -- and though data nerds can't pinpoint the reason, the WSJ thinks this is related to a breakdown between cops and communities. I blame Facebook. [CDC Brief]
UNICEF says that more low- and middle-income countries are suffering from rising childhood obesity rates or malnourishment. There is some good news though, stunted growth has dropped over the last two decades on every continent but Africa. I'm blaming Facebook for this one too.
There's been some movement under Trump's NAFTA 2, but it's unlikely the administration will get the "handshake deal" it wants before Thanksgiving.
The Senate failed to block Trump from stealing money for his goddamn wall, setting up a gigantic fucking mess that could shut down the government next month. No biggie!
The House Education and Labor Committee approved a bill to to limit the price of prescription drugs, 27 to 21. The House Energy and Commerce Committee is also working on a similar bill.

The Office of Congressional Ethics has "substantial reason" to believe three members of Congress may have fucked up their campaign finances, while a mystery fourth case has been transferred to the House Ethics Committee for further review. BONUS: Self-described Florida Man, Republican Rep. Matt Gaetz, is currently the subject of an investigation for appearing to threaten Michael Cohen.
New polls following this week's debate are out this morning. An Emerson College poll shows Joe Biden and Elizabeth Warren leading in the Iowa Democratic primary. Meanwhile, a new Morning Consult poll shows Biden, Bernie, and Beto, sliding one point while Warren hangs in second; Kamala Harris, Pete Buttigieg, and Amy Klobuchar gain a point. [Morning Consult poll / Emerson poll]

IOWA POLL: @JoeBiden and @ewarren lead the #Iowa Democratic Primary, followed by @PeteButtigieg and @BernieSanders.… https://t.co/STyMz6e91W

— Emerson Polling (@Emerson Polling) 1571328030.0
Thousands of teachers and staff marched in the streets of downtown Chicago yesterday on the first day of their strike. Amid overwhelming support from local businesses, honking cars, and the gawkers in cubicle land, the city has conceded to a few of the demands of teachers and staff, but the offer was rejected late last night. Classes are canceled across the city again today, with Chicago Mayor Lori Lightfoot telling reporters that classes will remain canceled until a deal is reached.


#CTUstrike #CTU #CTUSEIUstrike https://t.co/rMao1Tehac

— Dominic Gwinn (@Dominic Gwinn) 1571347873.0
The United Auto Workers Union says its members will continue their strike against General Motors while members vote on a deal. An expedited vote is expected to be completed by the end of next week, with UAW leaders saying it's important that they remain on picket lines until they've all come to an agreement.
China is threatening the US with "strong countermeasures" if the US decides to #StandWithHongKong following the passage of a House bill supporting the Hong Kong democracy protests by prohibiting "commercial exports of certain nonlethal crowd control items and defense articles and services" to the Hong Kong police. The Senate passed a bill to #StandWithHongKong in September, and yesterday Republican Senate Foreign Relations Chair Jim Risch said he hoped the bill would move shortly, with an aide telling Reuters that a vote could come as soon as next week.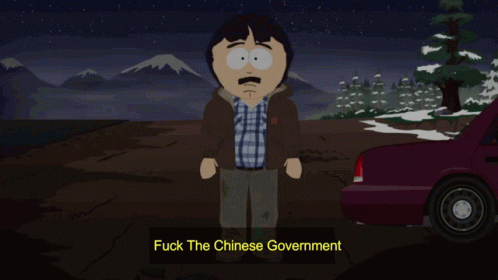 Roger Stone's lawyers REALLY don't want DOJ prosecutors to show a scene from The Godfather II where someone declines to throw the crime family under the bus because they think it will make Roger Stone look like a criminal. Look, if the shoe fits, throw it at someone.
California's new law to combat rising inequalities in the gig economy has a strange provision targeting freelance journalists, capping the number of stories California-based freelance journalists can write for an outlet at 35 per month. The bill's author, Assemblywoman Lorena Gonzalez, contends that this was done to force media outlets to hire more people, but writers contend that this bill will neuter their paychecks as some outlets say they just won't hire freelancers in California.
Mark Zuckerberg is still running around saying it's not a big deal that he's letting politicians lie in political ads (because he's getting paid). Like a Nazi bitching about their First Amendment right to be a racist prick, Zuckerberg says that limiting politicians from spreading misinformation and bullshit amounts to censorship.
Former Defense secretary Gen. Jim Mattis was the keynote at this year's Al Smith Dinner. Mattis talked about how he felt honored when Trump had essentially dubbed him the "Meryl Streep of generals," noting that this didn't bother him as he'd "earned his spurs on the battlefield and Donald Trump earned his spurs in a letter from a doctor." [Video]
The first all-female space walk is happening right now! FUCK YEAH, FINAL FRONTIER! [Video]
Randy Rainbow has a new song about Rudy Giuliani's constant lies and gaffes.[Video]
Samantha Bee took a look back at some of the crazy bullshit conspiracies rattling around Trump's brain, like his blatant illiteracy, that weird human battery thing, his involvement with Jerry Falwell Jr.'s pool boy, and the Scottish national pastime of fucking with Donald Trump.

Full Frontal Rewind: Conspiracies People Are Talking About | Full Frontal on TBSwww.youtube.com
And here's your morning Nice Time:IT'S TOPI!

MESSY JOB - Topi the Corgiwww.youtube.com
Follow Dominic on Twitter and Instagram!
We're 100% ad-free and reader-supported, so consider buying us coffee, or get a subscription!
Dominic Gwinn
Dominic is a broke journalist in Chicago. You can find him in a dirty bar talking to weirdos, or in a gutter taking photos.