A 'Go To Phrase.' Wonkagenda For Wed., Oct. 23, 2019
popular
October 23, 2019 08:49 AM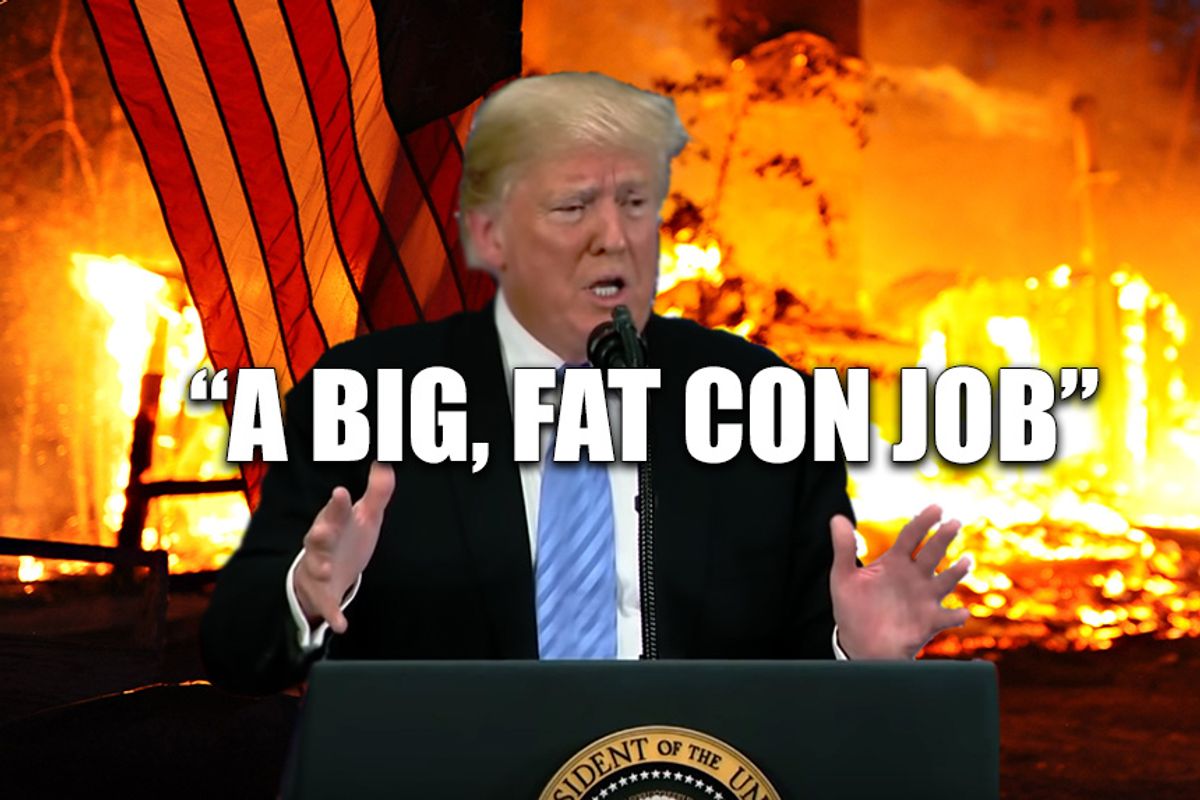 Morning Wonketariat! Here's some of the things we may be talking about today.
---
Yesterday the top US diplomat in Kiev, Bill Taylor, was dragged up to the Hill to spill his guts about the jaw dropping amounts of brazen international fuckery and extortion campaign Trump World was orchestrating in Ukraine in exchange for military aid. Naturally, Trump spent the better part of last night shitposting his defense, and retweeting clips of Fox News. [Breakdown / Morning Maddow]
Diplomat Worried Trump Would Stiff Ukraine After Leveraging Favor | Rachel Maddow | MSNBCwww.youtube.com
Fox News shifted into maximum damage control last night. Sean Hannity Trumpsplained that "Do us a favor" is a "go to phrase" for Trump (like "bigly"), took a holy shit all over Sen. Mitt Romney for his failure to wipe Trump's ass, then brought on Sen. Lindsey Graham to play The Crying Game.
Even former (acting) AG Matthew Whitaker (AKA: Meatball) has been rolled out! Meatball turned up on one dumbass show that nobody watched, then he rolled over to Laura Ingraham's white power hour to argue "abuse of power is not a crime." (SPOILER ALERT: Thomas Jefferson sure seemed to think it was a crime, and that's why Trump's getting impeached.)
New polls out of Quinnipiac and Reuters show support for impeachment jumping up, with the Q-pac poll showing support over 50 percent, and the Reuters poll at 46 percent.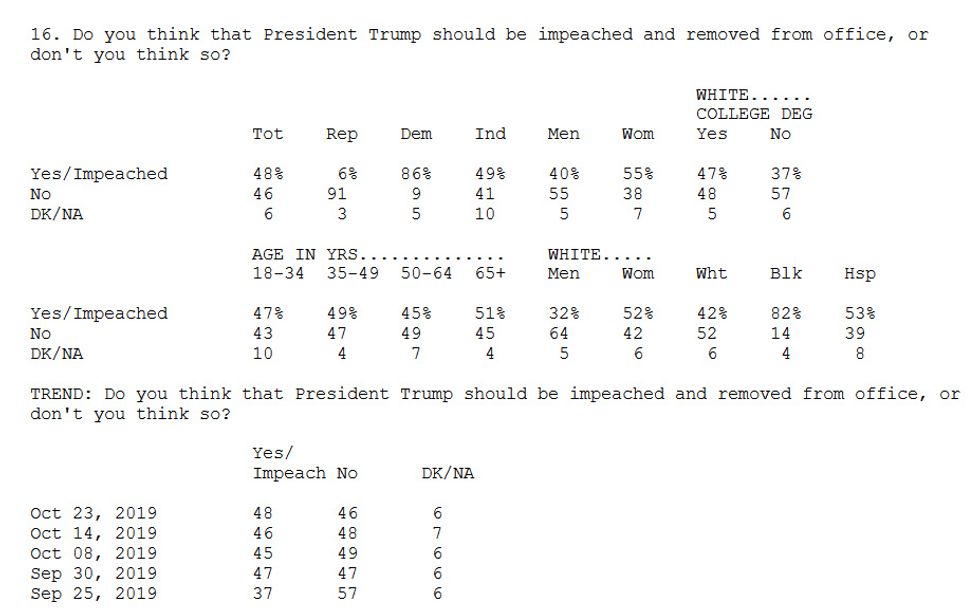 Quinnipiac poll on Americans favoring impeachment, 10/23/2019 via Quinnipiac
The Washington Post is reporting how conservative power couple Katie Walsh and Mike Shields joined forces with Trump's 2020 campaign manager Brad Parscale to siphon off millions of dollars since 2017. The Trump World trio's plan is pretty simple: They just refer one another to their colleagues whenever there's a problem, then pocket the cash.
Buzzfeed is reporting that the the investigation into Rudy Giuliani's chucklefucks just got bigger, and may involve a hell of a lot more than some campaign finance violations. A new subpoena shows at least one US bank got worried one of these Eurotrash jackoffs was trying to launder money from Not America, so they blew a whistle.
BUT WAIT, THERE'S MORE! Investigators in Chicago who've been working a case against Dmytro Firtash, a Ukrainian gas tycoon accused of bribery, have reached out to their New York counterparts after seeing Rudy's chucklefucks plastered all over the front pages.
Stephen Colbert and John Lithgow poked fun at Rudy Giuliani's very sober TV appearances, and the "proof trap" Rudy keeps falling into with Ukrainium One.

Colbert Gets A Surprise Visit From Rudy Giulianiwww.youtube.com
Politico has a quick trip down Memory Lane to find out why DINO Rep. Tulsi Gabbard is so butthurt about Hillary Clinton. Fun Fact: Gabbard's increasingly friendly relationship with Trump World started during the Trump transition when she went to Trump Tower about a possible gig in Trump's White House.
As Sen. Elizabeth Warren continues to inch her way up in the 2020 polls, super rich assholes are starting to panic as any attempt to strike her down only makes her stronger. "I believe in a progressive income tax and the rich paying more," says billionaire and former Goldman Sachs executive Leon Cooperman, "But this is the fucking American dream she is shitting on." Is it though?
After Sen. Elizabeth Warren popped into Chicago to show her support for the city's striking teachers, last night Joe Biden finally got around to making a phone call of support himself. With new Chicago Mayor Lori Lightfoot pushing back on claims she pissed all over negotiations with the Chicago Teachers Union, closet conservatives have started backing Lightfoot's PR attempt to out-progressive the CTU. Another massive rally is planned for today to press the city leaders as Lightfoot gives her budget address.
Employees at a pair of ice rinks in Central Park -- the ones Trump has bragged about for 30 years -- started removing the "TRUMP" name from signs around rink. The ice rinks are one of the few physical properties actually owned by the Trump Organization, and are apparently part of a rebranding strategy.

Charlie Warzel opines that data privacy is one of the lost issues in the 2020 campaign now that the GOP has been spying on cellphones to bombard them with Trump ads. With only candidate proposing rules on data privacy, nerds and advocates are asking if data privacy is a human right, or "the new oil."'
Google says it achieved "quantum supremacy," the holy grail of computing; science bozos are salivating at the possible leaps and bounds in technology.
A Tennessee man who was sitting atop a car as it traveled across an interstate highway has had the charge of "clinging to a vehicle" dropped after the judge ruled the law's language didn't match what the man was doing. Ronnie Sellers, 31, still faces charges in other municipalities, and tells local reporters the court should "put their attention on other things."
And here's your morning Nice Time: BABY SLOTH!

Getting Slothed with Baby Tornerowww.youtube.com
Follow Dominic on Twitter and Instagram!
We're 100% ad-free and reader-supported, so consider buying us coffee, or get a subscription!
Dominic Gwinn
Dominic is a broke journalist in Chicago. You can find him in a dirty bar talking to weirdos, or in a gutter taking photos.