'Keep The Oil.' Wonkagenda For Monday, Oct. 28, 2019
popular
October 28, 2019 09:15 AM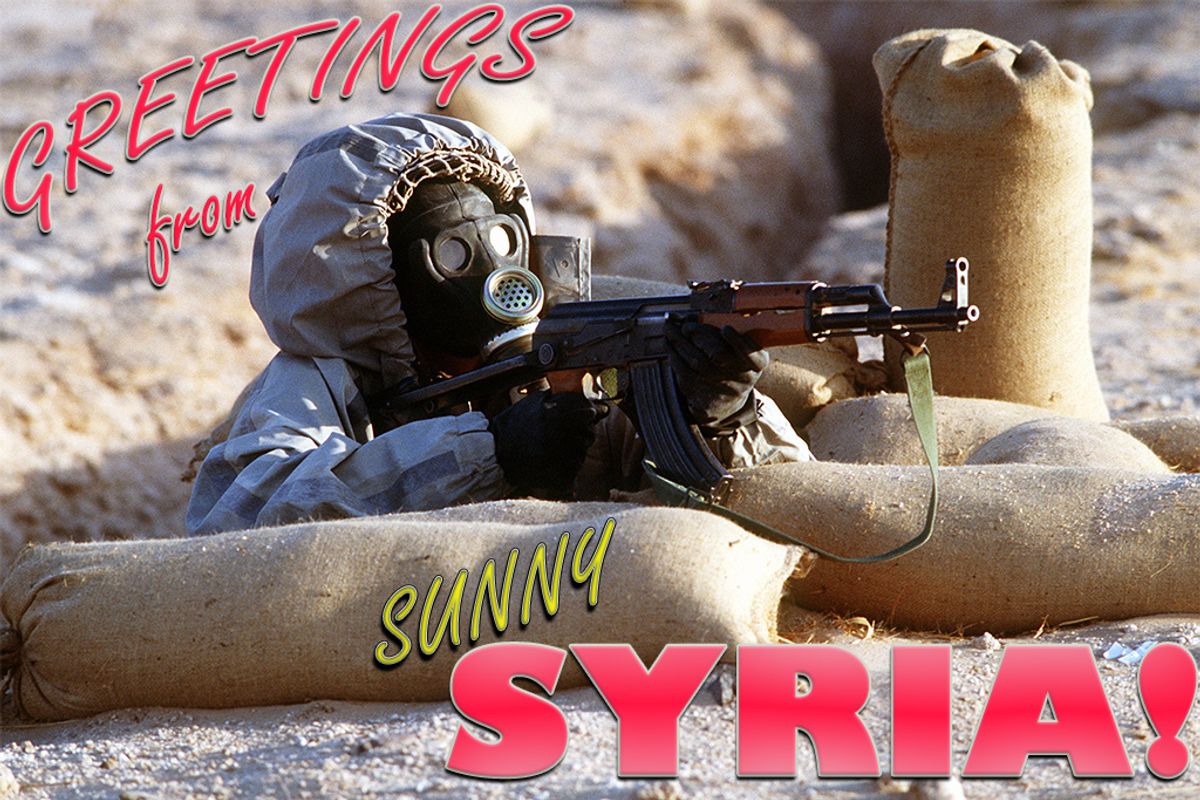 Morning Wonketariat! Here's some of the things we may be talking about today.
---
Trump's self-aggrandizing announcement that US special forces operatives had killed ISIS leader Abu Bakr al-Baghdadi hasn't been received very well. Political wizards think Trump already squandered whatever goodwill he could've gained by literally (and purposefully) changing the subject of his impeachment on Sunday shows. David Sanger writes in the New York Times that the intel used to target al-Baghdadi (and his associates) came from Syrian Kurds -- the very people Trump just screwed over by pulling most US forces out of Syria. What's more, Trump's sudden decision to pull US forces out of Syria freaked out the military, and further jeopardized the very risky mission to hunt down al-Baghdadi
Trump's TV-addled brain thought the raid on al-Baghdadi was like watching "a movie," and that it was "something really amazing to see." He was probably amazed there weren't any commercials, too.
Trump ordered US forces to move BACK into Syria to hold captured oil fields, saying that the US would "keep the oil." Legal nerds and political wizards think this is VERY stupid, and it's not exactly making us any friends as it confirms the rhetoric of US adversaries, and blows up almost two decades of good will efforts. Last night Russia criticized the US move, calling it "banditry," as if they were fucking saints.
National Security Adviser Robert O'Brien went on Meet the Press to brag about the administration's killing of Abu Bakr al-Baghdadi, but Chuck Todd decided to ask him why Trump has such a hard-on for Russia. O'Brien couldn't really answer that, or why Trump thanked Russia before thanking the Syrian Kurds who were responsible for tipping off US forces, stating, "I don't think you should read into that." [Video]

Trump was greeted to a stadium of boos after being introduced at last nights World Series game between the Washington Nationals and the Huston Astros. The crowd then began chanting,"lock him up." The Washington Post notes the games ceremonial first pitch was thrown out by outspoken Trump critic chef José Andrés.
There it is. https://t.co/hH9V8B8IYs

— Gabe Lacques (@Gabe Lacques) 1572224884.0
On Friday a federal judge ruled that the DOJ has to turn over Robert Mueller's grand jury evidence to House Democrats by Oct. 30. In effect, the judge pissed all over GOP talking points, ruling the House's impeachment inquiry was valid even if there hasn't been a formal vote to #IMPEACH the motherfucker.
House Democrats have slapped congressional subpoenas on three more Trump officials as part of the on-going impeachment inquiry: Russ Vought, (acting) budget director, Michael Duffey, a senior official at the Office of Management and Budget, and Ulrich Brechbuhl, a State Department lawyer.
The toilet paper tantrum by Republican Sen. Lindsey Graham to condemn the impeachment inquiry has garnered support from almost all vulnerable Senate Republicans save for Susan Collins and Lisa Murkowsi. Mitt Romney hasn't signed on either, but he could have just left it on the roof of the family car. He does that.
Republicans are freaking out about trying to defend Trump's increasingly irrational moves, calling it "like a horror movie." Roll Call notes that the few conservatives in Congress who are knocking Trump aren't sticking around. Bless their hearts.
During a conference appearance alongside Karl Rove, the former Bush administration stooge affectionately known as "Turd Blossom," Trump's former chief of staff Gen. John Kelly said he warned Trump not to hire a "yes man" to replace him, adding, "Because if you do, I believe you will be impeached."
Democratic California Rep. Katie Hill resigned this weekend amid allegations she had an inappropriate relationship with members of her staff. In a statement, Hill said the allegations are part of a "smear campaign built around cyber exploitation," being driven by her estranged ex-husband.
Joe Biden finally surfaced for a national TV interview. In an appearance on 60 Minutes, Biden declared himself "the frontrunner," and said mean words about Donald Trump.

Trump's speech at a historically black college Friday was attended by only seven students, plus other audience members hand picked by the administration. Faculty, staff, and students at the school were told to stay inside. Sen. Kamala Harris announced she would boycott the event because Trump was to be given an award for criminal justice reform by a sponsor of the event, but after the group was later "removed," Harris rescinded her boycott. Other 2020 candidates speaking at the event touted their own criminal justice policies, and Joe Biden did his speech leaning on a large cardboard cutout of Barack Obama.
The DNC raised the requirements for the sixth Democratic presidential debate in December. Despite a thinning field of candidates, the new requirements are likely to further cull the remaining Tim Ryans who insist they're still running.
There are rumors that the 2020 Democratic National Convention will be another shitshow with so many candidates holding steady pull among voters, which could lead to a another delegate hunt, or a scramble that hasn't been seen since 1972.
A bunch of Republican bums who were thrown out by voters in 2018 are hoping to get their groove back in 2020, now that Trump is at the top of the ticket.
Early this morning the European Union agreed to let the United Kingdom kick the Brexit can down the road until after Jan. 31, 2020. This comes following a call by British Prime Minister Boris Johnson to hold snap elections in December in the hopes that he can bolster support for his jackass stunts. [Podcast]
The man who snubbed Senate Majority Leader Mitch McConnell at the funeral for late legislative badass Rep. Elijah Cummings has a damn good reason for scoffing at #MoscowMitch.
Former Democratic Michigan Rep. John Conyers Jr. has passed away. Conyers, a founding member of the Congressional Black Caucus, was the longest-serving African American member of Congress when he resigned amid a sexual harassment scandal. Conyers was 90.
Rachel Maddow made NBC brass really mad on Friday night when she yelled at the suits who (ALLEGEDLY) killed Ronan Farrow's investigation into Harvey Weinstein's peen. While on air, Maddow broke news that NBC's brass had partly caved, reading a statement that said the network's non-disclosure agreements with women who've accused NBC talent of being creepy sex perverts would be waived for anyone who wants to go public. After Maddow interviewed Farrow about getting screwed by the network, Farrow tweeted applause for Maddow for having the balls to give her bosses the finger on-air. [Morning Maddow]
NBCUniversal Offers NDA Releases Over Harassment Claim Concerns | Rachel Maddow | MSNBCwww.youtube.com
A new book from a minion of former Defense Secretary Jim Mattis claims Trump wanted to "screw Amazon" out of bidding on a contract for the military's massive cloud computing program, JEDI. On Friday, the military announced that Microsoft had won the Pentagon's $10 billion contract. That's some mind trick.
The "streaming wars" have begun, so don't be surprised if all your news and broadcast feeds are full of Disney crap today. Remember, all those streaming services have another hidden cost: your personal data. FUN FACT: Yr Wonkette is ad-free, not owned corporate jerks, AND we don't suck up your data, so give us money!
A Florida teenager was arrested after stabbing two other teens during a fight they'd "prearranged" on social media. According to the Orlando Sentinel, adults who drove teens to the fight also began fighting. Local grammar scolds plan to attend the arraignment to point out that "prearranged" is redundant.
SNL poked fun at Trump's inability to control his Front Row Joes, Weekend Update noted his spawn's hypocrisy, and guest host Chance the Rapper gave a shout out to striking Chicago teachers.

Weekend Update: Eric and Donald Trump Jr. on Benefiting from Trump's Presidency - SNLwww.youtube.com
And here's your morning Nice Time:RED PANDAS, MEERKATS, OTTERS, AND LYNX!

Otters Have a Favourite Rock They Love to Play With! | The Science Of Cute | BBC Earthwww.youtube.com
Follow Dominic on Twitter and Instagram!
We're 100% ad-free and reader supported, so consider buying us coffee, or get a subscription!
Dominic Gwinn
Dominic is a broke journalist in Chicago. You can find him in a dirty bar talking to weirdos, or in a gutter taking photos.