Chicago Home. Wonkagenda For Tues., Oct. 29, 2019
popular
October 29, 2019 09:04 AM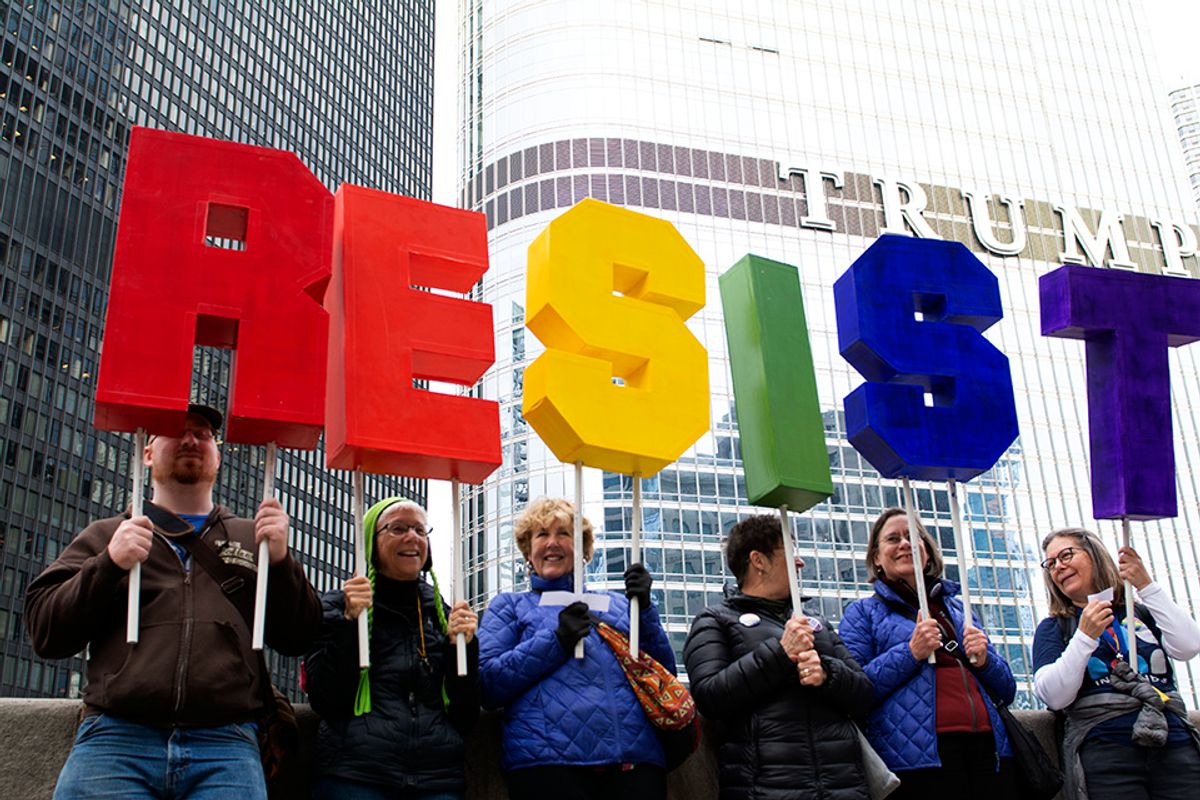 photo by Dominic Gwinn
Morning Wonketariat! Here's some of the things we may be talking about today.
---
The House is set to take a formal vote on impeachment proceedings Thursday. In announcing the move Republicans have been bitching about for weeks, Nancy Pelosi said, "This resolution gives us more opportunity in the committee, spells out protection of the rights for the president and his counsel. They should welcome this." Naturally, Republicans have not welcomed this. and have tried to frame it as Pelosi caving while White House Press Secretary Stephanie Grisham continued to regurgitate nonsense about "an unauthorized impeachment proceeding."
Lt. Col. Alexander Vindman, a National Security Council official in charge of Ukraine, plans to tell House impeachment investigators he heard Trump trying to blackmail the Ukrainian president, and it freaked him out so much that he ran to the NSC lawyers. Vindman plans to say that Trump World's Ukrainium One scheme "would likely be interpreted as a partisan play which would undoubtedly result in Ukraine losing the bipartisan support it has thus far maintained," and that it "would all undermine US national security." Vindman is also expected to corroborate testimony from other witnesses who've said EU Ambassador Gordon Sondland's involvement in Ukrainium One left NSC staff royally pissed. [Opening Statement]
Fox News is already attacking Vindman's credibility by trying to cast him as a spy because -- as a veteran with two decorated decades of military service, including a Purple Heart -- his family emigrated from Ukraine (thus he's fluent in Ukrainian and Russian) and officials often sought his advice about how to deal with a very sober Rudy Giuliani.

Oh my God, look at the spin they are using right now, actually saying that Vindman is a Ukrainian double agent....t… https://t.co/jxsfdvjrPS

— Andrew Lawrence (@Andrew Lawrence) 1572315264.0
Trump World is STILL not sure if they should release a transcript of Mike Pence's phone call with Ukrainian President Volodymyr Zelenskiy. NBC reports Republicans think this could just make the Ukrainium One implosion start sucking in more of Trump World, and neuters their ability to claim executive privilege on everything.

One of Devin Nunes's minions has been galloping around conservative circles and mooing the name of the anonymous whistleblower who kicked off the Ukrainium One impeachment investigation. The Daily Beast gossips that Nunes's minion, Derek Harvey -- an acolyte of Mike Flynn -- is also shoveling bullshit about a House Intel Committee staffer in an effort to discredit the whistleblower, and the investigation.
In an interview with Fox News, Attorney General Bill Barr denied that he's been acting as Trump's personal lawyer and trying to discredit the Trump-Russia probe. [Video]
Trump was in Chicago yesterday rambling nonsense and half-truths about crime stats during the annual International Associations for Chiefs of Police conference. Trump claimed Afghanistan was a safer place than Chicago, "the worst sanctuary city in America," and criticized city leaders including Chicago Police Superintendent Eddie Johnson who had declined to attend the event. Before he fucked off from a fundraiser at his trash palace, Trump collected $4 million from wealthy suburbanites while a few thousand people protested in front of Trump Tower and marched through the streets of downtown Chicago.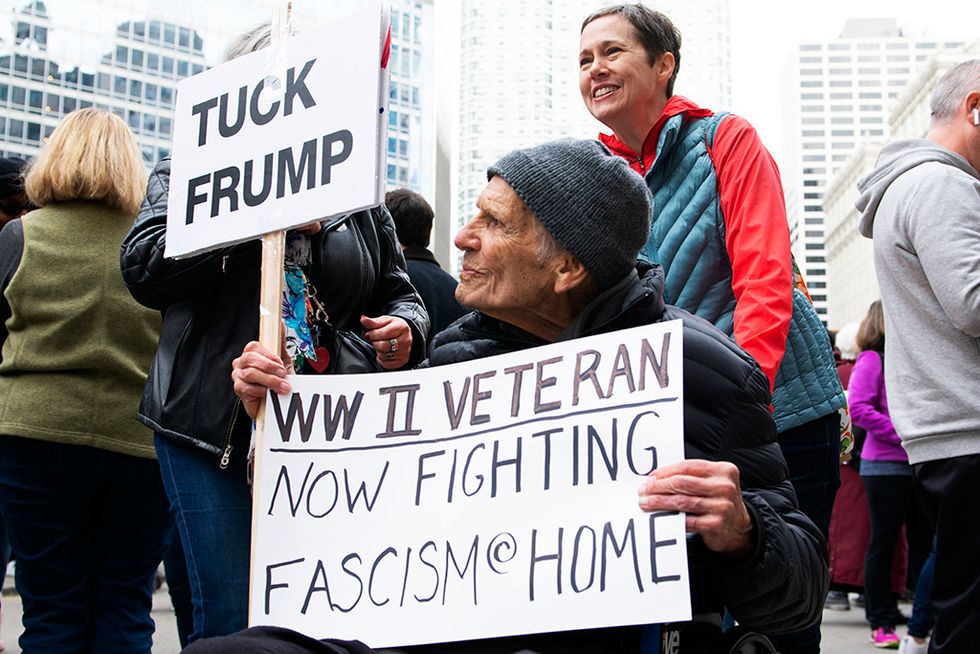 photo by Dominic Gwinn
The FCC has scheduled a vote to restrict US companies from using federal cash to buy telecom gear from two Chinese firms. The two tech companies, Huawei and ZTE, contend that this would neuter their ability to compete in expanding US markets -- like rural broadband programs. Tech and security nerds have long argued the Chinese firms are shady, and don't play well with others.

We may never know what was in the FBI's super secret second investigation of Supreme Court Justice Brett Kavanaugh, but the FBI does say it has something to do with his "alleged conduct as a teenager and young adult." Anyway, stop asking whether or not he liked to get blackout drunk and pull his dick out at parties, he said he "likes beer," and that's the end of it!
The New York Times thinks it's found some of talking points 2020 candidates will use on the economy, provided nobody panics and crashes the markets (again).
Former Attorney General Jeff Sessions is reported to be mulling over running for his old Alabama Senate seat. Politico reports Sessions is being egged on by a bunch of powerful allies who are desperate to keep Trump's Front Row Joes from nominating Bible-thumping ALLEGED pedophile Roy Moore again, but Maggie Haberman gossips there's worry Sessions might seek vengeance after getting "You're Fired" from the Trump Show. Complicating things even more, Axios gossips that Trump is still butthurt about Sessions's recusal from the Russia probe and might just screw up their hastily laid plans.
IF Mike Pompeo decides to run for the Senate in Kansas, he might have a few problems. His shine has faded to a stink.
Republican Rep. Greg Walden says #HesNotRunning in 2020.And another one bites the dust!
Axios gossip that one of the GOPs biggest fears is a Democratic landslide in 2020. Democratic candidates are hauling in oodles of Ameros, and polling better than Republican candidates who are struggling in once-safe House and Senate races.
A panel of judges has ruled that North Carolina's 2020 congressional maps show signs of "extreme partisan gerrymandering," and if there aren't new maps in time for the March 3 primaries they could order a delay of some or all of the primaries until after 2020. The Charlotte Observer notes that filing deadlines are weeks away, so the state's GOP lawmakers don't really have time to fight on this one, but we're sure they'll try.
Microsoft reports the Russian hacking group responsible for the 2016 DNC hack has been targeting at least 16 sports organizations and international anti-doping groups on three continents ahead of the 2020 Olympic games. Russian teams have long had a problem with juicing up their athletes, and are at risk of being booted out of the 2020 Olympics altogether after officials reported fuckery with Russian player data. Similar to the 2016 DNC hack, Russia is reportedly trying to blame everything on someone else; in this case North Korea.
Facebook employees are starting to revolt over Mark Zuckerberg's new policy to take cash for shitposts. They've even written a letter letting Zuck know how angry they are and demanding reforms.
Steve Bannon has been lining his shirt collars with Chinese mega bucks. According to Axios, Bannon's been brought on as a media personality to advise a Chinese media company that's critical of the ruling communist party. The CEO, Cuo Wengui (AKA Miles Kwok) is a Mar-a-Lago member, and wanted in China for bribery, fraud, and money laundering.
The NRA doesn't seem to have been a fan of NRATV according to a new lawsuit that says NRA suits found the programming "distasteful and racist." NRA officials: They're just like us!
An Iowa woman was killed at a gender reveal party after shrapnel struck her in the head. Authorities say the family had been tinkering with various explosive devices and colored powders in order to make a flashy reveal ceremony, and accidentally created a pipe bomb.
Seth Meyers took A Closer Look at Rudy's ass, and Trump's boos.

Rudy Giuliani Butt-Dials Reporter; Trump Booed at World Series: A Closer Lookwww.youtube.com
And here's your morning Nice Time:IT'S COLE AND MARMALADE!

SPOOKTACULAR Halloween Cat Castle! - Cole & Marmaladeyoutu.be
Follow Dominic on Twitter and Instagram!
We're 100% ad-free and reader supported, so consider buying us coffee, or get a subscription!
Dominic Gwinn
Dominic is a broke journalist in Chicago. You can find him in a dirty bar talking to weirdos, or in a gutter taking photos.