Game Of Phones. Wonkagenda For Wed., Oct. 30, 2019.
popular
October 30, 2019 09:06 AM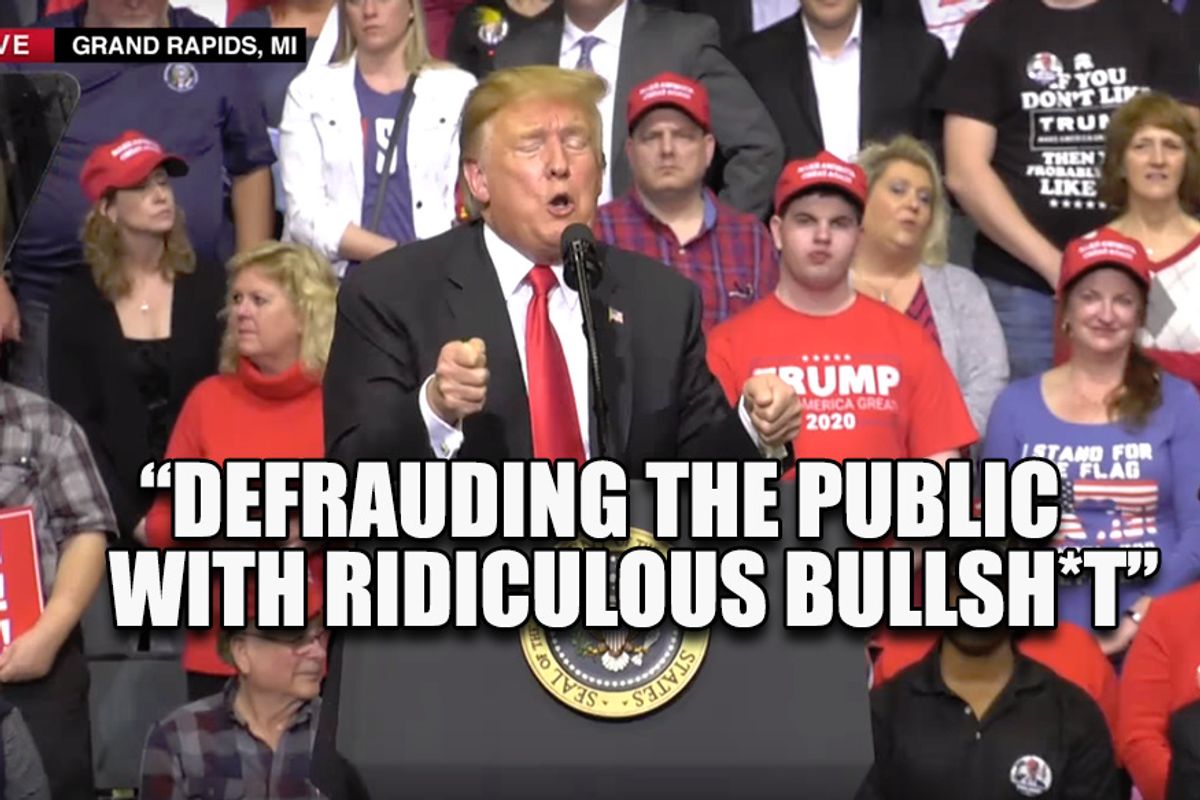 Morning Wonketariat! Here's some of the things we may be talking about today.
---
Lt. Col. Alexander Vindman is said to have told House impeachment investigators that the White House's summary/"transcript" of Trump's call with the president of Ukraine wasn't "perfect" as Trump says. The New York Times reports Vindman saying the summary omitted Trump claiming that there are tapes of Joe Biden talking about corruption in Ukraine, and that Vindman attempted to reconstruct the transcript to show the omissions, but his corrections were ignored.
Chris Anderson, a career foreign service officer who'd spent years working with Washington and Kyiv, is expected to testify to House impeachment investigators that former National Security mustache John Bolton warned him Rudy Giuliani was dicking around with US affairs in Ukraine.
Later today, a foreign service officer, Catherine Croft, is expected to testify that a former Republican congressman-turned-swamp monster, Robert Livingston, was running around the Hill screaming that former Ukrainian ambassador Marie Yovanovitch was "an 'Obama holdover' and associated with George Soros," and should be "You're Fired."
An federal appeals court has put a temporary hold on a judge's order that the DOJ turn over Robert Mueller's grand jury trial documents. Lawyers for House Democrats argue that the DOJ might simply be trying to stall in order to gum up the impeachment inquiry. COULD BE.
Senate Minority Leader Chuck Schumer is warning that Trump might shut down the government in order to stall his impeachment. A broad budget deal needs to be signed by Nov. 22 in order to avoid another Trump-imposed shutdown.
The Federal Reserve is widely expected to lower interest rates for the third time this year in order to stave off a potential recession brought on by Trump's trade war and constant cock slapping of US allies.
Expect the Republicans and the Trump administration to suddenly start ranting about Trump's NAFTA 2 thing (AKA: USCMA). Bloomberg reports Trump is raising a stink and now wants to tell companies where to make cars and parts, because what is "free market"?
A procedural SNAFU in the House Oversight Subcommittee on the Environment actually prevented a number of Republicans from trying to derail two hearings yesterday, including the testimony of Lt. Col. Vindman. Before former California Gov. Jerry Brown could make his opening statement on why he felt the Trump administration's move to limit California's strict auto emissions standards was dangerous, Republicans moved to adjourn the hearing. Republican Rep. Jim Jordan complained subcommittee chair Harley Rouda couldn't find a Democratic staffer with a pen and paper to take the necessary roll call vote; Rouda told him he could leave. Brown (eventually) warned about climate change, and complained about the rollback of Obama-era clean air rules. The hearing comes just as General Motors and Toyota side with the administration in ignoring California's strict auto emissions rules.
Science bozos say that sea levels are going to rise a hell of a lot more by 2050.

Now that he's out of jail for being a hippy protester, actor Ted Danson went before the House Natural Resources Subcommittee and testified that people are doing doodly squat to limit the use and sale of single-use plastics. Danson argued, "Recycling is like trying to mop up water from an overflowing bathtub while the faucet is still running. We need to turn off the faucet and reduce the production of plastics."
Boeing CEO Dennis Muilenburg was grilled by members of the Senate Commerce Committee over the company's attempt to whitewash problems with its 737 MAX jetliner. Muilenburg apologized for the company's failures, saying the company made "mistakes" and "got some things wrong." Illinois Democratic Sen. Tammy Duckworth said Boeing didn't update critical flight manuals for the 737 MAX until after planes began crashing: "You set those pilots up for failure."

Boeing CEO Testifies on 737 MAX Safetywww.youtube.com
Convicted liar George Papadopolous filed to run for California's 25th Congressional District, the seat just vacated by former Rep. Katie Hill. Interestingly enough, Papadopolous shitposted that Hill's seat was ripe for the taking just before a conservative blog posted revenge porn about her. Surely it's just a coincidence.
Kentucky's Republican Gov. Matt Bevin is trying to distance himself from Donald Trump as support for impeachment grows. Bevin, who been seen repeatedly at Trump's White House and at Trump rallies, now says, "I don't know the president." The New York Times notes that Bevin has spent so much time in DC that people began to think he was hunting for a gig in the Trump administration.
ICYMI: California is burning, the lights are off, and things are about to get a lot worse.
A German restaurant accidentally served a cake full of hashish to mourners at a funeral. Police say the baker mistakenly took a cake in the freezer, made by her 18-year-old daughter for a separate occasion, and gave it to the mourning family. Hash aside, why is a restaurant serving frozen cakes in the first place?
You're not going crazy. Increasingly violent and largely leaderless protest movements are springing up all over the world in response to rising inequality and cuts to social services. With causes ranging from anti-corruption to climate change, major cities in Lebanon, Russia, Algeria, Iraq, Chile, Ecuador, Europe, Hong Kong, and the US are feeling strained as people run outside, raise hell, and say they won't take it anymore.
Brazilian President Jar-Jar Bolsonaro is denying links to his involvement in the murder of Marielle Franco, a Rio de Janerio councilwoman who was fiercely critical of Bolsonaro, and to the Brazilian security forces' crackdown on poor neighborhoods. Bolsonaro is now threatening to take away the broadcasting rights from the media outlet that first reported the story, tearfully telling a press gaggle in Saudi Arabia, "I shouldn't lose it. I'm the president of the republic."
Russian President Vladimir Putin is VERY butthurt Trump told US forces to "keep the oil" in Syria. Bloomberg reports Putin had been counting on stealing that oil for himself in order to fund his own invasion of Syria. Now that Russia has carved up Northeastern Syria with Turkey, UN-backed peace talks are set to begin in Geneva today. [Infographic]
While the rest of the world is preoccupied with the Middle East and China, Russia has been eyefucking Africa after Trump decided to slash aid to "shithole countries." Foreign policy nerds argue Russia can't offer the same kind of food and medical aid the US and EU can, so, like a balding man man with a tiny penis (who isn't Donald Trump), it's projecting the illusion of power with a mixture of internet bullshit, election fuckery, and arms sales. [Podcast]
The rumor mill has forever been churning out gossip that Nikki Haley could replace Mike Pence on the 2020 ticket, and last night Nikki Haley had some words for her fellow neoconservatives about criticizing Donald Trump. #ShesRunning.
In yet another sign that he's probably going to get "You're Fired," nobody bothered to tell Mick Mulvaney about the raid on Abu Bakr al-Baghdadi.
B. Barry Bams was in Chicago yesterday and called out "woke" people who think judgmental armchair activism on social media is an "idea of purity," adding, "The world is messy. There are ambiguities. People who do really good stuff have flaws."
Watch President @BarackObama make an excellent point about call-out culture. https://t.co/P6mw9aLWTQ

— ATTN: (@ATTN:) 1572397944.0
A Florida man who dressed up as Donald Trump for Halloween was reportedly punched by a 14-year-old girl while standing in line for a haunted house. Police say the girl, who faces a misdemeanor battery charge, had the "sole motivation" to punch Trump. Her friends are said to have recorded the incident and uploaded it to social media.
Stephen Colbert sat down with Ronan Farrow to talk about his new book on Harvey Weinstein, and how Farrow saw the "master list" of all the dirt the National Enquirer killed for Donald Trump. It was shredded just before the election.
Ronan Farrow Saw A Master List Of "Trump Dirt" At The National Enquirerwww.youtube.com
And here's your morning Nice Time:KITTIES!

Cool Cat Compilationwww.youtube.com
Follow Dominic on Twitter and Instagram!
We're 100% ad-free and reader supported, so consider buying us coffee, or get a subscription!
Dominic Gwinn
Dominic is a broke journalist in Chicago. You can find him in a dirty bar talking to weirdos, or in a gutter taking photos.