Whose House? Wonkagenda For Fri., Nov. 1, 2019
popular
November 01, 2019 09:01 AM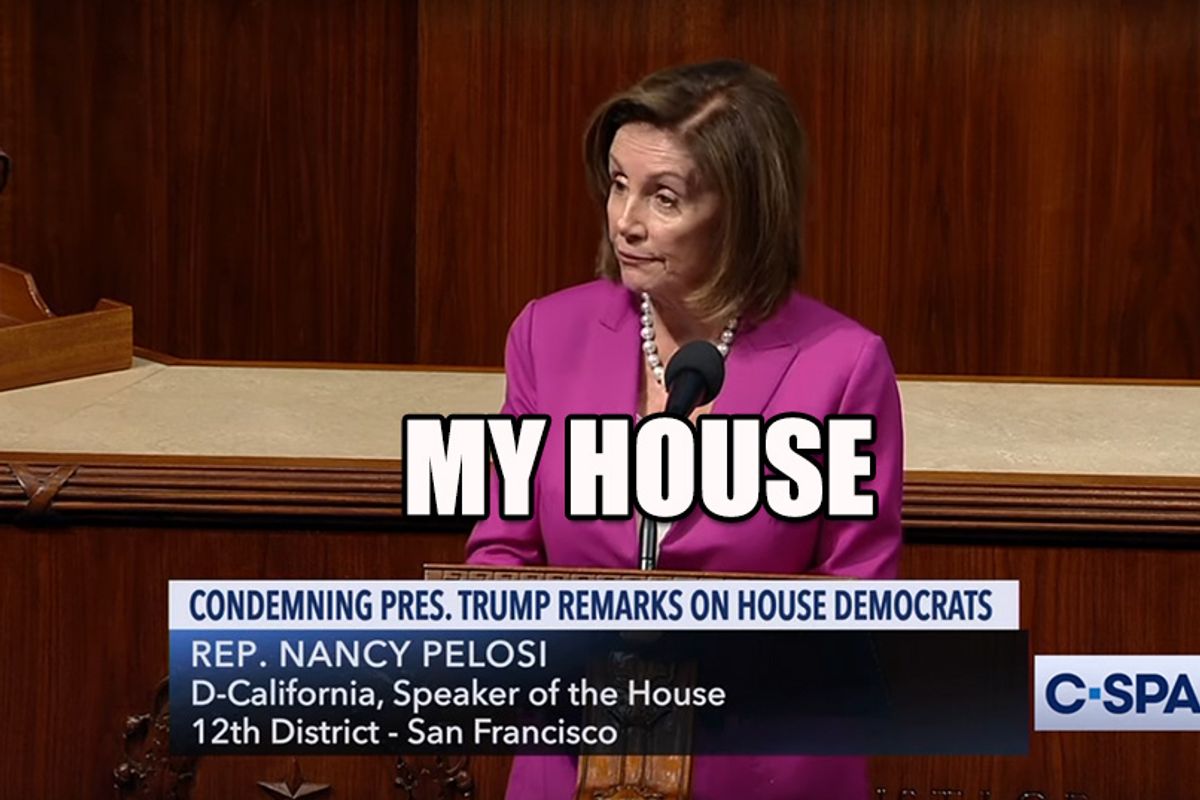 Morning Wonketariat! Here's some of the things we may be talking about today.
---
House Democrats voted to open an impeachment inquiry into Donald Trump yesterday. In a party line vote that only saw two Democratic defections from members facing contentious 2020 elections, members voted 232 to 196 to formalize their efforts to #IMPEACH the mother fucker. This sets the stage for televised hearings with witnesses, and in an appearance on Rachel Maddow, House Intel Chair Rep. Adam Schiff said the committee could begin releasing transcripts of testimonies from people who've already been speaking as soon as next week. [Morning Maddow]

Adam Schiff: Expect Impeachment Inquiry Transcripts Release Next Week | Rachel Maddow | MSNBCwww.youtube.com
Following the vote, Roll Call reports some Democratic House members have been receiving suspicious packages from the NRCC, which joked about the stunt on social media. Nobody was laughing.
Trump spent the day screaming at anyone who would listen. Early in the day Trump called in to Nigel Farage's radio show and rambled about Brexit, and how Jeremy Corbyn would be a terrible prime minister because he doesn't want to sell off British social services to US companies. Eventually he was yelling to the Washington Examiner about possibly holding a "fireside chat" where he reads from the bootleg summary transcript of his "perfect" phone call with Ukrainian President Volodymyr Zelenskiy.
The rightwing nut-o-sphere must've broken the knob when it dialed up the crazy yesterday. While Chris Wallace and Judge Andrew Napolitano tried to carry the torch of Shep Smith, but Tucker Carlson ranted about Adam Schiff's "steamy ... bodily fluids." Over on CNN, Anderson Cooper called bullshit on Steve Bannon's bullshit, but of course Bannon fired back by doubling down with more bullshit. In La La Land, Donald Trump Jr. went on a radio show to talk about how Kellyanne Conway fucks. This morning Joe Scarborough and his chorus of Never Trumpers jerked themselves off while complaining that Americans see Sean Hannity as Walter Cronkite. [CNN]
Nancy Pelosi sat down with Stephen Colbert last night to talk about beating the crap out of Trump in a the middle of the street fight with her two friends: the Constitution and the Speaker's Gavel. [Video]

Speaker Nancy Pelosi: Trump Undermined Our National Security, To The Benefit Of The Russianswww.youtube.com
The Trump administration had another bad day in court yesterday. Then, down the hall, US District Judge Ketanji Brown Jackson "expressed disbelief" that the Trump administration thinks it has the authority to tell former employees what they can and can't say to House impeachment investigators.

Rather than this being a legal question for the courts to answer, Burnham claims that the House has "political tool… https://t.co/dZ8jydSV3Y

— Tierney Sneed (@Tierney Sneed) 1572550344.0
The cover of Time magazine has Rudy Giuliani on the cover and goes into how, as the "Secretary of Offense," Rudy might be what gets Trump impeached. Meanwhile, the Daily Beast is reporting that Rudy held meetings with former Ukrainian Prime Minister Yulia Tymoshenko back in December of 2018, suggesting Rudy's fuckery might be much worse. And, to top off Rudy's stupidity, back in 2017 a very sober Rudy had to stumble over to an Apple store after he locked himself out of his phone when Trump named him cybersecurity advisor.
It's official: Donald Trump is now a Florida man! Back in September Trump quietly changed his residency from New York to Florida. Maggie Haberman gossips that Trump lists Mar-a-Lago as his new permanent residency. People much smarter than myself say this is a totally legal thing that people do all the time -- but I still think it's a grift. [Documents]
Ammon Bundy crawled out of his hole to make what sure as hell seems like some threats on social media after the House Natural Resources subcommittee held a hearing on stopping anti-government nutjobs from taking over federal land.
There's some consternation in the press about how to deal with now former-Rep. Katie Hill's revenge porn scandal. Newsrooms are bracing for up to 700 photos to be released, and there's debate about how to cover the story. Here's a suggestion: Guys, how about we don't publish leaked nudes until we're willing to tweet our own dick pics? [Dom, I don't think you know how many men would do that in a fucking hot second, and not for the scoop. --Editrix]


Almost every woman I know has taken nudes at sometime in her life. As more women under 40 run for office, we are… https://t.co/tEskjRKXmP

— Ashley Fairbanks (@Ashley Fairbanks) 1572318645.0
A New York Times/Siena College poll out this morning shows Sen. Elizabeth Warren and Pete Buttigieg surging ahead of Joe Biden in Iowa. Buttigieg is now effectively tied with Sen. Bernie Sanders.
Late this morning Elizabeth Warren dropped her plan to pay for Medicare For All. Just like everyone else, we're checking it out it now!

Former convict Don Blankenship has decided #HesRunning (again) as an independent. In a bitchy letter that misstates the official role of House Minority Whip Steve Scalise, Blankenship whines that members of Congress are "barking at their heels like Border Collies" by voting to #IMPEACH.
Chair of the Maryland Democratic Party and widow of late Rep. Elijah Cummings Maya Rockymoore Cummings is "thinking carefully" about running for her late-husband's 7th Congressional District seat. Earlier this week Maryland Republican Gov. Larry Hogan announced a primary will be held on Feb. 4, with a general election on April 28, the same day as the state's 2020 primary.
Chicago's longest teacher strike in three decades ended yesterday after Mayor Lori Lightfoot agreed to a deal with the Chicago Teachers Union. I can personally report that not everyone is pleased with the deal, but that's what negotiations are about: compromise. [Photos]
In an effort to shutdown the state's last abortion clinic, Missouri health officials started tracking the periods of women visiting Planned Parenthood. At a hearing that could decide the fate of the last abortion clinic in the state, Missouri state health director Randal Williams testified that a spreadsheet was created to track "failed" abortions, and included specific patient information. [Morning Maddow]

Missouri Tracked Patients' Periods In GOP Anti-Abortion Effort | Rachel Maddow | MSNBCwww.youtube.com

The Daily Show's Trevor Noah sat down with Hillary Clinton to talk about why Republicans hate her so much, and took a quick run through the massive anti-corruption and austerity protest movements going on all over the world that nobody has time to talk about.

So Much News, So Little Time: International Protests Edition | The Daily Showwww.youtube.com
Russia's effort to create a internet Iron Curtain took a big step forward today after its "sovereign internet" law took effect. Nerds are skeptical that Russia's rerouting of all Russian internet traffic through a central hub isn't part of some safety measure as Moscow claims, and it's really just a way to murder the blogs of the Kremlin's critics.
Michelle Malkin is mad as hell the little pukes at Turning Points USA said the US should "staple a green card behind your diploma." According to Malkin, this is "sadistic and suicidal."
Negligent elitist David Brooks says we should impeach Trump, and then start focusing on a laundry list of problems caused by negligent elitists.
Aaron Sorkin wrote a nastygram to Mark Zuckerberg, but nobody at the New York Times bothered to do a simple fact check before it was printed (the Times laid off those people off ages ago). Zuckerberg's programming responded on social media with a clip from an old Sorkin movie where Michael Douglas rants about free speech.
HEY, IT'S A DOG COSTUME PARADE!

Who let the dogs out? Tillis organizes Halloween dog paradewww.youtube.com
And here's your morning Nice Time:IT'S OWLKITTY!

Purranormal Activity (with my cat OwlKitty)www.youtube.com
Follow Dominic on Twitter and Instagram!
We're 100% ad-free and reader-supported, so consider buying us coffee, or get a subscription!
Dominic Gwinn
Dominic is a broke journalist in Chicago. You can find him in a dirty bar talking to weirdos, or in a gutter taking photos.