All That Junk Inside Trump's Trunk. Wonkagenda For Nov. 18, 2019
popular
November 18, 2019 08:59 AM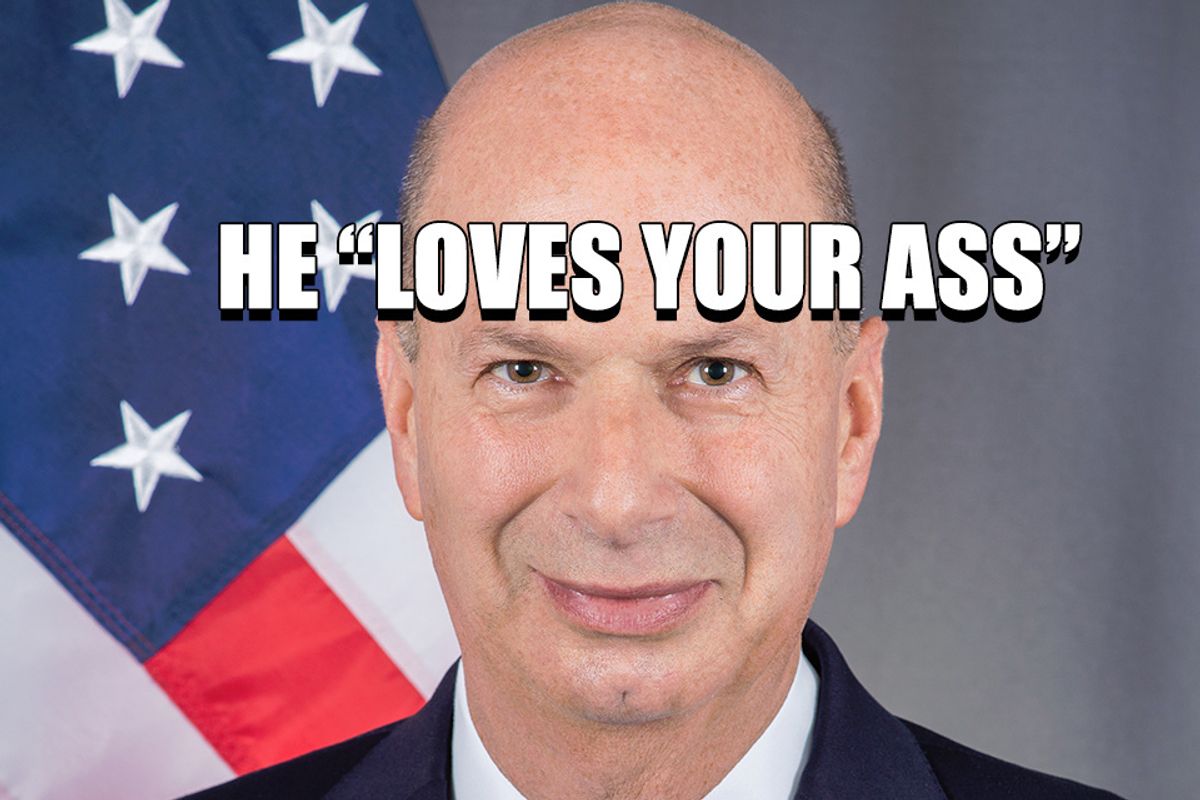 Morning Wonketariat! Here's some of the things we may be talking about today.
---
On Saturday, David Holmes, an aide to acting US ambassador to Ukraine, told House impeachment investigators that he heard Trump yelling at Gordon Sondland on the phone about their Ukrainium One scheme in a restaurant. Holmes testified that Sondland said Trump had Ukrainian President President Volodymyr Zelenskiy on his back Brando-style, and that he could go ahead and reach for the butter, saying, Zelenskiy "loves your ass" and that he would do "anything you ask him to do."
Jennifer Williams, an adviser to Vice President Mike Pence, testified to House impeachment investigators that she took notes as she listened to Trump blithering about his Ukrainium One scheme back in July, and that it seemed politically motivated. Williams also confirmed that former National Security mustache John Bolton wanted nothing to to with Rudy Giuliani's "drug deal" in Ukraine. Yesterday Trump echoed the butthurt crying of conservative cable news talking heads and shitposted about Williams, calling her a DEEP STATE Obama-holdover who's part of the Never Trump resistance. [Transcript]
SNL's cold open mocked the talking heads who said the impeachment hearings were "dull" and lacked the "pizazz" of mindnumbing prime-time game shows with forgotten celebrities.

Days of Our Impeachment Cold Open - SNLwww.youtube.com
Here's a schedule of witnesses set to appear before the House impeachment hearings this week. Tomorrow is a quadruple header: first we'll get Lt. Col. Alexander Vindman, and Jennifer Williams, and in the afternoon is Kurt Volker and Tim Morrison. Hopefully they'll be more zazzy.

The Wall Street Journal reports US ambassador to the EU Gordon Sondland "kept several Trump administration officials apprised" of his efforts in the Ukrainium One scheme ahead of Trump's initial attempt to blackmail Ukrainian President Vlodomyr Zelenski. Sondland is scheduled to spill his guts to the House impeachment inquiry on Wednesday.
Transcripts were released for impeachment testimony by Tim Morrison, the former top NSC official on Russian affairs. Morrison said he felt Gordon Sondland had a mandate from Trump to go nuts on Ukrainium One, and Fiona Hill tried to warn him against wearing a tinfoil MAGA hat. Upon hearing what Morrison said before the impeachment inquiry, Republican Rep. Mike Turner told Jake Tapper "No, this is not OK." Expect Turner to revise that to "not that there's anything wrong with that." [Transcript]
House Speaker Nancy Pelosi went on TV to invite Trump to speak with the impeachment inquiry. Pelosi offered a lesson in Latin to Margaret Brennan on CBS' Face the Nation, saying, "If he has information that is exculpatory, that means ex, taking away, culpable, blame, then we look forward to seeing it," adding "[Trump] could come right before the committee and talk, speak all the truth that he wants, if he wants." [Transcript / Video]
Devin Nunes went on TV and moo'd that Rudy Giuliani was only sidestepping DEEP STATE officials who tried to pump the brakes on the Ukrainium One scheme. "These ambassadors were upset that the president somehow was going around them," Nunes clopped, "Well, tough. Tough."
New polls continue pissing everyone off and confusing people who can't math. A new CBS/YouGov poll shows Joe Biden continuing to lead in 18 states, as well as Nevada and South Carolina, Warren leading New Hampshire, and considerable opportunities to swing primaries in any direction. Meanwhile, a new poll from the Des Moines Register and CNN shows Pete Buttigieg surging to the top of the field -- HOWEVER, that CBS poll shows a statistical dead heat between Biden, Sanders, Buttigieg, and Warren. Iowa gonna Iowa, y'all. [Polls]

.@CBSNewsPoll Across the 18 early states, % of supporters who say their mind is made up: Sanders 48% Biden 35% Wa… https://t.co/LMfqsc3IAb

— Political Polls (@Political Polls) 1574031688.0
In his quest to become more appealing than Joe Biden, Mayor Michael Bloomberg apologized for leaning on "stop and frisk" policing during his stint as mayor of New York. Speaking at a predominately black mega church in Brooklyn, the Democrat-turned-Republican-turned Democrat said, "hindsight is 20/20," and said instances of "stop and frisk" were reduced as crime fell, adding, "I can't change history, however today I want you to know that I realize back then I was wrong and I'm sorry." Charles Blow opines this is "the very definition of pandering."
At a fundraiser full of high rolling Democratic donors, Barack Obama warned against racing to political extremes, saying, "The average American doesn't think we have to completely tear down the system and remake it." Obama also tried to calm people who've gotten pee-pee hearted about primary process, reminding everyone he "had a very robust primary" in 2008.
Former Treasury Secretary Larry Summers opines our tax enforcement priorities are screwy, since poor people get audited almost as much as the very rich do, and says we should properly fund the IRS so it can shake down tax cheats hiding behind slick accountants.
Louisiana Democratic Gov. John Bell Edwards squeaked by his Republican and Trump-backed challenger, Eddie Rispone, to hold onto his seat. Somehow none of this is Trump's fault (despite his parachuting in twice last week), and it's not a sign.

John Oliver 'splained the 2020 Census, why an accurate count is vitally important for communities big and small, how Republicans used the voting rights act as a cover to suppress minority voters.

The Census: Last Week Tonight with John Oliver (HBO)www.youtube.com
And here's your morning Nice Time:CATS!

Relaxing Cat Video 57www.youtube.com
Follow Dominic on Twitter and Instagram!
We're 100% ad-free and reader supported, so consider buying us coffee, or get a subscription!
Dominic Gwinn
Dominic is a broke journalist in Chicago. You can find him in a dirty bar talking to weirdos, or in a gutter taking photos.