Aquaman. Wonkagenda For Mon., Nov. 25, 2019
popular
November 25, 2019 08:57 AM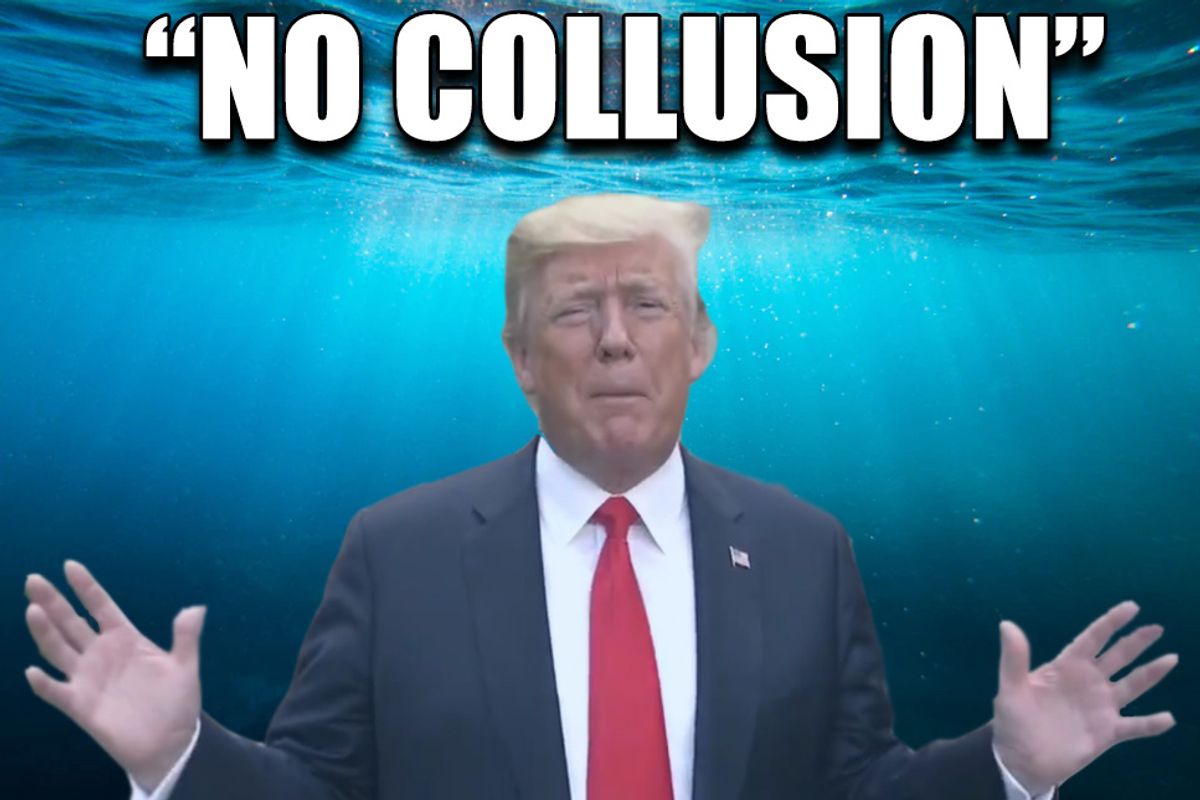 Morning Wonketariat! Things will be a little lite this week as we take advantage of Thanksgiving's regularly scheduled newshole. Anyway, here's some of the things we may be talking about today.
---
Navy Secretary Richard Spencer has been quit-fired over Trump's insistence that convicted warcrimer and Special Warfare Operator Chief Edward "Eddie" Gallagher be allowed to keep his status as a Navy SEAL. The New York Times clarifies that Defense Secretary Mark Esper lost his shit when he found out Spencer tried to cut a deal with the White House, and demanded Spencer's resignation. This morningDavid Ignatius writes that "Spencer had tried to find a compromise" that would have seen Gallagher walking out of the Navy with his trident as long as the White House stayed out of the affair, but the White House got butthurt when they found out Spencer threatened to quit over what he felt was Trump's perversion of military justice. Spencer's "hold-your-nose solution" was blown apart and he was subsequently quit-fired, but he walked out the door with this blistering resignation letter.NOTE: Trump kept sticking his nose in Gallagher's case -- one that's been fraught with controversyaside from accusations of war crimes -- after Gallagher kept popping up on Fox News to defend himself against accusations (from his own platoon) that he bragged about murdering innocent women and children, threatened to murder his squaddies if they snitched, and posed with the corpse of a fallen ISIS/IS/whatever fighter for his reenlistment ceremony. Obviously someone is lying.
So many problems with the official story, like why would Spencer get up at the Halifax Forum and announce he was no… https://t.co/9fNtSGh58d

— Josh Rogin (@Josh Rogin) 1574641306.0
Lev Parnas seems desperate to avoid prosecution from the SDNY. ABC reports that Parnas has tapes of Giuliani and Trump doing ... something. In a related story, The Wall Street Journal reports Rudy's goons even tried to recruit a top Ukrainian energy official as part of a shady effort to take over Ukraine's state-run oil-and-gas company, Naftogaz. Over the weekend a very sober Rudy went on TV and again claimed he had "insurance," and threatened to take the rest of Trump world down with him if anyone tries to embussen him.

TRUTH ALERT: The statement I've made several times of having an insurance policy, if thrown under bus, is sarcasti… https://t.co/OUF7OE14H6

— Rudy Giuliani (@Rudy Giuliani) 1574544587.0
New documents show the White House was desperate to find a legal loophole to justify holding up military aid to Ukraine after White House budget officials started asking Mick Mulvaney what the hell Trump was doing.
As everyone loses their goddamn mind on the ever expanding Russian novel that is the Ukrainium One scandal, a budget crisis is looming over Washington. Just like the last several Trump/Republican-led government shutdown's, Trump wants his goddamn wall; the conservative cheapskate caucus is whining about every nickel and dime; Democrats want to fill some potholes; the military is yelling about Russia and rusty boomsticks; and the DC press wizards can't believe we're all writing the same fucking budget story for the third year in a row.
Sarah Huckabee Sanders doesn't feel like her star has fallen as far as Sean Spicer, and there's more rumors #ShesRunning for governor of Arkansas in 2023. Sanders tells the New York Times that she feels "called" to government and that reporters would definitely vote for her, which is kind of a thing privileged and egotistical power-hungry liars might say.
People in Hong Kong have booted out pro-Beijing officials in local elections that saw a massive voter turn out, flipping 17 of the city's 18 district councils. The South China Morning Post reports the the only remaining pro-regime district had seats automatically doled out for "pro-establishment rural chiefs." The stunning electoral victory of pro-democracy groups comes after the International Consortium of Investigative Journalists published classified documents from the Chinese government that detail the staggering extent of the regime's crackdown on Uighur Muslims in the Xinjiang region over the last two years.
The Wall Street Journal has a story with the guilt tripping dude who helped Trump's 2016 campaign make such a big splash on Facebook. In a related story, the New York Times has a piece on why some Democrat-aligned groups think banning political ads on Facebook isn't such a great idea. (TLDR: It's all about the data.) If you want to get extra nerdy, David Plouffe and Tara McGowan gabbed about some of the problems and strategies political campaigns have with social media. [Podcast]

Like it or not, the central front in 2020 will be our devices and social media platforms. And Trump has an advantag… https://t.co/j3v4Kra4no

— David Plouffe (@David Plouffe) 1574435028.0
Bullshit artist Glenn Greenwald has an op-ed complaining that Brazilian President Jair Bolsonaro has led a crusade against gay people and the free press. Apparently authoritarians are only a problem when they show up at the front door of your tropical penthouse.
A giraffe in South Africa has befriended a dog at an animal rescue orphanage. The giraffe, whom workers at the the Rhino Orphanage have named Jazz, was in bad shape when he was found by a farmer. The farmer brought the giraffe to the orphanage where he met Hunter, his new best friend. [Photos]
John Oliver 'splained that it's OK to follow your dreams, that AT&T sucks, and why mascots are awesome.

Chiijohn: Last Week Tonight with John Oliver (HBO)www.youtube.com
And here's your morning Nice Time: WOODLAND CRITTERS!

Baby Arctic foxes and other European animals | Top 5 | BBC Earthyoutu.be
Follow Dominic on Twitter and Instagram!
We're 100% ad-free and reader-supported, so consider buying us coffee, or get a subscription!
Dominic Gwinn
Dominic is a broke journalist in Chicago. You can find him in a dirty bar talking to weirdos, or in a gutter taking photos.