'Steal The Cookie Cutter.' Wonkagenda For Tues., Dec. 3, 2019
popular
December 03, 2019 08:58 AM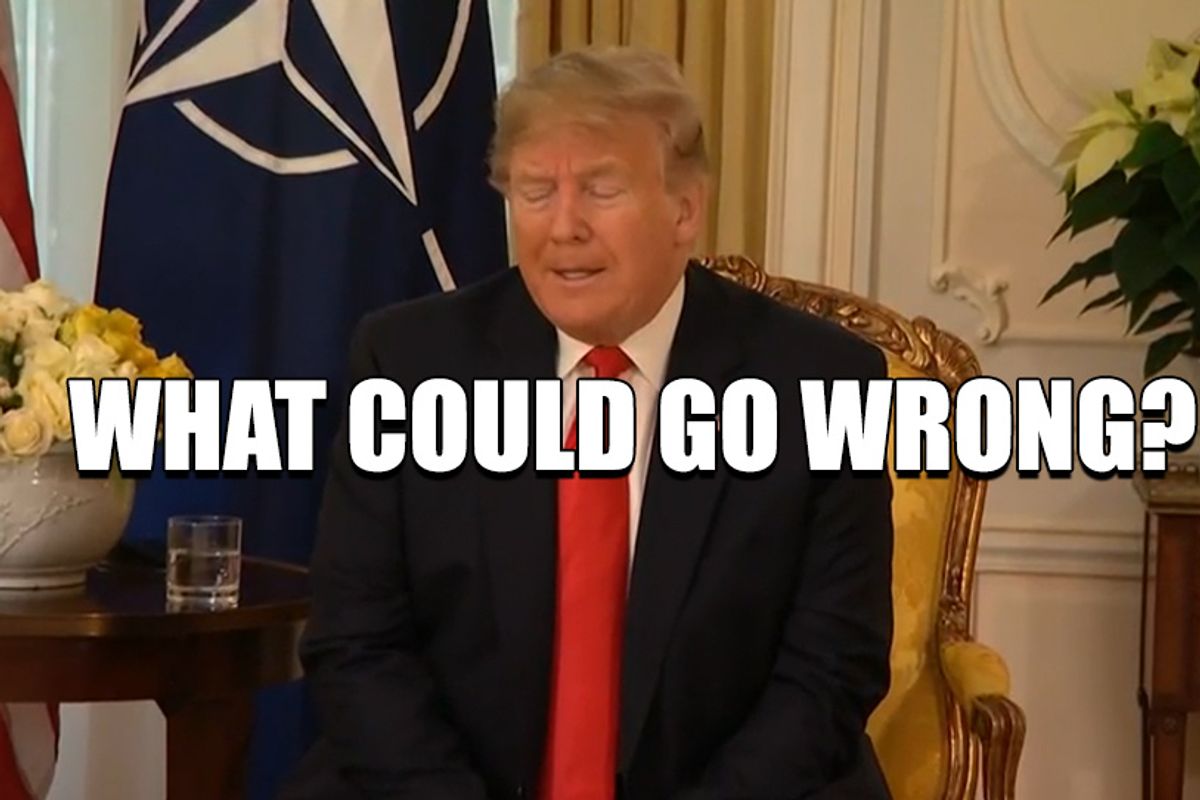 Morning Wonketariat! Here's some of the things we may be talking about today.
---
This morning Trump tried to ignore his impeachment by insulting French President Emmanuel Macron during a sit-down with NATO Secretary General Jens Stoltenberg. Macron had previously criticized the "brain death" of NATO, and our own very stable genius seemed to take that as a personal slight, calling Macron "very nasty." Trump then praised NATO (an organization he's repeatedly complained is obsolete), bitched about the money member nations pay into the group and made a nonsensical analogy about stealing "the cookie cutter," gave Turkey's authoritarian president Recep Tayyip Erdogan a reach around, and cast doubt about threats from Russia. For more nerdy stuff, Politico has a good piece breaking down all the bullshit behind the scenes at NATO this week.
House Democrats are capping their "T's" and dotting the lowercase "i's" as they press ahead on the impeachment inquiry of Donald Trump. The House Intel Committee report is scheduled to drop later today, and will likely conclude that Trump and his minions used the office of the president to get a leg up in the 2020 election. The House Judiciary Committee will then pick things up, and potentially expand articles of impeachment to include charges beyond abuse of power seeing as the Mueller Report did all the hard work on investigating possible obstruction of justice charges. Last night Rep. Adam Schiff went on Rachel Maddow to talk about their report. [Morning Maddow: ONE / TWO]

Public To See Trump Impeachment Report Tuesday; Inquiry Continues | Rachel Maddow | MSNBCwww.youtube.com
The House Judiciary Committee released their witness list ahead of tomorrow's hearing. Democrats plan to call three legal nerds, Noah Feldman, Pamela Karlan, and Michael Gerhardt, as witnesses. Republicans plan on dragging in their own legal nerd, Jonathan Turley, who's been toeing the administration's anti-impeachment line.

Axios gossips that Republican groups and Trump-connected PACs plan to flood the airwaves with millions of dollars in ads that directly target lawmakers in districts Trump won in 2016. Meanwhile, Republicans plan to drop their own 123-page book report claiming Trump did nothing wrong. For his part, Trump's plan is to just try and ignore his looming impeachment whenever he can.
Even though he just apologized for doing this last week, Tucker Carlson was spewing a firehose of pro-Kremlin propaganda again last night. After Tucker and Rep. Jim Jordan continued to wash the White House's dirty, Ukrainium-stained laundry, Tucker bloviated about journalists who call out Trump and his sycophants: "Putin, for all his faults, does not hate America as much as many of these people do. They really dislike our country. And they call other people traitors? Because they're 'mouthing the talking points of Putin!' These are people who don't know anything about Russia, who don't speak Russian!"
The Washington Post reports Attorney General Bill Barr told people close to him that he hates the conclusion of his investigation into the FBI's investigation of Trump-Russia fuckery in 2016. The report from Justice Department Inspector General Michael Horowitz is expected to say the FBI's investigation into the 2016 Trump campaign was justified, and that's really chapping some asses at the DOJ who now want to investigate other US agencies, like CIA, to find out what they know.
Ace attorney Rudy Giuliani thew a tantrum on Twitter yesterday after a Fox News talking head told Trump World to embussen him over the weekend. Giuliani, a (allegedly) practicing attorney, said "lawyers" have told him to sue for libel.
The North Dakota company Trump has been touting to build his tortilla curtain has won a $400 million contract to build new WALL through the Cabeza Prieta National Wildlife Refuge.The Washington Post reports the Army Corps of Engineers has repeatedly said the company's bid was not up to snuff, but Trump seems to have felt like rewarding the company's chief executive, a frequent rightwing talking head, for his role in building tiny chunks of WALL on private land. The company has previously been contracted by We Build The Wall, a shady group run by pro-Trump grifter Brian Kolfage.
Dan Brouillette will be your new Energy Secretary after Rick Perry decided to "You're Fired" himself. Brouillette is a former Bushie and Republican donor who currently serves as the department's deputy secretary. During his confirmation hearing Brouillette claimed he knew nothing about Rick Perry's shady dealings in Ukraine.
The Nation has a double-issue on the unraveling of abortion rights across the country, and the Left's fight to stop it featuring all-female journalists and activists.
Don't expect the Senate to do much next year. Senate Majority Leader Mitch McConnell is keenly aware the Senate's Republican majority is in jeopardy, so #MoscowMitch's only goals for the next legislative session are to pay the bills and stack the courts -- assuming Congress can actually pass a 2019 spending bill before Dec. 20.

Efforts to pass a bill lowering the cost of prescription drugs are effectively dead as Mitch McConnell fears pissing off big pharma and putting already vulnerable Republicans in an untenable position of showing how they've done something over their last six years.
INDICTED California Republican Rep. Duncan Hunter has decided to plead guilty to charges that he and his wife misused campaign funds. Hunter is expected to officially throw himself on the mercy of the court later today rather than let prosecutors detail how he and his wife ALLEGEDLY ran up his campaign credit card at Costco, fast food restaurants, fancy restaurants, a bachelor party, ride shares, and other various ... *ahem* affairs.
Roll Call has an interesting piece about the DNC's "Kanye" problem. With Trump taking credit for criminal justice reforms that were ironed out by Republicans and Democrats back in 2016 (only to be blocked by Jeff Sessions), the DNC has launched an outreach effort to talk to black voters about all the things Democrats have been trying to do, all the things Trump isn't doing, regardless of what Yeezy is tweeting. Following this thread, Alexi McCammond writes that 2020 Democratic candidates have been trying to host "intimate conversations with black men" after seeing declines in voter turnout.
After suspicions the Trump administration was screwing with foreign aid in Lebanon (like it did with Ukraine), last night the administration quietly released $100 million in Foreign Military financing for the Lebanese Armed Forces. This follows months of pressing from House Democrats who'd been demanding the administration explain why they were holding up the cash after the State Department said in September the cash was on its way. Lebanon has been gripped by widespread protests following the resignation of Prime Minister Rafik al-Hariri in late October, and foreign policy nerds fear all the usual bad guys are trying to move in. [Timeline / Popular Front podcast]

Politico has a good round-up of some of the disinfo campaigns we can look forward to in 2020. Highlights include foreign and domestic trolls, and blurred lines about what actually constitutes disinfo.
The Trump campaign has decided not to credential Bloomberg News reporters after the outlet said it wouldn't investigate Michael Bloomberg, or any other 2020 Democratic presidential candidates. Trump's 2020 campaign manger threw a tantrum and told CNN that Bloomberg News "declared their bias openly," and that the campaign would "engage with individual reporters or answer inquiries from Bloomberg News on a case-by-base basis" until the outlet "rescinds its decision." In response, Bloomberg Editor-In-Chief John Micklethwait said accusations that it was biased "couldn't be further from the truth." After Politico's Editor spoke out in defense of Micklethwait, Trump started shitposting.
Fox News talking head Andrew Napolitano doesn't seem interested in attending any conservative Christmas parties after he spoke out in defense of Democrats and former FBI lawyer Lisa Page during Neil Cavuto's show yesterday.
In response to the damning interview Lisa Page gave to Molly Jong-Fast in the Daily Beast, former Deputy Attorney General Rod Rosenstein says he had to release sext messages between Page and Peter Strzok because "They were official government records related to FBI business and there was no legal basis to withhold them."
There's a pretty fucked up story from Gateway Pundit calling for Democrats to be hanged for the impeachment inquiry. The story rambles on about impeachment being "seditious and treasonous," and the inquiry being a "coup." I'm not linking to it; you don't need to to read it. Those flamethrowing reactionary crackpots can take a flying fuck at a rolling doughnut, or the moon.
Laura Ingraham seems to have lost her podcast. Ingraham had been charging about $50 a year for people to listen her spew hatespeech. Shame.
If you get the time, Kate Knibbs has a great story in The Ringer about how Slava Pastuk, a former Vice editor, got busted trying to smuggle almost 40 kilos of cocaine past customs agents. Pastuk has plead guilty, and is currently awaiting sentencing.
After five years The New York Times finally discovered Bellingcat and wrote a glowing piece about the bootstrapped open-source investigative outlet that's been breaking big news stories all over the world.
Seth Meyers took A Closer Look at the next steps in the impeachment hearings, and how Rudy Giuliani is totally screwed
House Invites Trump to Next Impeachment Hearing: A Closer Lookwww.youtube.com
And here's your morning Nice Time: In memory of Lil Bub, who passed yesterday at the age of eight, here's the best and coziest yule log video EVER. Thanks for saving so many lives, Bub!

Lil BUB's Very Cozy Yule Log Video 2018www.youtube.com
Follow Dominic on Twitter and Instagram!
We're 100% ad-free and reader-supported, so consider buying us coffee, or get a subscription!
Dominic Gwinn
Dominic is a broke journalist in Chicago. You can find him in a dirty bar talking to weirdos, or in a gutter taking photos.