Lie Of The Year! Wonkagenda For Tues., Dec. 17, 2019
popular
December 17, 2019 09:01 AM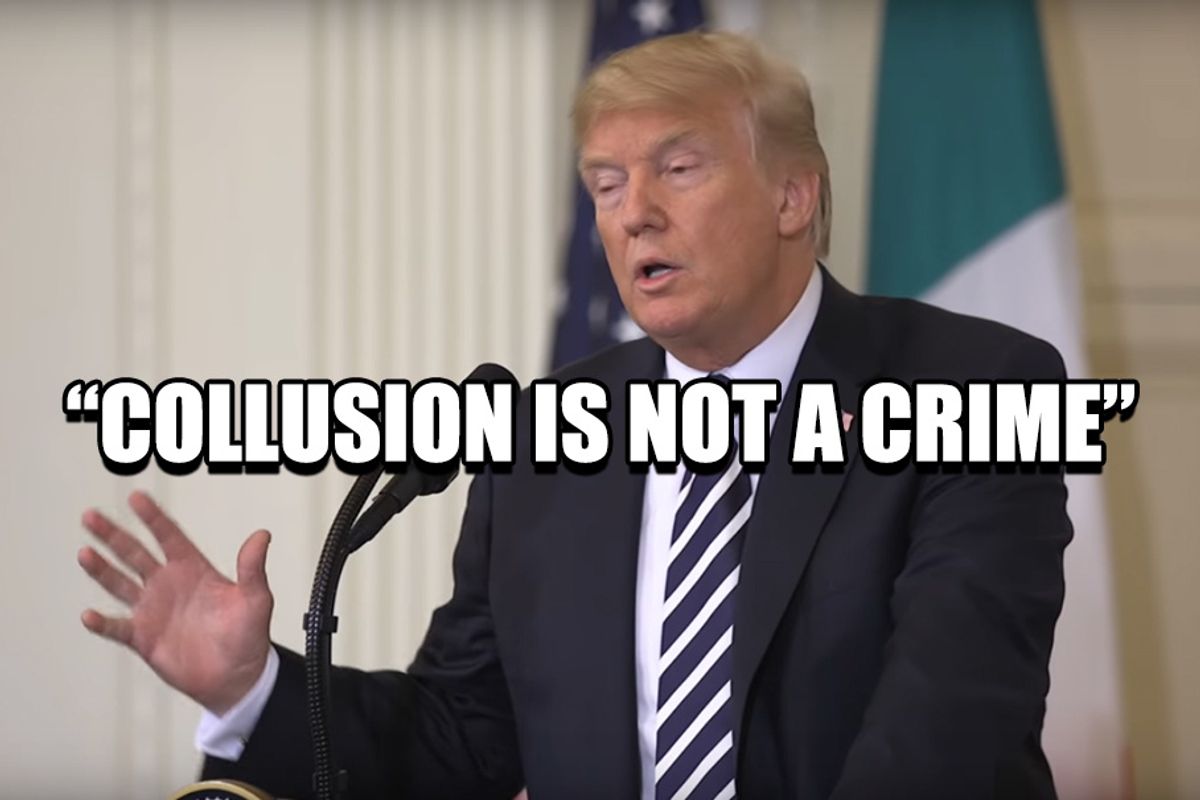 Morning Wonketariat! Here's some of the things we may be talking about today.
---
Centrist Democrats have decided to vote to #IMPEACH Trump, setting up a likely party-line vote on the House floor Wednesday or Thursday. A number of the freshman Democrats from red districts have come out to say they can't just turn a blind eye to Trump's Ukrainium One scheme. Michigan Democratic Rep. Elissa Slotkin faced a mixture of cheers and boos from constituents during a town hall yesterday morning. Despite the jeers of some Trump-loving old farts, Slotkin laid out her conviction and made clear that, as a someone with a background in national security, she didn't initially support impeachment but felt that Trump's actions were wrong in "principle," adding, "I want you to think about where we will be if it becomes normal to ask foreign governments to intervene. This is something that I cannot abide."

Senate Republicans want nothing to do with Senate Minority Leader Chuck Schumer's proposed timeline for an impeachment trial. Yesterday, vulnerable Maine Republican Sen. Susan Collins said she was "surprised" Schumer didn't "first sit down" with Senate Majority Leader #MoscowMitch McConnell to "discuss his proposals" in a smoke-filled cloak room before firing off a letter to the press. Personally, we're surprised Susan Collins has a shot at reelection.

NPR has a great timeline of how Trump's impeachment went from a rant on the House floor in 2017 to a phone call in 2019.
CNN and SSRS have a new poll showing 75 percent of people are glued to their screens on impeachment. The poll, conducted right after the House Intel Committee finished its impeachment hearings, shows support for impeachment and removal at 47 percent. Interestingly, the number of people who think Trump is doing a shitty job is actually higher than the number of people who want to throw the bum out. [CNN/SSRS poll]
The crotchety old judge holding Mike Flynn's future in his hands issued a 92-page ruling that hilariously and meticulously quashes every single one of Flynn's DEEP STATE conspiracies -- like he was forced to plead guilty after lying to FBI agents. Flynn's sentencing is set for Jan. 28.
ICYMI: Rudy Giuliani buttdialed the New Yorker and, through some belches, slurs, and cigars, admitted some more crimes, implicated the Justice Department in some of those crimes, and ginned up more illogical conspiracy theories.
Aside from impeaching the president, Congress is neck-deep in annual fiscal spending bills that have to pass by the end of the week. Yesterday the House rolled out a $1.37 trillion spending bill that keeps the government's lights on through most of 2020. The bill could be voted on as soon as today. The package gives $632 billion for non-defense spending, and will also renew a slew of expiring or expired tax credits and some rather unsavory constituent(/lobbyist) carve-outs. There's also a massive defense spending bill that paves the way for the SPACE FORCE and Ukraine getting more military aid. As usual, Sen. Bernie Sanders made his usual argument about defense spending in an op-ed in WaPo. (In case you're interested, or are a masochist, here's the proposed NDAA.)
BUT WAIT, THERE'S MORE! For the first time in over 20 years, Congress might fund research into gun violence, allocating $25 million to be split between the Centers for Disease Control and Prevention and the National Institutes of Health. The proposed legislation is wrapped up in that whole series of must-pass spending packages.
Because the HealthCare.gov website crashed right before the deadline, you now have until Wednesday, Dec. 18 at 3 a.m. EST to sign up for healthcare. If you can afford healthcare, go do it!

According to the Washington Post,Trump has made 15,413 "false or misleading claims," a nice way of saying he's a lying-ass motherfucker. WaPo's chief fact nerd notes that Trump actually lied more in 2019 than he did in 2017 and 2018 combined, averaging about 40 utterances of bullshit a day.

Politifact says Trump's claim of a "perfect" phone call with Ukrainian President Volodymyr Zelenskyy is the "lie of the year." Fact checking nerds point to the impeachment proceedings as evidence that Trump's spewing more lies than a baby daddy on Maury Povich.

Last week Maggie Haberman gossiped that Trump might skip the debates in 2020. During his regularly scheduled Twitter tantrum yesterday, Trump confirmed that he thinks the bipartisan Commission on Presidential Debates is part of the DEEP STATE "Trump Haters & Never Trumpers." The commission responded by calling him a goddamn liar, saying, "Our record is one of fairness, balance, and non-partisanship," then reiterated the four scheduled presidential and vice presidential debates.
Rather than face an ol' fashioned stomping in a general election, North Carolina Republican Rep. Mark Walker says #HesNotRunning for reelection in 2020. Walker says he will instead consider a 2022 Senate run to replace Sen. Richard Burr. Political nerds note Walker's district went from a Trump+15 district to a Clinton+22 district after the state unfucked its gerrymandering problem.
British Prime Minister Boris Johnson is threatening the BBC's existence. Yesterday Treasury official Rishi Sunak confirmed BoJo had ordered a review of the licensing fees that have been used to keep the BBC afloat, and during the campaign BoJo blustered that he might decriminalize a failure to pay licensing fees -- a primary revenue source for the BBC. Both liberals and conservatives have complained about their coverage on the BBC in the last few months. Last night BBC anchor Huw Edwards took to social media to put all these daft arseholes on blast, saying they want to "undermine trust in institutions which have been sources of stability over many decades" and cause "chaos and confusion."
In response to Congress voting to recognize Turkey's role in the Armenian genocide, Turkish dictator Recep Tayyip Erdogan is threatening to accuse the US of committing genocide against Native Americans.
People are going nuts in India over a new citizenship law that could make much of the country's 200 million Muslims effectively a stateless people.
The Verge's Casey Newton has another fucked up story about social media content moderation causing PTSD and other very serious health effects. This one is about poorly paid contractors who police Youtube's flagged queues for violent extremist (read: terrorist) content. Know that this one is as long as it is horrible, and you'll want to go outside and/or snuggle a kitten afterwards.
Baltimore Mayor Bernard "Jack" Young is giving back $1,000 from a tax credit after a local news outlet discovered the mayor had been claiming residency in his family's "historic home" despite moving out a year ago. The last time this kind of thing happened (back in 2010) Young invited reporters into his house so they could "see [his] damn underwear."
The Daily Show grabbed Jordan Klepper for 2020 embeds. There's some real gems in here, but if you only have literally one minute, skip to 1:55.

Jordan Klepper Fingers the Pulse of Trump Supporters on Impeachment | The Daily Showwww.youtube.com
And here's your morning Nice Time: GENTOO PENGUINS!

Gentoo Penguins Build Love Nests! | Penguin Post Office | BBC Earthwww.youtube.com
Follow Dominic on Twitter and Instagram!
We're 100% ad-free and reader-supported, so consider buying us coffee, or get a subscription!
Dominic Gwinn
Dominic is a broke journalist in Chicago. You can find him in a dirty bar talking to weirdos, or in a gutter taking photos.