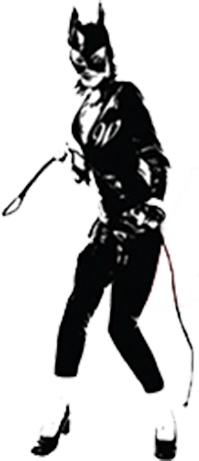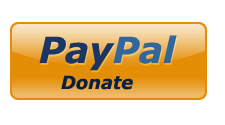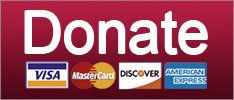 Russia
WE ARE JUST TRYING TO HELP.
February 21, 2020 01:57 PM
Yesterday we learned about the Russia briefing to the House Intelligence Committee that pissed off Donald Trump so much he fired his director of national intelligence, because the ODNI briefer told Congress the obvious truth that Russia is trying to get Trump re-elected. In that briefing, butthole-mouthed GOP Rep. Chris Stewart of Utah was reportedly highly skeptical that Vladimir Putin would even want Trump re-elected, because Stewart is apparently high on his own sauce and truly believes the lies he tells himself about how Trump has been tougher on Putin than anybody else.
According to the New York Times,
Mr. Stewart insisted that the president had aggressively confronted Moscow, providing anti-tank weapons to Ukraine for its war against Russia-backed separatists and strengthening the NATO alliance with new resources, according to two people briefed on the meeting.

Mr. Stewart declined to discuss the briefing but said that Moscow had no reason to support Mr. Trump. He pointed to the president's work to confront Iran, a Russian ally, and encourage European energy independence from Moscow. "I'd challenge anyone to give me a real-world argument where Putin would rather have President Trump and not Bernie Sanders," Mr. Stewart said in an interview, referring to the nominal Democratic primary race front-runner.
This is the guy who was reportedly one of Trump's top choices for permanent director of national intelligence, but apparently isn't anymore because somebody showed Trump a mean quote Stewart said in 2016 where he called Trump "Mussolini" and Trump doesn't like him anymore. (Funny how much these Republicans have changed! Wonder why.)
Regardless, that sound you hear right now is Wonkette and every other patriotic and informed American endlessly screaming and banging our heads against the wall and wondering how Stewart and his fellow Trump-humping Republicans manage to put on pants in the morning without injuring themselves.
Why would Putin want Trump? Dunno, Congressman, why did Putin want Trump in the first fucking place? Because the reasons back then are the same as the reasons now, except for how how Putin also had a personal vendetta against Hillary Clinton in 2016. But oh boy, there were a thousand reasons Putin preferred to have his puppet Donald Trump in the American presidency then, and there are a million more now!
Instead of endlessly screaming, Wonkette chooses to be helpful to Chris Stewart and anybody else who is as dumb as he is and answer his question. CHALLENGE ACCEPTED, DUMBASS.
Here is a long but not remotely exhaustive listicle! CLIP AND SHARE whenever someone is BEING AN IDIOT.
Hot Mess
May those responsible suffer a lifetime of pigeon crapped hair.
February 20, 2020 03:35 PM
Some attention-seeking creeps showed the libs this week before the Democratic debate in Las Vegas, Nevada. The self-proclaimed "underground radical group" P.U.T.I.N. outfitted pigeons with pigeon-sized "Make America Great Again" hats on their heads. The pigeons were released on Tuesday in advance of the debate as an annoying and pointless protest.
P.U.T.I.N. is short for Pigeons United To Interfere Now. A group member with the alias "Coo Hand Luke" freely confessed to the Las Vegas Review Journal that P.U.T.I.N. used eyelash glue to keep the hats on the pigeons' heads.
From the Review-Journal:.
COO HAND LUKE: It's what women use to put around their eyes for eyelash extensions. The hats usually stay on for a day or two, depending on the bird's movements. We can also remove them ourselves as they fly back to the coop. They could be gone for a day, two days or a week, but they always come back.
This abomination unto the lord was intended to serve as an "aerial protest piece in response to the arrival of the 2020 Democratic debate," which would've occurred regardless of whether pigeons were tortured. In fact, it's highly possible that if P.U.T.I.N. had issued an ultimatum in keeping with its "Get Smart" villain-style name, the Democrats would've postponed the debate. P.U.T.I.N. might've saved Mike Bloomberg from Elizabeth Warren.
Trump
Can a former presidential candidate get a restraining order against the president?
February 20, 2020 12:57 PM
Donald Trump is feeling cocky these days. His Republican cronies helped him survive impeachment. His approval numbers are almost as high as a summer day in San Francisco. You could see how relaxed this new Trump is during his latest hate rally Wednesday in Phoenix, Arizona. His adoring fans waited in line overnight, camping out like the homeless people they resent. It was all worth it to see Trump give a version of the same damn speech.
Trump's opening act was Arizona Sen. Martha McSally, whose remarks were a tiresome word salad filled with partisan rancor and sycophantic fealty to the president. She couldn't say enough good things about Trump, which is why she was invited. McSally called the reporters present "liberal hacks," because that's her hot "where's the beef?" catchphrase.
2020 presidential election
Guess some people just refuse to be erased.
February 20, 2020 11:12 AM
Elizabeth Warren was ready to debate last night. It was kind of glorious. While most of her wrath — measured, well-spoke wrath, but damn! — was focused on Mike Bloomberg, she also went after other candidates on their policy weaknesses, and she left plenty of online commenters looking forward to how she'd go after Donald Trump in a national debate. If he showed up at all. While Warren categorically rejects the Citizens United notion that money is a form of speech, her campaign certainly heard some pleasant voices last night. To the tune of $2.8 million in donations by the end of the debate, Warren's best single-day total, according to her campaign.
I have to warn you, kids, this post may read a bit like fanfiction. We're bullish. But don't worry, there won't be a character named Doktor Sue who gets hired as a policy adviser.
2020 democratic primary
February 20, 2020 10:05 AM
Elizabeth Warren had a spectacular debate performance last night. It helped that she was joined on stage by the living embodiment of everything she has resented and fought against for the past few decades. We always enjoy seeing the Elizabeth Warren who during Senate hearings made Wells Fargo executives cry.
However, despite murdering the former mayor of New York City on live TV, Warren didn't actually receive top billing in news coverage of the Las Vegas debate. Mike Bloomberg dominated most headlines. Sure, it was his first debate, but how about sharing the spotlight with the woman who ripped out his still-beating heart and ate it? Describing the debate as "Democrats' Bloomberg pile-on" implies that everyone dealt blows as lethal as Warren's own jujutsu. Bloomberg would've had a much better night if Warren wasn't there.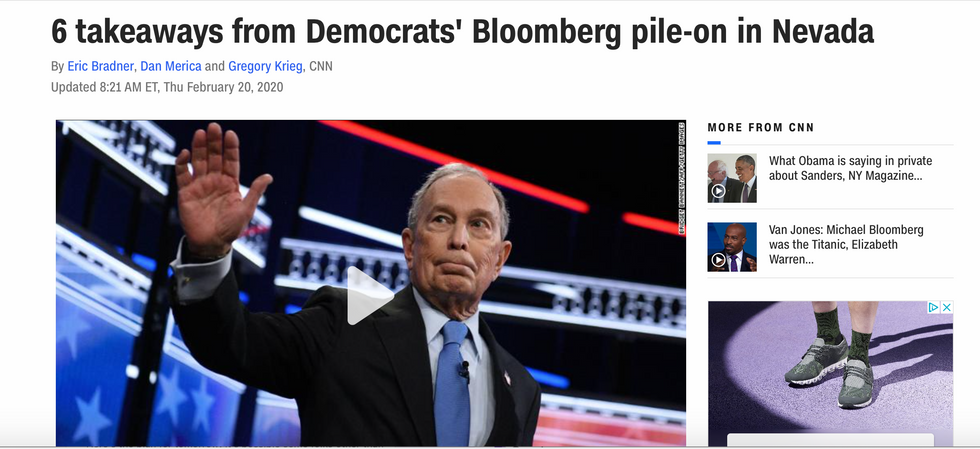 CNN
News
Screw you guys, we're going home!
February 19, 2020 08:30 PM
Hey fuckers. You know who's mad tonight? ME. It's not you, specifically, unless it was you, specifically (it's entirely possible it was you, specifically), but MAMA MAD. I've been mad all week. Maybe I've been mad ALL YEAR! I've definitely been mad all day. And the MORE I THINK ABOUT IT, THE FUCKING ANGRIER I AM.
LET'S FUCKING LIVEBLOOG.
2020 democratic primary
This will be a debate worth watching, because FIGHTS.
February 19, 2020 04:35 PM
CANCEL YOUR PLANS TONIGHT, BECAUSE YOU GOT PLANS TONIGHT!
Yes, loves, there is a Democratic debate tonight. Now, we know — we know — that there might be a wee bit of debate fatigue setting in. WE KNOW. But we need you to suck it up, because at last, for finally, people are voting now. Yes. For real. We have had an Iowa caucus and a New Hampshire primary, Pete Buttigieg has a narrow lead in delegates, followed by Bernie Sanders in second place. Joe Biden has crashed and burned so far, and other people have also gotten votes and delegates, like Elizabeth Warren and Amy Klobuchar!
This weekend, there is a Nevada caucus, and then at the end of this month there is a South Carolina primary. Then comes Super Tuesday, and people are already voting in a lot of those states. Like, for literal, we could personally leave our house after we finish writing this and immediately go vote in our home state of Tennessee. (But we're NOT GONNA, because we have NOT DECIDED who we are voting for.)
In other words, after 767 months of primary, we have actually reached the official starting line, which means the finish line is finally in sight.
TIME TO TUNE IN, BOZOS.
Media/Entertainment
The Duchess of Arizona is now very politically correct.
February 19, 2020 02:20 PM
Meghan McCain really doesn't like former New York City mayor Mike Bloomberg, who is currently shopping to buy a Democratic primary. Bloomberg was a fairly standard Republican/right-leaning independent for years prior to Trump's election. It's unclear where the daylight is between Bloomberg's policies and whatever's important to McCain. Bloomberg has presumably never insulted John McCain, a distant relative of Meghan's. I guess this is all about guns. Bloomberg is a prominent gun control advocate, and McCain has been romantically linked in the past to several well-connected assault weapons.

Joy Behar offended McCain Tuesday on "The View" because she's considering voting for Bloomberg if he's the Democratic nominee. This isn't a huge shock, because Behar has stated how much she wants to defeat Trump. She believes whoever becomes the Democratic nominee will stand between Trump and fascism. I don't know if I'd go that far, but McCain argued that if "Democrats don't take [Bloomberg] out, Republicans will."
2020 Congressional Elections
But, hey, did you hear that Bernie Sanders is a ... SOCIALIST?
February 19, 2020 01:15 PM
Donald Trump is set to hold rallies in swing states where Republican senators tanked their political careers when they helped him skate on impeachment charges. It's the least he can do, and they might as well call it the "GOP Learned Nothing From Kentucky" tour.
The president will swing by Arizona Wednesday to prop up never-elected, never-gonna-get-elected Sen. Martha McSally. McSally headlined her own "Veterans for Trump" event Tuesday night, where she made some strange remarks.
MCSALLY: We are going to be ground zero for President Trump's reelection, and we are ground zero to keep the Senate majority.
It's almost been 20 (!) years since 9/11, but isn't "ground zero" objectively a bad thing? The term most commonly refers to the site of a nuclear explosion. She's not wrong, but how is this helpful? McSally demonstrated more of her savvy political skills during an appearance on Fox News where she accused Barack Obama of trying to take credit for actual things he'd done as president.