9 Thoughts About Chris Cillizza's 9 Thoughts About That Epic Pic Of The Trumps And Macrons
News
April 25, 2018 08:27 AM
[Pedro Martinez / AP]CNN's most genius political hire ever, Chris Cillizza, had a lively day Tuesday. He did veryimportant political analysis like "HOT TAKE, we aren't surprised Dr. Ronny Jackson is having a hard time being confirmed, because Donald Trump doesn't vet people very much!" YA THINK, CHRISTOPHER? He ALSO wrote a very important listicle where he analyzed the AP picture above (fair use because this blog post is about the picture!), of Donald and Melania Trump and Emmanuel and Brigitte Macron, raising their arms in the air and holding hands. Out of his analysis came NINE VERY IMPORTANT THOUGHTS, the kinds of thoughts you only come up with after a long career of being bad at journalism and getting overpaid for doing it.
---
CHRIS CILLIZZA THOUGHT #1
1. It was nearly 60 degrees in Washington on Tuesday morning. Why does Trump have an overcoat on? Neither woman wore a coat. And Macron has on only his suit coat.
Life is full of questions, but Occam's Razor would suggest Trump was cold. CRAZY FUCKIN' HYPOTHESIS, WE KNOW!
CHRIS CILLIZZA THOUGHT #2
2. Trump's face is saying, roughly, this: "Are we done yet?"
Like hell it is, Donald Trump and Emmanuel Macron are BFFs and bromancers and very much in love. He is happier in that picture than he has been at any point in his presidency, excepting the time when he got to sit in the big truck.
We're already phoning it on thought #2, Chris?
CHRIS CILLIZZA THOUGHT #3
3. Macron's hands. He appears to be doing the "Hook 'em, Horns" /Kiss guitarist Gene Simmons hand signal. (Yes, there is a debate over who owns the index finger + pinky finger in the air sign. Because, of course.) Why? I wish I knew but man does it amp up the awkwardness.
That's right, Emmanuel Macron is the awkward thing about this picture.
CHRIS CILLIZZA THOUGHT #4
4. Trump is dealing with the Macron hand game by grabbing the French President's middle finger. (I think.) Also, that hand grab is not the only awkward handshake(?) that happened during the formal welcoming ceremony. Check out this one via CNN's own Brenna Williams:

 

The "handshake," courtesy of @brennawilliams pic.twitter.com/45jO8lnDnY

— Chris Cillizza (@CillizzaCNN) April 24, 2018
THAT IS NOT TECHNICALLY A THOUGHT ABOUT THIS PICTURE. THAT IS "HEY A THING IN THIS PICTURE REMINDS ME OF A DIFFERENT PICTURE BECAUSE I AM RUNNING OUT OF THOUGHTS ALREADY."
CHRIS CILLIZZA THOUGHT #5
5. Meanwhile, on Macron's other side, Melania seems to have solved the Macron hand challenge nicely. She appears to be grabbing his two unraised fingers, which is basically the definition of making lemonade out of lemons.
Yep, we are five "thoughts" in and now Cillizza has proclaimed "basically the definition of making lemonade out of lemons," which somehow involves which of the French president's fingers you are supposed to hold during a photo op. Wonder what Chris Cillizza gets paid per post, when you divide it out. And then divide that by nine, and that will tell you how much Chris Cillizza gets paid PER THOUGHT.
BRB, gotta stand on the front porch and scream at God.
CHRIS CILLIZZA THOUGHT #6
6. The look on Macron's face? Let's call it can-you-believe-I-am-doing-this-ridiculous-hand-move-with-the-First-Family face.
Or we could call it Not That.
Also that isn't what Macron's face looks like at all. It looks like "I can make the man on my left do anything I want just by winking at him. I will not break character until Brigitte and I get to the hotel room and simultaneously giggle ourselves to death and then have French intercourse on the high threadcount sheets." God, Cillizza, is this your first day analyzing pictures?
If Cillizza is auditioning for BuzzFeed here, he is doing poorly.
CHRIS CILLIZZA THOUGHT #7
7. Melania is the happiest of the four. It's probably because of her hat, which is amazing. Or maybe it's because she is taller than Macron.
WRONG AGAIN, NUTSACK! This is a picture of Melania Trump when she is happy: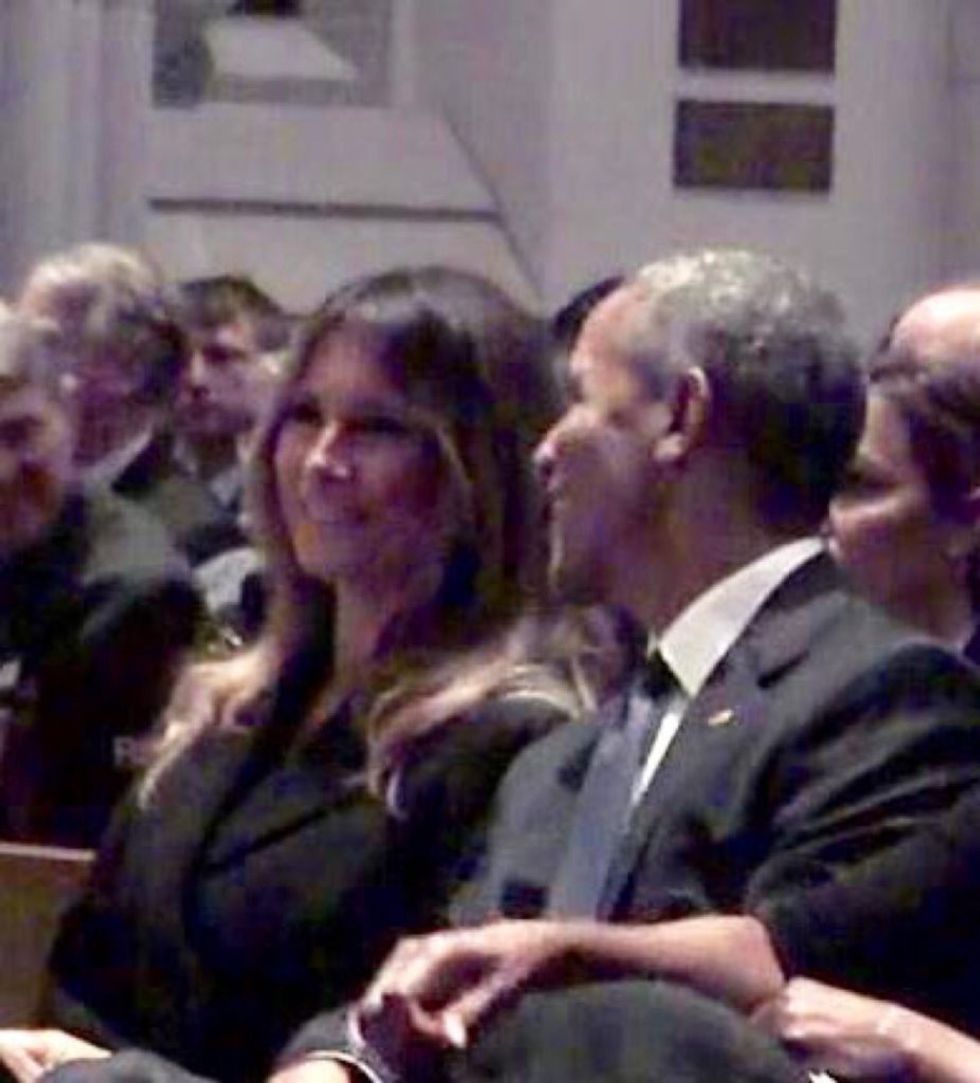 The picture at the top of this post is Melania Trump (in a FAAAAAAAAABULOUS hat, as Chris Cillizza, fashion critic, reminds us), being mildly pleased she's between the French couple and not next to her husband, and grinning and bearing her way through yet another one of these damn fucking things she never thought she would have to do, while otherwise silently waiting for Bobby Three Sticks Mueller to free her from this hell.
CHRIS CILLIZZA THOUGHT #8
8. Brigitte Macron forgot the first lesson of getting your picture taken: ALWAYS stare down the photographer. NEVER look sideways.
Not that Brigitte Macron needs any fucking lessons from Chris Cillizza, but there are 12,000 versions of this picture, and if Cillizza has ever been anywhere important in his life, he should know they're not saying "CHEESE!" for one guy with a camera, but that there are one milllion photographers taking one million pictures at a time. Don't believe us? Check the Getty and AP archives of the event.
PFFFFFFFT, Chris Motherfuckin' Cillizza gonna say Brigitte Macron "forgot" something, more like hopes she doesn't forget to stick her foot up Cillizza's ass before she leaves town.
CHRIS CILLIZZA THOUGHT #9
9. The body language from Brigitte Macron screams, "I didn't know we were doing the raised hands thing?? Did I miss a memo? Hello? Anyone?"
Hello? Did we really get through this whole Chris Cillizza post about his nine thoughts without Chris Cillizza managing to have one thought that can even remotely be considered valid? Anyone?
Seriously, CNN. How much did you pay him for this?
Wonkette demands CNN pay us TWICE whatever it paid him, for our own pain and suffering. Email us for our personal PayPal, please and thank you, good night, good luck, and fuck Chris Cilllizza.
Follow Evan Hurst on Twitter RIGHT HERE.
Are you a fairly regular Wonkette reader and have had a nagging little voice for some time saying "you should throw Wonkette a buck every month"? We would surely appreciate it!
[CNN]
Evan Hurst
Evan Hurst is the managing editor of Wonkette, which means he is the boss of you, unless you are Rebecca, who is boss of him. His dog Lula is judging you right now.
Follow him on Twitter RIGHT HERE.