A Children's Treasury Of Hilarious Comments About The AP On Hillary's Blog
June 03, 2008 03:47 PM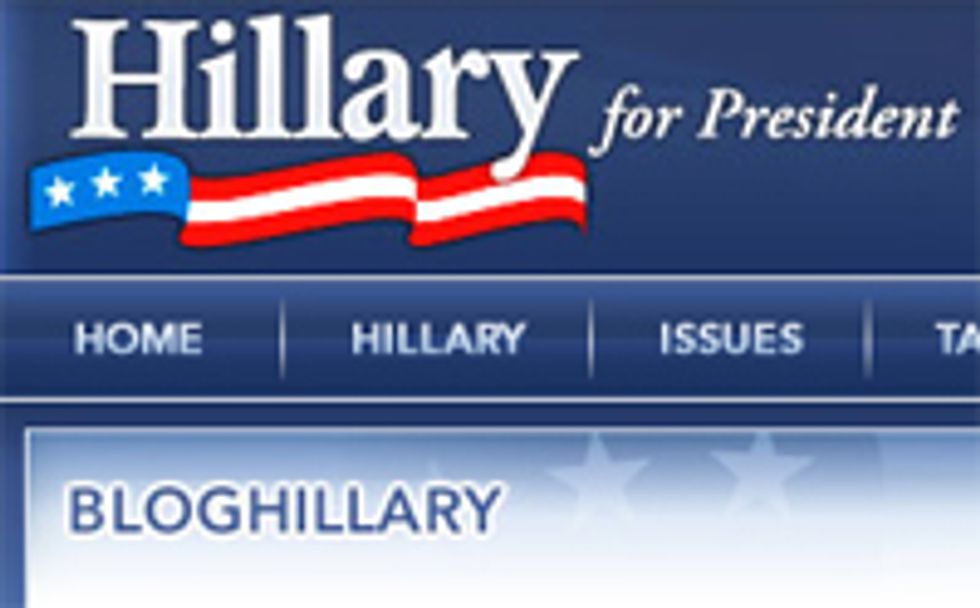 This morning, the Associated Presswrote that Hillary would concede the delegate race to Barack Obama tonight, which is very nearly the same thing as "conceding the race." The Clinton campaign then called this story 100% false and said Hillary won't be concedin' nothin' tonight. And since Hillary's rabid loyalists are already peeved with the media's coverage of the campaign, the AP's little "gambit" here has set off quite a storm on Hillary Clinton's official "blog," in the comments. An arbitrary selection of the best comments, after the jump.
---
"PatFlorida" writes: "THEY JUST STATED THAT OBAMA HAS THE NUMBER OF DELEGATES NEEDED. NBC SAYS, NO. I WANT A "FULL" INVESTIGATION OF THE AP, BY THE FCC. THIS IS PURE PROPAGANDA."
"People" writes: "SUE THEM!!!

PUNISH THEM!!!

HOW LOW CAN THEY GO AGAIN?!!!

SHAME ON THEM!!!"

"luv2dancetango" writes: "NOOOOOOOOO !!! Please do not concede or drop out of the race. I know of Republican White Women that say they will vote for you... just won't tell their husbands, friends, neighbors or anyone (hypothetical nail salon discussions).

Hillary NEEDS TO DROP the Democratic Party and jump over to the Liberatarian one if the nomination goes to Obama."

"AMBER HOUSTON" writes: "WHAT WE HAVE WITNESSED TODAY IS THE MOST HORRID FORM OF VIOLATION TO OUR DEMOCRACY.

" WE ARE NOT TAKING THIS ANYMORE AND FROM THIS POINT ON WE ARE GOING TO REBEL AND GIVE EM HELL "

" WE ARE 18 MILLION STRONG AND IT IS TIME WE SHOW THEM OUR MIGHT.

YOU CAN NOR RAPE DEMOCRACY AND GET AWAY WITH IT !!!

WE WILL REBEL AND OUR VOICE WILL BE HEARD !!!!!!"

"AMBER HOUSTON" follows up: "'YOU CAN NOT RAPE DEMOCRACY AND GET AWAY WITH IT.' TYPO. AND YES WE ARE MAD AS HELL AND WE ARE NOT GOING TO TAKE IT ANYMORE !!!!!!!!!!!!!!!!!!!!!!!!"
"jjh" writes in French: "GEAUX HILLARY!!!!!"
Wealthy "Redtumble" writes: "I can't believe the media would do this! BECAUSE OF THE LIE, LET'S DONATE $5!!!!! START THE CHAIN WITH ME!!!"
A harried "Annette in Sacramento" writes: "ASSIST ME IN FINDING OUT OUR WRITE-IN RULES!! I AM BUSY ON PHONES...."
GO HILZ CALL THE PHONE IN SD & MONTAANNER OR EMAIL THE OFFICE FOR PROTEST THE MSM IN THE TANK FOR O-SHAM-A!!!!!!!!!!!!!!!!!!!!!
(!!!!!!!!!!!!!!!!!!!!!!!!!!!!!)
Statement from the Clinton Campaign [blogHillary]