A Fucking Bible Lesson About Throwing Stones For Dumbass Trumper Rent-A-Pastor Greg Locke
Culture
March 27, 2018 02:25 PM
Dear Pissant Shit Baby Bible Grifter For Trump Greg Locke:
---
To be honest, we don't know why we're writing this letter to a Trump-obsessed rent-a-pastor who's been credibly accused of beating the woman who is now his ex-wife, after allegedly verbally abusing her continuously over things like gaining weight and cutting her hair. After all, we're not expecting Biblical literacy from internet preachers who remind us of Donald Trump, who just adore Donald Trump, and whose previous claim to fame is going to Target and bellyaching like a whiny ass titty baby about transgender people being allowed to use the bathroom:
Golly, we had almost forgotten about those little Tuff Guys, who provided us weeks of endless laffs with their crybaby videos about how they're scared the transgenders are going to say "BOO!" to them in the potty.
But then you tweeted this, Greg, which was equal parts stupid, gross, and misinformed: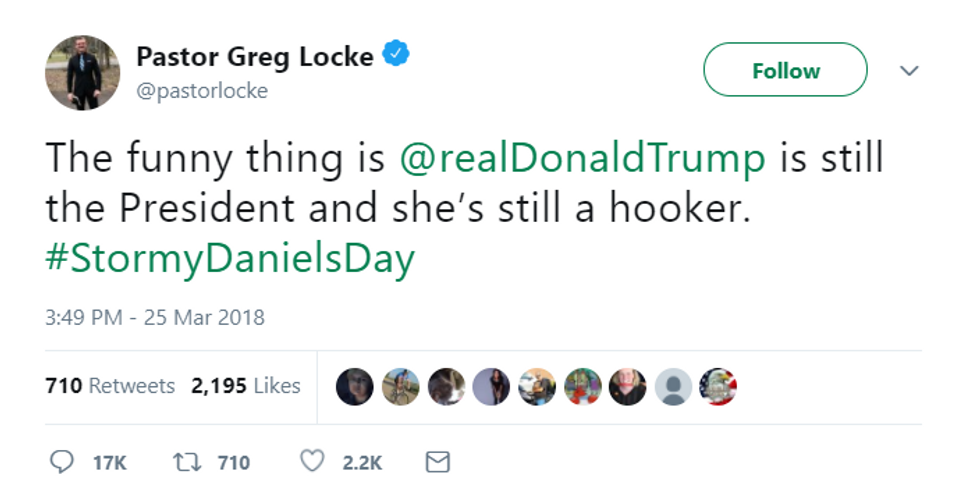 Trump may technically be president, Greg, but the patriots of America, who outnumber you, Greg, are working on getting that fixed, whether it happens by impeachment, resignation, or the hardest electoral pounding you've ever seen outside the pornographic movie film Electoral Pounding 2: A Porn Movie About Democracy And Some Major Butt Stuff, which is actually not a Stormy Daniels film, because we made it up.
Speaking of Stormy Daniels, though, she is not a hooker. We don't know if Donald Trump ever tried to pay Daniels for sex like he did with Playboy model Karen McDougal, but regardless, McDougal is a model and fitness professional, and Daniels is a pornographic actress and producer. A hooker is someone paid personally by someone else for sex, like for instance, if Russia has a pee tape of your president, Donald Trump, getting pissed on by Russian ladies, those are hookers, assuming somebody paid them. Does Russia have a tape like that? MAYBE, GREG! Maybe.
CNN's Jake Tapper saw your tweet, Greg, and made the mistake we are making right now, of treating you as a human being worthy of being acknowledged, someone who was wonderfully funderfully made in the image of God, instead of just something God was trying to aim at His holy discard pile but accidentally sent to Earth, like Donald Trump.
So, Greg, in an effort to help, Tapper, the TV news guy, tweeted you, the internet pastor with the alleged wife-beaty problem, part of Luke 7, which goes like this (NIV):
36 When one of the Pharisees invited Jesus to have dinner with him, he went to the Pharisee's house and reclined at the table. 37 A woman in that town who lived a sinful life learned that Jesus was eating at the Pharisee's house, so she came there with an alabaster jar of perfume. 38 As she stood behind him at his feet weeping, she began to wet his feet with her tears. Then she wiped them with her hair, kissed them and poured perfume on them.

39 When the Pharisee who had invited him saw this, he said to himself, "If this man were a prophet, he would know who is touching him and what kind of woman she is—that she is a sinner."

40 Jesus answered him, "Simon, I have something to tell you."

"Tell me, teacher," he said.

41 "Two people owed money to a certain moneylender. One owed him five hundred denarii, and the other fifty. 42 Neither of them had the money to pay him back, so he forgave the debts of both. Now which of them will love him more?"

43 Simon replied, "I suppose the one who had the bigger debt forgiven."

"You have judged correctly," Jesus said.

44 Then he turned toward the woman and said to Simon, "Do you see this woman? I came into your house. You did not give me any water for my feet, but she wet my feet with her tears and wiped them with her hair. 45 You did not give me a kiss, but this woman, from the time I entered, has not stopped kissing my feet. 46 You did not put oil on my head, but she has poured perfume on my feet. 47 Therefore, I tell you, her many sins have been forgiven—as her great love has shown. But whoever has been forgiven little loves little."

48 Then Jesus said to her, "Your sins are forgiven."

49 The other guests began to say among themselves, "Who is this who even forgives sins?"

50 Jesus said to the woman, "Your faith has saved you; go in peace."
Good story! The Pharisee (as Pharisees so often did) was being a judgmental dick about Jesus letting a common "sinner" (probably a prostitute) wash his feet. So Jesus taught a lesson about grace, about how His table was open to all, even people the Pharisee found gross, and managed to get a message in about how this sinner lady is a fuckton more loving than Mr. Pharisee sitting up in here all righteous and shit yet lifting nary a finger to show him any love or hospitality. Why were her sins forgiven? Because of the love she showed Jesus. Who needs to spend a little more time shutting the fuck up and washing some feet, and maybe then he'll be a little bit more pleasant company? That Pharisee. And you, Greg.
You tweeted back at Jake Tapper, Greg. You shouldn't have done that, Greg: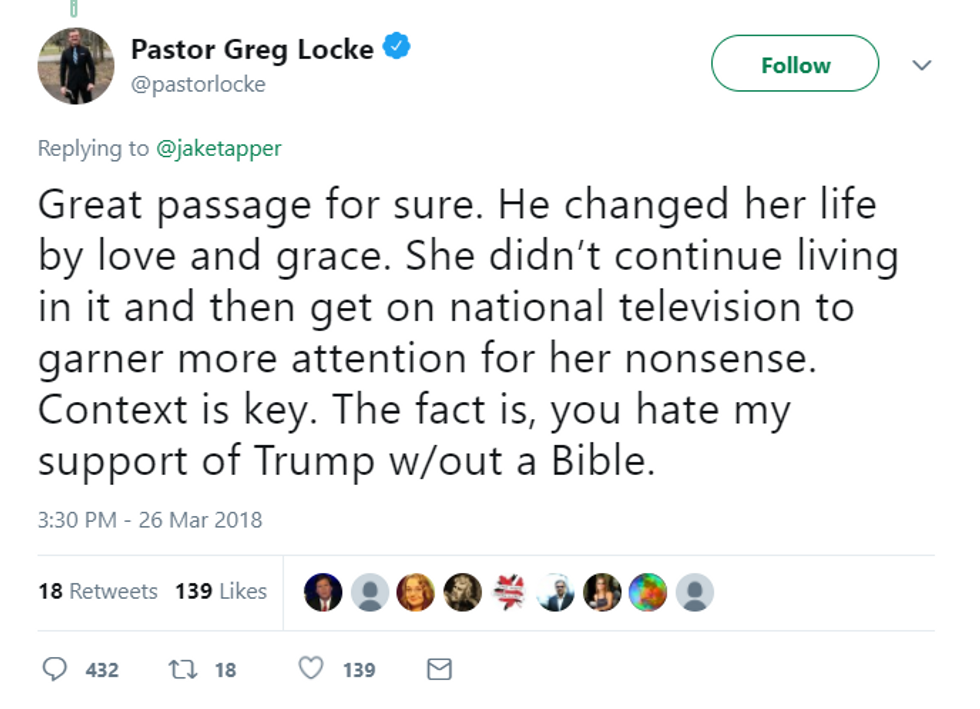 Greg, hate to break it to you, but in this particular passage, we don't hear what the lady did or did not do afterward. Jesus told her to go in peace, and we assume she did. (Some believe she is actually Mary Magdalene, which is probably bullshit, considering how the Church has endeavored to turn Magdalene into a prostitute, which the Bible kinda sorta DEFINITIVELY NEVER SAYS.) Regardless, this woman was saved not because of a prayer she prayed, or what she did or did not do later that day, but because of her outpouring love for Jesus.
Jake Tapper, still showing more grace than you deserve, Greg, deigned to reply to your tweet: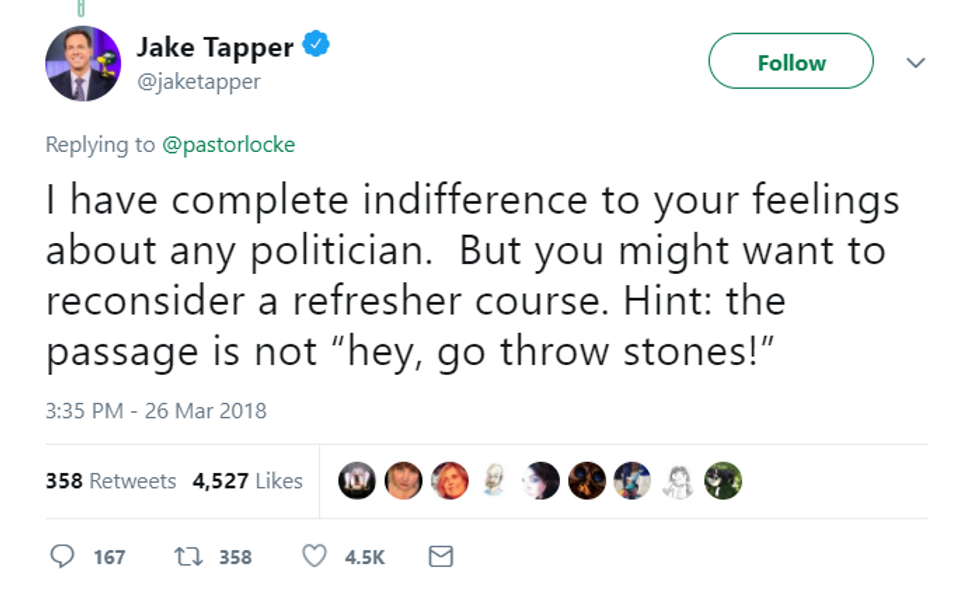 It most certainly is not, Greg! Now what's funny here, Greg, is that we think that even though Jake Tapper tweeted Luke 7 at you, that you, Greg, in your little tiny baby brain, are under the impression he tweeted John 8, which is #BibleFact a whole different story. It's the one where stone-throwing comes up, and surprise, it features Pharisees being dicks. Let's take a look:
2 At dawn he appeared again in the temple courts, where all the people gathered around him, and he sat down to teach them. 3 The teachers of the law and the Pharisees brought in a woman caught in adultery. They made her stand before the group 4 and said to Jesus, "Teacher, this woman was caught in the act of adultery. 5 In the Law Moses commanded us to stone such women. Now what do you say?" 6 They were using this question as a trap, in order to have a basis for accusing him.

But Jesus bent down and started to write on the ground with his finger. 7 When they kept on questioning him, he straightened up and said to them, "Let any one of you who is without sin be the first to throw a stone at her." 8 Again he stooped down and wrote on the ground.

9 At this, those who heard began to go away one at a time, the older ones first, until only Jesus was left, with the woman still standing there. 10 Jesus straightened up and asked her, "Woman, where are they? Has no one condemned you?"

11 "No one, sir," she said.

"Then neither do I condemn you," Jesus declared. "Go now and leave your life of sin."
This passage is interesting, isn't it? Many of us who were churched know it, and many evangelical assholes like you, Greg, really fuck a goat when you try to interpret it. "See? Jesus said NO MORE BEIN' A WHORE! This isn't a Bible story about Jesus bein' okay with COMMON WHORES! Now give me back my rocks, I wanna do target practice on ALL THE VARIOUS WHORES!"
Oh, Greg. Your participation in this story ended in verse nine! After Jesus said fine, stone the lady if you're all so motherfucking perfect, He knelt down and played a little Words With Friends with a stick in the sand, to give each and every last one of the assholes present the opportunity to STFU and GTFO. That's you, Greg. Only after that did He speak to the woman and tell her He didn't condemn her and to go and sin no more. After that, you may notice, Greg, that Jesus did not immediately reconvene the men and tell them to keep an eye on her, and that if she starts sluttin' around again, please go ahead and stone her but good.
The point, if you believe in Jesus, Greg, and we are not at this point certain of that at all, is that the conversation between Jesus and the woman caught in the grievous sin of adultery was NOT YOUR FUCKING BUSINESS. It is between her and her God, just as your sins (like the alleged wife-beating, for instance maybe, and also haven't you been accused of a spot of adultery your own self, Greg?) are between you and your God.
Meanwhile, HOW 'BOUT LET'S TRY NOT BEING SUCH A FUCKING PAIN IN THE ASS DICK ABOUT EVERYTHING? AND NO, SHITHEAD, YOU DON'T GET TO STONE PEOPLE! (We put that in red letters because it is a message from Jesus.)
Thus concludes our Bible lesson, Greg. If you'd like us to record an audio version so you can take a week off from sermon-preachin', Greg, just ask.
Let us pray.
Follow Evan Hurst on Twitter RIGHT HERE.
Wonkette salaries and servers are fully paid for by YOU! Please pay our salaries, so we NEVER DIE.
Evan Hurst
Evan Hurst is the managing editor of Wonkette, which means he is the boss of you, unless you are Rebecca, who is boss of him. His dog Lula is judging you right now.
Follow him on Twitter RIGHT HERE.