U.S. Economic Future Awaiting Flight From Ohio
News
February 13, 2009 09:11 PM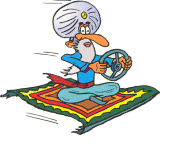 The House passed the watered-down Stimulus Bill! Withno Republican votes, obviously -- they don't want to get in trouble with their drug-addict talk-radio boss, what's his name, Mr. Vulgarian. And now the Senate is voting, hooray! They've got 59 of the filibuster-proof 60 votes needed, so it's all down to one guy, from Ohio. If and when he shows up for work ....
---
Economic Recovery -- or at least a shoddy government-made parachute to slow the impact of America, into the ground -- is in the hands of one fellow, so let's see if we can find his name or some other identifying factor. Ah, it's Senator Sherrod Brown, of Ohio! What's delaying him, anyway? Oh, he was at his mother's funeral? Oh.
WE ARE TRYING TO MAKE JOKES HERE, PEOPLE. PLEASE STOP DOING SUCH SAD THINGS.
Sherrod Brown must beat the clock and get back to the Senate in time! C-SPAN has apparently turned off the cameras?
Senate Voting On Stimulus Bill [C-SPAN]