... And The Fucking Horse Roy Moore Rode In On
Elections
December 12, 2017 06:00 PM
Roy Moore and Sassy, who is about to get rid of his ass right here.
---
HI WONKERS, it is your end of day open thread, where you will hang out and talk and we will come back from time to time and post you updates and results from the Alabama special Senate election. If Doug Jones pulls this out, we will write you a very excited and fast post about it later (maybe, if it's early enough), but until we tell you differently you will SIT HERE IN THIS POST AND TALK TO EACH OTHER AND WATCH THIS VIDEO OF STUPID ROY MOORE RIDING HIS HORSE "SASSY" TO GO VOTE, BECAUSE HE IS WEIRD.
Also, it is obvious Sassy HAAAAAAAAAATE HIM.
This is hilarious, his form sucks & that horse was thinking about bucking him pic.twitter.com/NLWfm8QtlY

— Molly (@Molly_Kats) December 12, 2017
Yr Alabama Wonkette Fakakta South points out in the chatcave that this is not the same horse Roy Moore rode in on for the primary against Luther Strange. It appears Kayla Moore, the Jewish lawyer-knowing wife of Roy, rides Sassy sometimes. The reason Roy and Kayla Moore switch horses is, we guess, because they are HORSE SWINGERS. (Allegedly.)
We are not an Expert Of Horses, so we will include this tweet from somebody who is: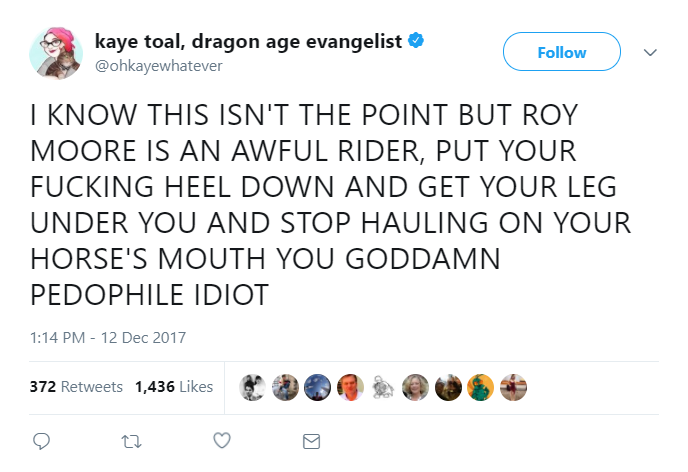 More hilarious reactions from Horse Twitter here!
OK, enjoy your horse video. See you later! (OR WILL WE?)
UPDATE: Hey you guys! Ready for some fresh hot news about the election? Well, the fresh hot news is that this one Roy Moore campaign spokesman right here is A DUMB. Watch Jake Tapper make dude's brain completely malfunction by telling dude ACTUALLY you don't have to swear on a Bible when you're elected in the US and A:
Roy Moore campaign spokesman responds with silence when asked if he knew people can be sworn in with a text other than the Christian bible pic.twitter.com/B65qIKBjlI

— The Lead CNN (@TheLeadCNN) December 12, 2017
Hilarious! Will check on you in two hours to make sure you're OK. (OR WILL WE?)
UPDATE AGAIN: Guys? Guys? Don't hold your breath yet but Doug Jones HAS TAKEN THE LEAD by 817 votes and OMG OMG OMG OMG, IS THIS GOING TO HAPPEN? You'll want to stick around, because yr Alabama Wonkette Fakakta South will be reportin' official once we know official.
UPDATE NUMBER THIS IS WHAT IT LOOKS LIKE WHEN DEMOCRATS COME OUT TO FUCKIN' PLAY IN THE SOUTH:
AP has called it. Called it. CALLED IT.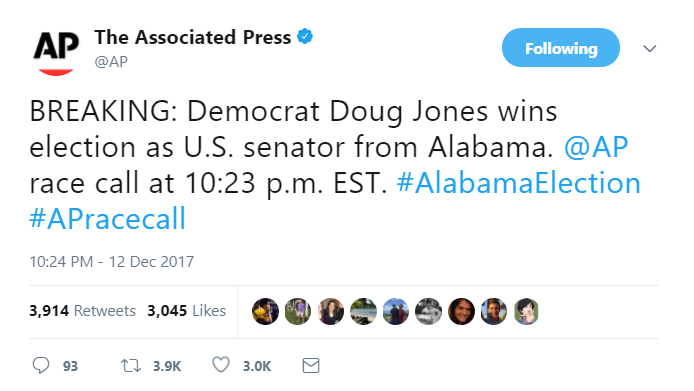 Steve Bannon is probably having a literal stroke right now. So, we'd surmise, is Donald Trump. HELL YEAH, PEOPLE.
10:57 UPDATE: Did y'all see where our very own Alabama Wonkette "Fakakta South" CALLED THIS YESTERDAY? ROLL TIDE, ROLL!
Also too, Maxine!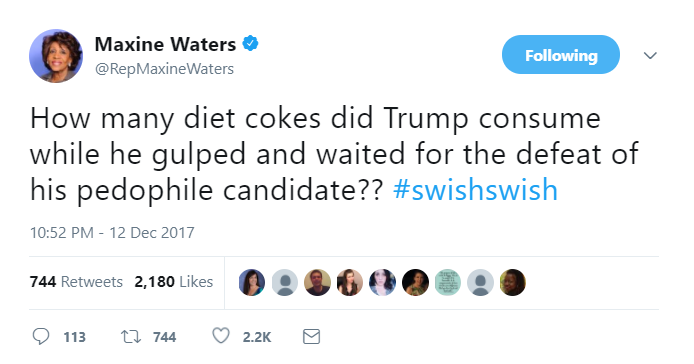 Follow Evan Hurst on Twitter RIGHT HERE.
Are you a good Wonker who sends us money by Amazon? Well not anymore you're not, because Amazon done fucked our payment system. Would you be so great as to re-sign with Paypal or Stripe? K we love you bye. (All you others can too.)
Evan Hurst
Evan Hurst is the senior editor of Wonkette, which means he is the boss of you, unless you are Rebecca, who is boss of him. His dog Lula is judging you right now.
Follow him on Twitter RIGHT HERE.