AND THEN THE LADY WENT AND SAT WITH THE BULLIED BOY AND FUCK YOU SHUT UP YOU'RE CRYING
News
October 23, 2017 04:58 PM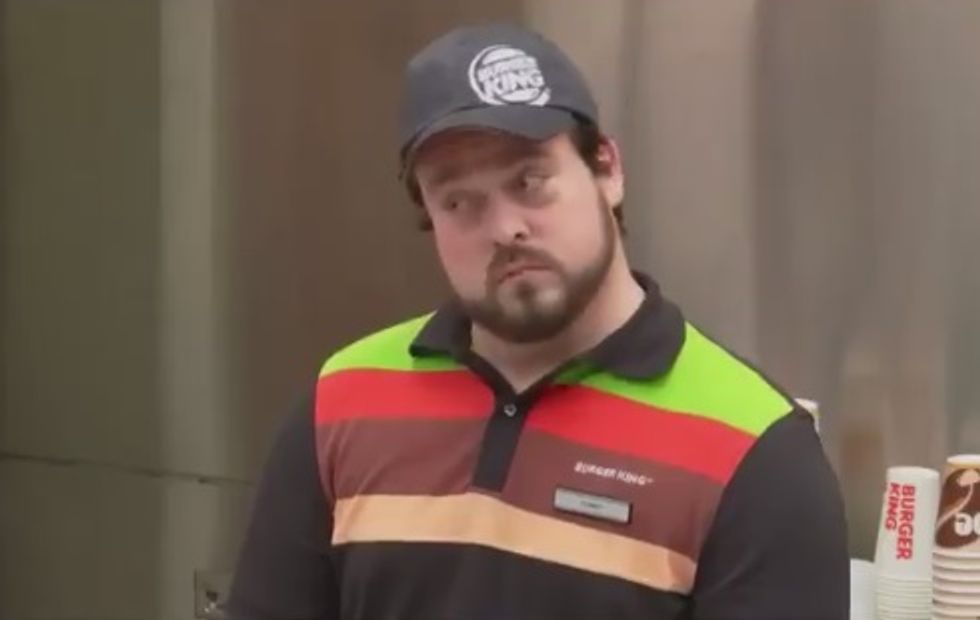 Burger King just released one of the best anti-bullying PSAs I've ever seen pic.twitter.com/0RV1JUvBd2

---

— Josh Goodman (@JustJOSH_ingYa) October 19, 2017
This might be one of the best anti-bullying ads we've seen. It's a simple premise: A group of actors pretend to be a bunch of bullies and their victim in a real Los Angeles Burger King, and hidden cameras keep track of whether anyone intervenes. At the same time, on the cooking line, a Burger King employee "bullies" a Whopper Jr. then wraps it up to be served to whomever ordered it.
The bystander effect and social squeamishness about getting involved result in a depressing outcome: 92% of customers complained about getting a mooshed burger, and only about 12% intervened with the "bullied" teen, who earned his pay for acting. You'll laugh and maybe cry some when the nice lady stands up and goes over to talk to the bullied kid. We're not sure what we learn here, except that maybe we should get more people to pay two bucks for a teenager so they'll care if he or she is bullied.
Also, we need a PSA showing Burger King executives how their employees could live much better lives on $15 an hour, but we don't know if a comparison to a burger getting paid a living wage would work.
Just watch the ad, guys. We know you don't watch the videos, but WATCH THE DAMN VIDEO OR WE'LL SMUSH YOUR BURGER.
We'd never do that. Really. We love you. It's your open thread.
[Fortune/ Josh Marshall on Twitter]