Donald Trump Puts A Ring On It ('It' Being America; 'Ring' Being The Kind For Your Penis)
Featured
June 16, 2015 01:06 PM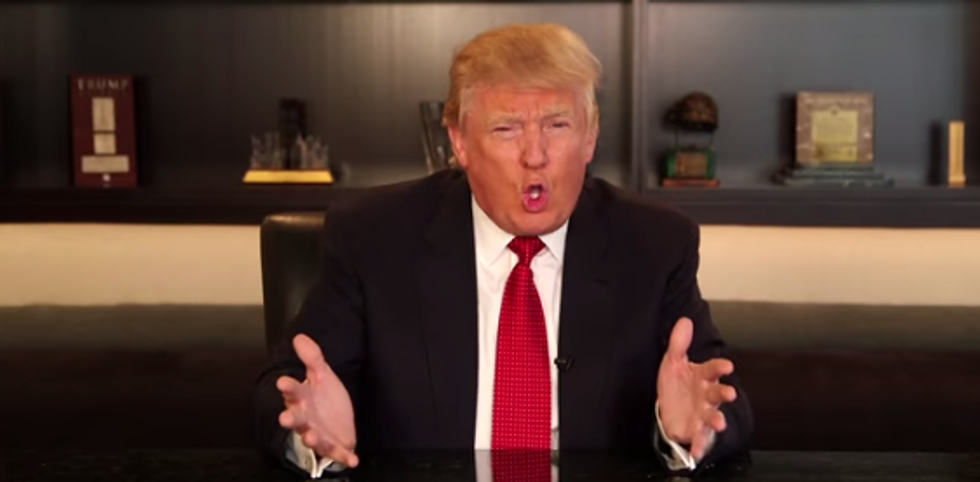 It's all happening! Our wildest, craziest, YOOOOGEST dreams have come true, even though
we were quite sure
they would not. But they have! Donald "Donald Trump" Trump is running for president of U.S. America.
Say it with us: DONALD TRUMP IS RUNNING FOR PRESIDENT OF U.S. AMERICA!!!
---
Donald Trump is the best Donald Trump who ever Trumped, as he Trumps at us on his website, where he promises to Make America Great Again! by Donald Trumping it right up, and have we mentioned HOW EXCITED we are that Trump is doing this thing?!? And we will get to watch him yell on a stage, with the other Republicans, about how they all suck because they are not Donald Trump? Wheeeee!
Trump does not have a Presidential Campaign Swag Store just yet, but we are quite sure that is coming soon, because Trump loves to sell things that say TRUMP! on them. And we cannot wait to laugh at all the Trump things, which will no doubt be gold-plated and taste like caviar.
Thank you god and Jesus and Buddha and errrybody, for this comedic miracle we have received, amen.
P.S.: The Democratic National Committee is also very excited and grateful. As you can see: