Aretha Franklin's Funeral Upstaged By Male Idiocy
News
September 04, 2018 01:15 PM
American icon Aretha Franklin's signature numbers are all powerful expressions of a woman's inherent value in a world that often fails to recognize her worth, so I suppose it's sadly fitting that Ms. Franklin's homegoing on Friday would prove a showcase for men showing their asses both during and after the service.
First up on the full moon display was Reverend Jasper Williams Jr. He delivered an appalling eulogy during which he boldly proclaimed that black lives don't matter. Kind of a twist given the circumstances.
Black lives will not matter. Black lives do not matter. Black lives should not matter, black lives must not matter until black people start respecting black lives and stop killing ourselves. Black lives can never matter."
Man, this is Aretha Franklin's funeral. There are black people here. You're not sending home Clarence Thomas. Williams's eulogy was so bad, he got heckled by Stevie Wonder.
---
He also commented on single parenting, saying: "A black woman cannot raise a black boy to be a man. Right in your own neighborhoods, where your church is, there are struggling single moms that don't know what to do."
Jesus, not this easily disproven nonsense again! Women are perfectly capable of raising sons. You don't need a dick to prevent a boy from growing up to become one. Ms. Franklin was also a single mother of four, so this was totally the wrong venue to trash parents like her as somehow contributing to "abortion after birth." C'mon, Aretha even famously sang "Sisters Are Doing It for Themselves" with my girl Annie Lennox. Check the discography, Rev., and then check yourself.
Williams didn't even talk that much about Franklin — you know, the woman who'd died, which rightly offended her family. They pointed out he spent 50 minutes just promoting his own "negative agenda." Yeah, I know you're thinking, "That fool rambled on for 50 minutes? What if Bill and Hillary had to use the bathroom?" But 50 minute eulogies aren't that unusual at a black funeral. I've done 50 minutes standing on my head. We've lost some older folks who were already on the fence during some of the lengthier homegoings. Then the funeral just starts blending into another like the extended mixes at a nightclub.
So, there was plenty of time for more foolishness. After singer Ariana Grande finished her rendition of the Aretha classic "(You Make Me Feel Like) A Natural Woman," Bishop Charles H. Ellis III, who officiated the services, decided to help himself and test how "natural" Grande actually felt. Brother is supposedly a man of God but he's feeling up the lady like she's a Prince b-side. He later apologized in that stupid non-apology way we men like to do.
"It would never be my intention to touch any woman's breast," the pastor told The Associated Press. "Maybe I crossed the border, maybe I was too friendly or familiar but again, I apologize."
Hey, he was just being friendly -- if you define "friendly" as gross and very special episode of "Family Ties" creepy.
"Girl, let me give you all your respect," Ellis said, as he put his arm around Grande's waist.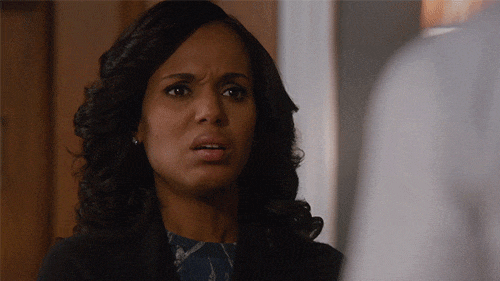 media.giphy.com
Fortunately, more mature figures were able to step in and point out that the true wrongdoer here was Ms. Grande, who dared to wear a dress that some random men thought was too short.

"She's a young woman and she's doing her young thing," he said, "and I think it was inappropriate. I do... I love her, I think she's a great talent (but) somebody in her camp should have told her she was at a funeral and not let that happen. I don't think she was trying to be disrespectful… It was just inappropriate."
I think Grande knew she was at a funeral. If her handlers have to constantly remind her of her surroundings, then she's no better than second-term Ronald Reagan. Look, Smokey, I know it was probably uncomfortable to have to sit through the last hour or so of the funeral with a non-pharmaceutical-induced erection, but that isn't Grande's fault. Try imagining Ted Cruz topless like we all do in similar situations and leave the lady be to dress however she wants. Besides, I thought Salt-N-Pepa settled this back in the day.
No event occurring after 1992 would be complete without some off-the-wall Clinton derangement. Chelsea Clinton was victim of a drive-by sliming after she commented on The New Yorker's stupid and since rescinded decision to give a platform to diseased racist Steve Bannon.
@ChelseaClinton (both of your parents just shared a stage for hours on end with Louis Farrakhan)

— Kate Bennett (@Kate Bennett)1536029096.0
Bennett wasn't even at the funeral and she's complaining about its length. Yeah, Farrakhan and his dumb bow-tie were there, salivating over Grande like she was the non-pork item on a soul food menu. But I don't know what that has to do with Chelsea Clinton's parents, Steve Bannon, or the sweetness of tea in Georgia.
The Queen of Soul deserved better, and whenever women were involved, she received it: Jennifer Hudson brought down the house with her performance of "Amazing Grace" and Hillary Clinton moved us to tears with her earnest recounting of what Aretha meant to her. Next time, leave the boys at home.
Follow SER on Twitter
Wonkette is solely funded by about 3000 readers a month. Make it 4000, so we NEVER DIE.
Stephen Robinson
Stephen Robinson is a writer and social kibbitzer based in Portland, Oregon. He writes reviews for the A.V. Club and make believe for Cafe Nordo, an immersive theatre space in Seattle. He's also on the board of the Portland Playhouse theatre. His son describes him as a "play typer guy."