Awwwww Rudy Giuliani, YOU FUCKING SCARED?
Russia
June 15, 2018 11:10 AM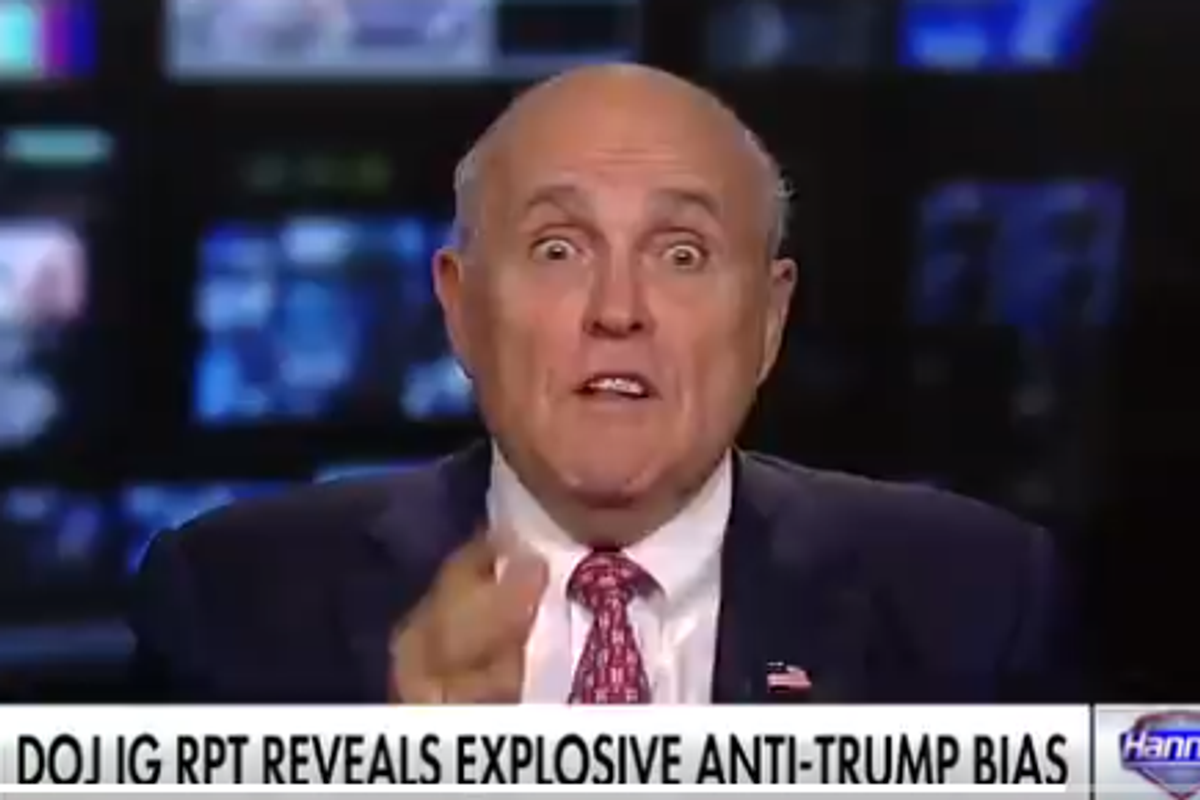 RUDY GIULIANI, WHAT THE HELL IS GOING ON IN THAT UGLY VILE MISSHAPEN HEAD OF YOURS?

---
Giuliani: Rosenstein and Sessions have one day to redeem themselves. Mueller Must Be Suspended Tomorrow. Strzok Mus… https://t.co/sM5TTDfkLp

— Josh Marshall (@Josh Marshall) 1529026292.0
I think Rod Rosenstein and Jeff Sessions have a chance to redeem themselves. And that chance comes about tomorrow. [He now means today.] It doesn't go beyond tomorrow. Tomorrow, Mueller should be suspended! [...] [Peter] Strzok should be in jail by the end of next week!
OK, this is just pathetic. Good god, man, you are a FORMER PROSECUTOR! We know you probably weren't a particularly good prosecutor, and that the only reason the nation was on your side for a while is because thousands of Americans were killed in a terrorist attack and you just happened to be there for the photo-op, but GOOD GOD, MAN.

We know fascism is the word of the day every single day in Donald Trump's White House. We know that among Trump's breathtaking parade of lies this morning, Trump actually said he wishes Americans would treat him like North Koreans treat Kim Jong-un. (Not a chance in hell, President Shit Mouth, you worthless bag of twice-baked fuck trash.)
We know everybody in Trumpland is scared today, because Paul Manafort is in court right now and he might never get to poop in his own house ever again if he doesn't flip. We know when Manafort got out of the car he looked like he had just stopped crying, and we hope he looked like that because he really did just stop crying.
We know Michael Cohen is probablyin the process of flipping, and if he doesn't, he will also get arrested and start pooping in jail like a common Paul Manafort, until he's convicted of ALL THE CRIMES.

And we know Trump and Giuliani are probably mighty disappointed that the Department of Justice's inspector general report on the Hillary Clinton email investigation proves ALL OUR POINTS and proves exactly zero of the conspiracy theories that currently populate the rancid syphilitic puddles of mouse jizz the president and his lawyer call their "brains."
ROUGH DAY, ASSHOLES.
But you're going to tell Fox News's mouthbreathing viewers that a high-ranking FBI agent should be IN JAIL? For what, you asshole? For investigating Hillary Clinton's emails and being part of a large team that found she did nothing wrong? For investigating ties between Trump and Russia and being part of a large team that found OH HOLY SHIT, GOD'S THIN-SKINNED LITTLE ORANGE ACCIDENT PROBABLY WOULDN'T HAVE WON THE WHITE HOUSE IF AN ENEMY NATION HADN'T HELPED HIM?
Seriously, Rudy, WHAT IS IT?
Shouldn't you be mushing your shriveled cock into some woman who's not your wife, instead of talking at us on the TV?
Inquiring minds are just curious.
Follow Evan Hurst on Twitter RIGHT NOW, DO IT RIGHT NOW!
Don't take for granted that the institutions you love will always be there, like democracy, and Wonkette. Click to save at least one of them!
Evan Hurst
Evan Hurst is the managing editor of Wonkette, which means he is the boss of you, unless you are Rebecca, who is boss of him. His dog Lula is judging you right now.
Follow him on Twitter RIGHT HERE.