Rep. Ayanna Pressley: Bald, Brave, Badass, Frickin' *Beautiful*
Congress
January 17, 2020 10:13 AM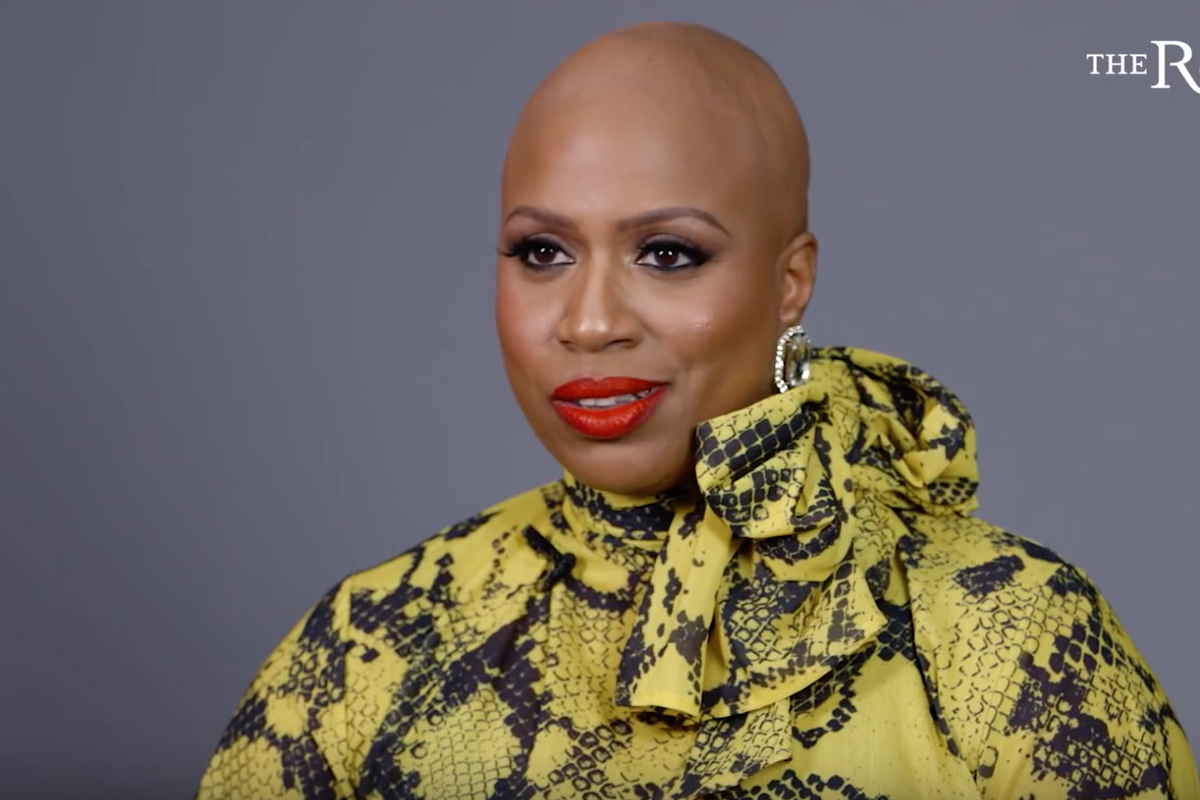 Massachusetts Rep. Ayanna Pressley just opened up to The Root about a personal health issue with inspiring directness and candor. She has alopecia and is now bald. She's one of 6.8 million Americans with the condition, but you can't help feeling like you're going through something like this alone. Pressley noticed the early effects of hair loss last fall. It progressed to the point that she started to dread waking up each morning and discovering the "sinkfuls of hair" she'd lost overnight. She described facing "an image in the mirror of a person that increasingly felt like a stranger."
As a Black woman, the personal is political. My hair story is no exception. Sharing a very personal story today to… https://t.co/oo2WehX1ir

— Ayanna Pressley (@Ayanna Pressley) 1579195237.0
---
Pressley was proud of her hair, but it was more than just vanity. We are two decades into the 21st Century and black women are still judged harshly for their personal hair expression. Gabrielle Union was reportedly told her hairstyles were "too black" for the audience of "America's Got Talent." Pressley's hair was as bold as she is. She'd unapologetically rocked long, Senegalese twists for years. They'd made her feel her "most authentic and powerful self." She'd discussed this in an interview shortly after her election to Congress.
I've been in electoral politics and in government for such a long time, It's only recently that I've been a little bit edgier in my dress. But by and large, I've been a very conservative, traditional person in my attire. So where I sort of mix it up is how I [wear] my hair.
Black women would often tell Pressley that they'd never seen a sister at such a prominent level in braids. Pressley noted that "anything black women do is political, and it doesn't end with our hair." That informed her thinking when considering how to address her baldness. She wouldn't even have the luxury of being seen as "vulnerable." America, unfortunately, would view a black woman's bald head as a "militant" statement. Fox News would probably claim she'd join the New Black Panther Party. Pressley "creatively concealed" her progressive baldness while never slowing down in her elected duties. She continued fighting for her constituents and for what was good and decent. (Obviously, we're fans.)
Pressley earned our respect early on when she denounced Donald Trump and the "tsunami of hurt" his government shutdown had caused. She read him for filth on the House floor. It was wonderful. She gracefully endured the president's baseless personal attacks, along with Alexandria Ocasio-Cortez, Ilhan Omar, and Rashida Tlaib. These four vocal congresswomen of color were consistent targets for racialized scorn. So, it's oddly fitting that Pressley would lose the last of her hair on the day she voted to impeach the president. It was also the anniversary of her mother's death. She didn't have time to mourn either. A friend connected Pressley with "hair caregiver" Jamal Edmonds, who quickly designed a custom wig for Pressley just hours before her historic vote.
PRESSLEY: When I saw myself in the mirror, he had done a beautiful job, but I did not recognize myself. I was wearing this wig, fully clothed. But in that moment, I couldn't recall the last time I'd ever felt more naked.
#DearProfessorFord https://t.co/JcM8RnlMee

— Ayanna Pressley (@Ayanna Pressley) 1537402805.0
This moment of despair and loss inspired Pressley to publicly disclose her condition. She wanted to free herself from the "secret and the shame." According to a study from the Journal of the American Academy of Dermatology, black people experience alopecia areata at a higher rate than other groups. (It's linked to stress, so duh.) A Boston University study of 5,500 black women revealed that almost half of them dealt with hair loss.
Pressley is not just living with her own hair loss, she's taking control and perhaps helping others feel like they're not alone. In an interview with The Root, she described taking some badass wigs out for a spin.
PRESSLEY: One I call 'FLOTUS' because it feels very Michelle Obama to me, [and another] I call 'Tracee,' because it feels very Tracee Ellis Ross to me.
She's amazing. Pressley publicly revealed her bald head for the first time in The Root's video op-ed series, "A Word." We think she looks pretty damn fierce.
[The Root]

Yr Wonkette is supported entirely by reader donations, and this month we doubled our number of mouths to feed! Please click the clickie, if you are able!
Stephen Robinson
Stephen Robinson is a writer and social kibbitzer based in Portland, Oregon. He writes make believe for Cafe Nordo, an immersive theatre space in Seattle. Once, he wrote a novel called "Mahogany Slade," which you should read or at least buy. He's also on the board of the Portland Playhouse theatre. His son describes him as a "play typer guy."