Barack Obama Is A Muslim Spaceship, and Democrats Worship Cock
News
May 15, 2009 11:30 AM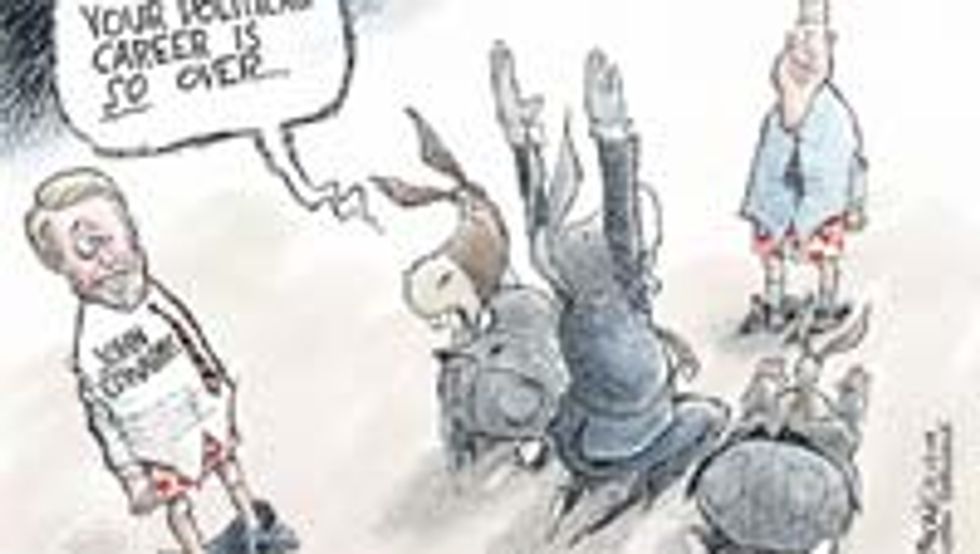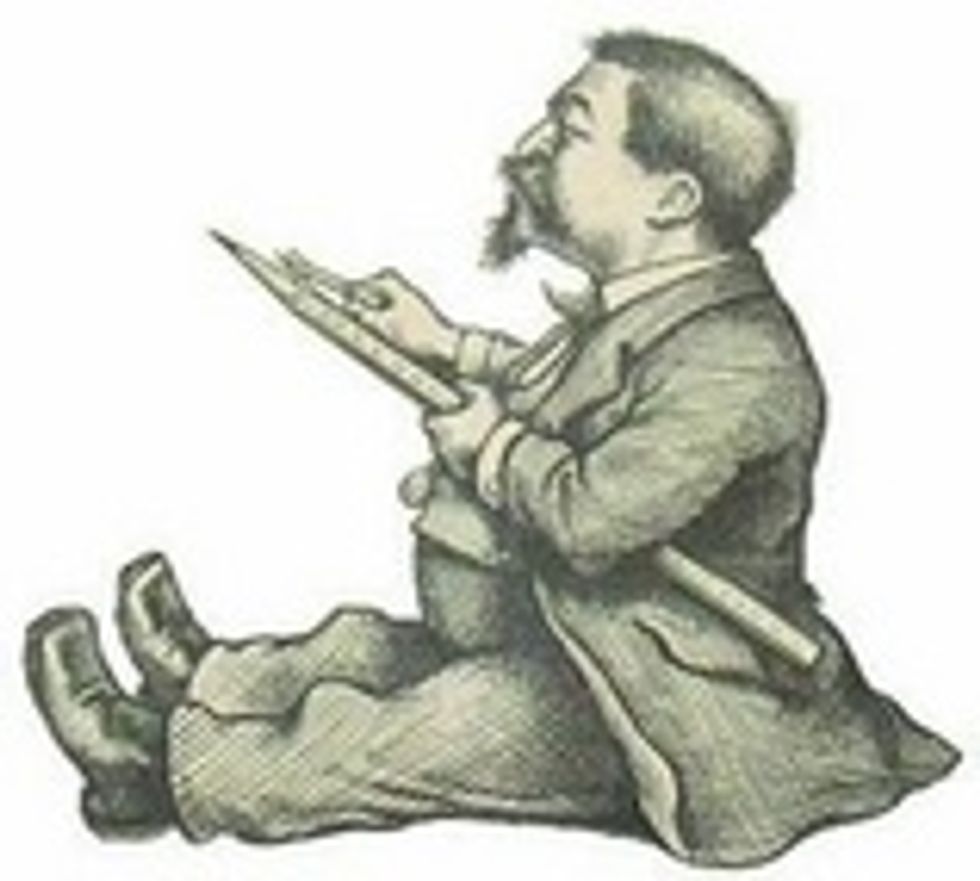 By the Comics Curmudgeon
Are you bored with run-of-the-mill conspiracies? "The Jews did 9/11!" Yawn. "Where's Obama's birth certificate?" Snooze. "The Illuminati pull the strings behind the world's government!" That's going to be the plot of a major motion picture directed by Ron fucking Howard and scheduled for summer release, my friend. No, to learn the really exceptionally deranged conspiracy theories tormenting the mind of America's most paranoid, you have two choices: you can listen to the half-understandable rambling of filth-encrusted hobos, or you can read political cartoons.

---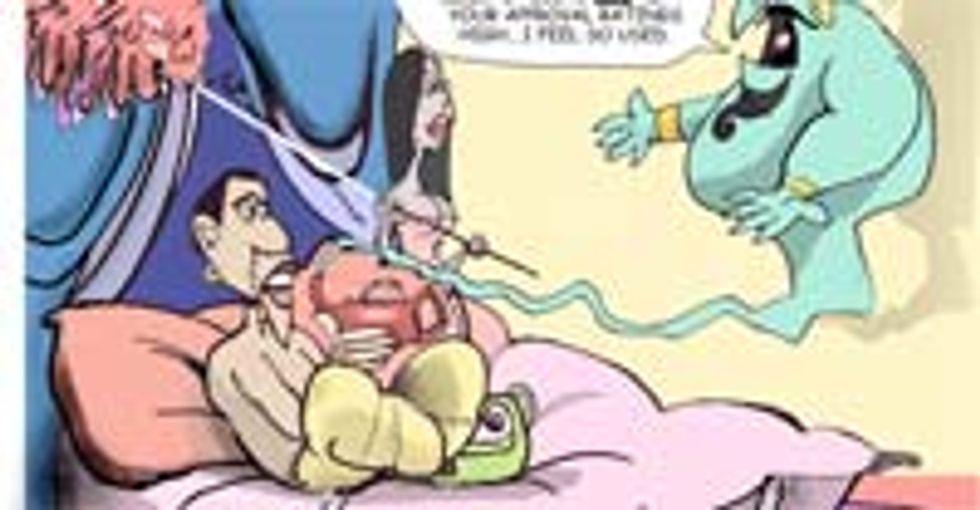 Conspiracy theory: Barack Obama is a Muslim. Oh, hey, I guess this one isn't so out there, so let's spin out a little more. Barack Obama is secretly not only a Muslim, but a Muslim ruler of the late 11th or early 12th century -- an Emir or a Sultan or an Atabeg or something -- and he likes lounging around with no shirt on and MC Hammer pants and an earring, and has a hot, nubile slave girl with big boobs fanning him. How can we trust him not sell us out to his fellow Muslim radicals, who are well known to appreciate partial nudity and sexytime with ladies? Barack Obama is also using a magical djinn to implement his policies, but this is uninteresting. Never mind the demon servants, did you hear that he's a Muslim? Horrors!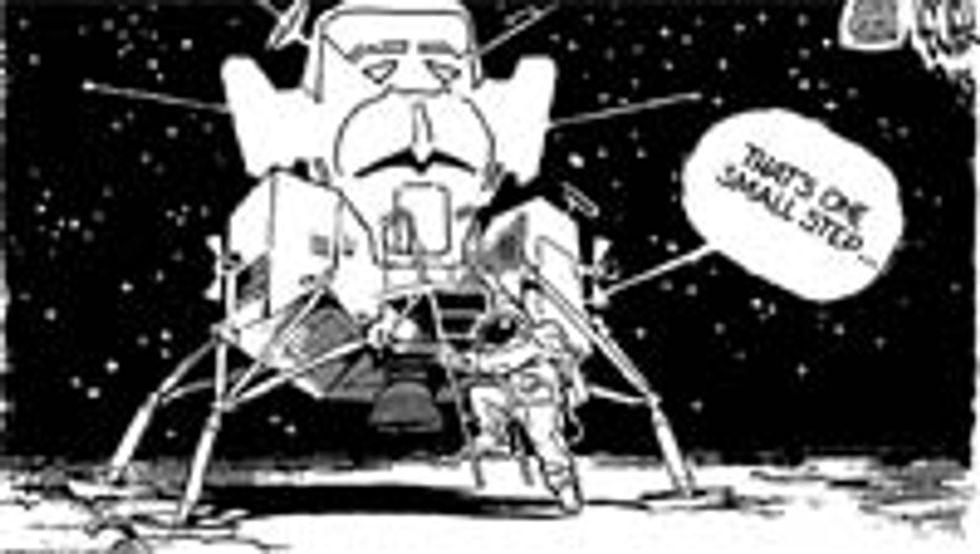 Conspiracy theory: Barack Obama faked the moon landing. Oh, sure, we all know what we thought we saw on the teevee: our brave astronauts, after a few days in the darkness of space, navigated their advanced craft, the SS Barack Obama Head, to our nearest interplanetary neighbor, then descended onto the surface to perform important science-y tasks. But if you look at the tapes -- I mean, really look at the tapes -- you'll begin to realize that they never went to the moon at all, but rather to a mysterious and shadowy location called "Govt. Run Industries." Where exactly is this place? In the depths of our solar system? A soundstage in southern California? In a depressing, sprawly office park in Montgomery or Fairfax County? Only our president, whose noble skull NASA employed for the journey, knows for sure.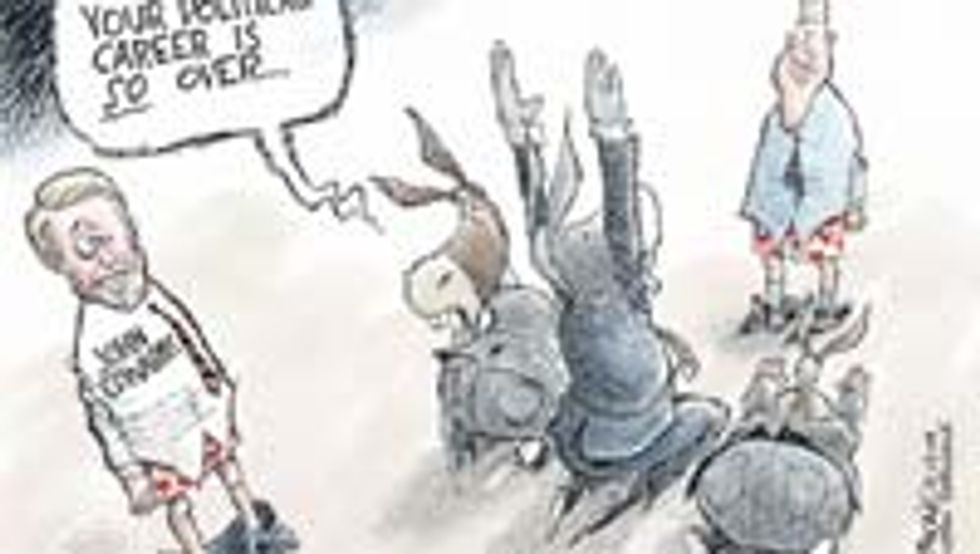 Conspiracy theory: The so-called "Democratic Party" is a cock-worshipping cult. Oh, sure, they'll tell you they're all about, uh, higher taxes for the rich, or socialized medicine, or hope and change, or whatever the hell the Democrats are supposed to be in favor of these days, but all that's a cover for what they're really after, which is: cock worship. They're not interested in actually doing anything with cocks, mind you -- that's Republican territory. They just want to bow down and be in awe of them. But not just any cocks! Only cocks that demonstrate a certain degree of savoir faire and class will qualify, which is why lovable Bill Clinton gets all the attention, while hateful sex-cyborg John Edwards must stand there shamefully ignored.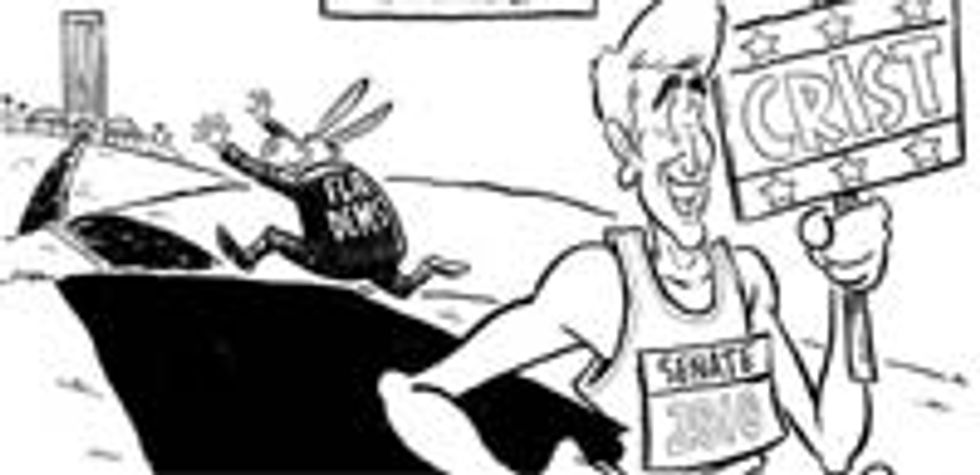 Conspiracy theory: No, seriously though, the Democrats totally love the cock. Look at that Dem donkey run! He's heading straight for Florida's insanely phallic state government complex! No, really, it honestly does look exactly like that. In contrast to the actions of our schlongophilic party mascot, Charlie Crist is doing his best to get away from Florida's government lingam as quickly as possible, scampering away in his cute little short shorts.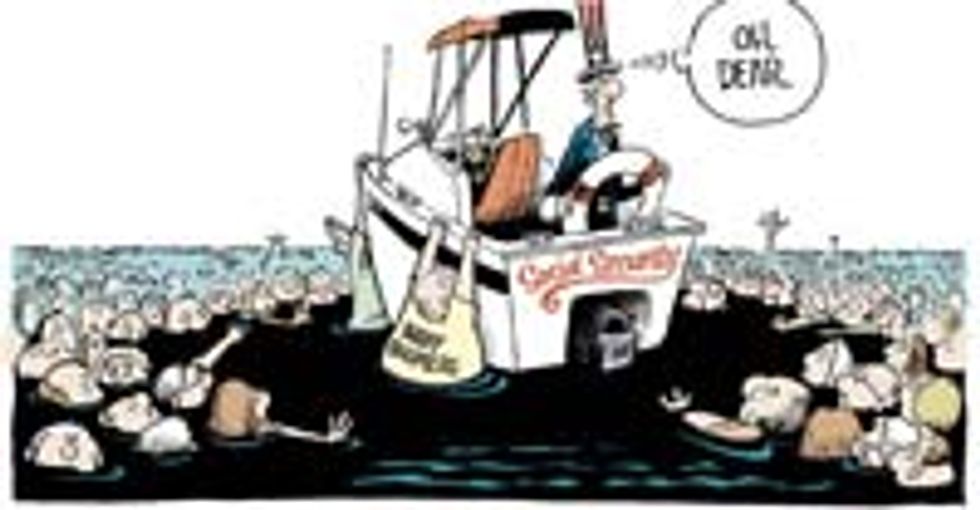 Conspiracy theory: The U.S. government is creating a secret army of zombies. Ha, "creating?" Try already created. We call these undead fiends "the baby boomers"; thanks to fluoride in the water supply, every single American born between 1946 and 1960 will be transformed into a shambling corpse rising from the murky depths upon receiving his or her "triggering signal," which comes in the form of their first Social Security check. The government can unleash this monstrous collection of lurching demons against our enemies, and, as an added bonus, won't need to issue any checks after that first one, as the zombies will feast on the flesh of the living for sustenance and will have no need for a defined-benefit retirement system.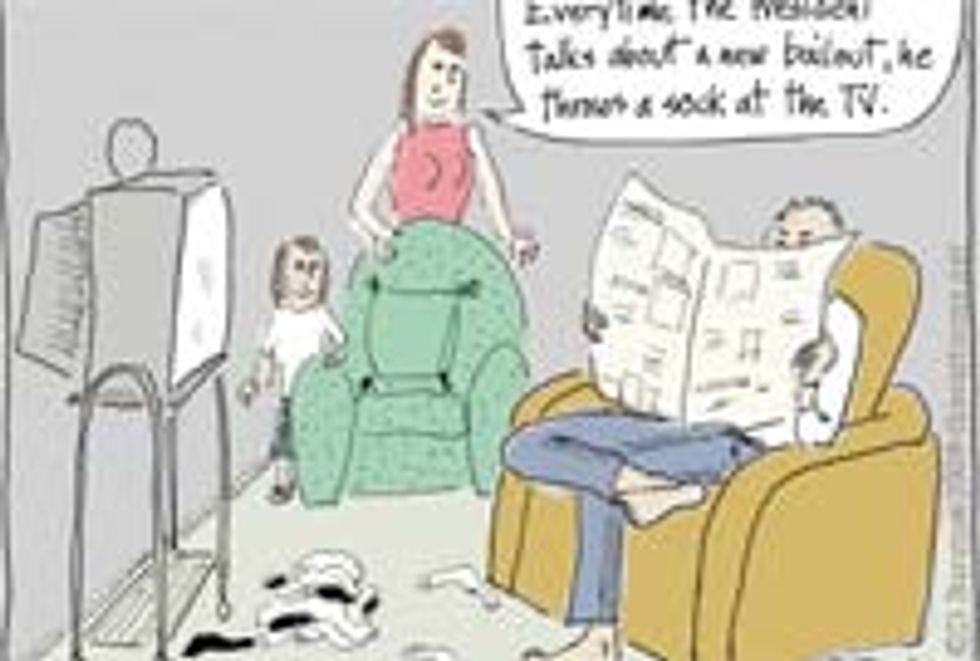 Conspiracy theory: You can make the people on the teevee do your bidding, by throwing socks at them. I mean, sure, it looks like daddy's thrown a lot of socks at the teevee, but don't you worry, the teevee people will start falling into line soon enough. And don't ask where he got all those socks after the first two. You really don't want to know.