Barack Obama Rented All This New Art To Express His Feelings About Things
News
October 07, 2009 10:35 AM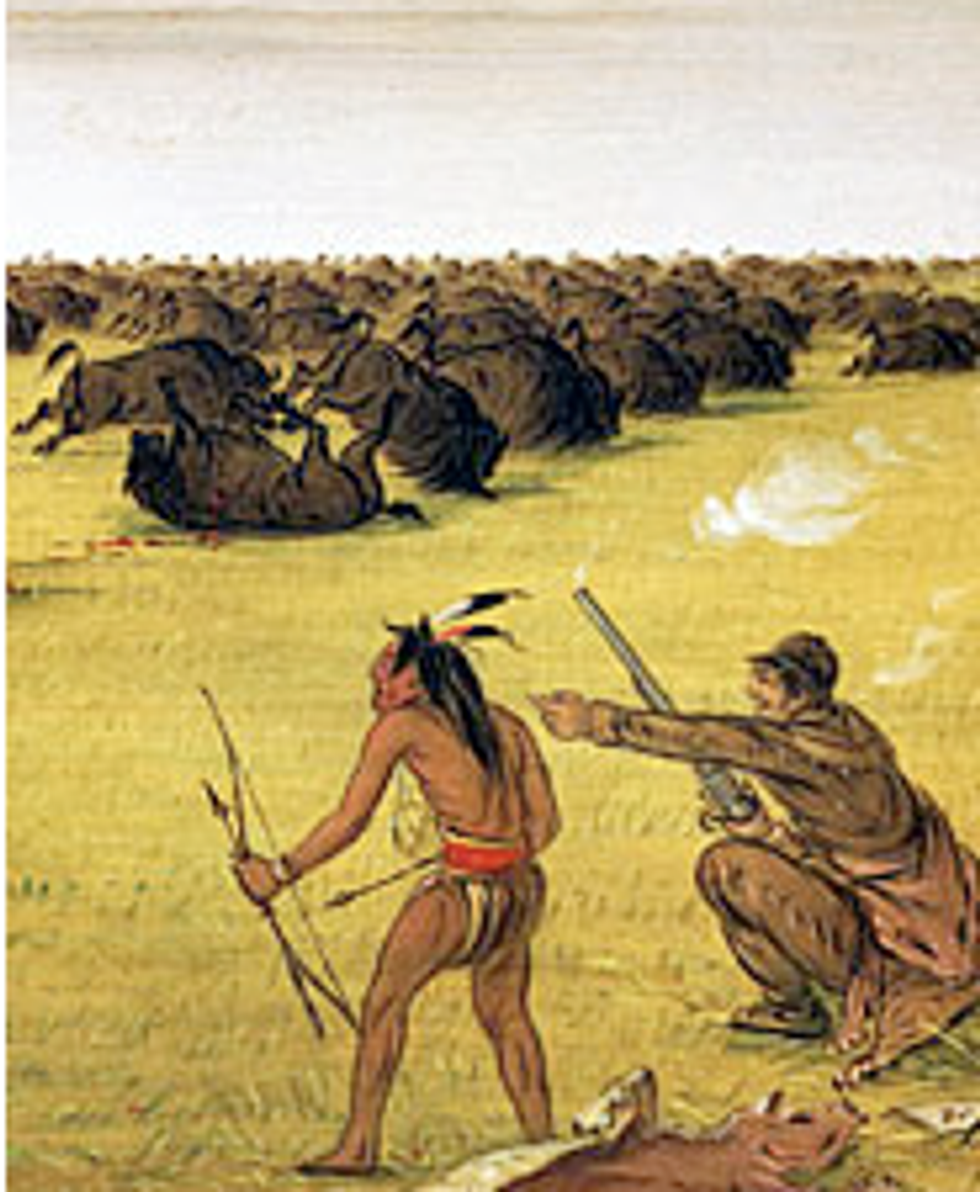 So the Obamas are replacing a lot of the landscapes and marble busts and whatever in the White House with new art that they actually like. For example, this thing over there to the right depicting two very different people who are united by their shared interest in murdering a buffalo. TheTimes, the British one, calls this a "cultural revolution." This is true! Very soon all families in America will be required to own several Rothkos, or the equivalent in buffalo murder landscapes. Anyway, let's skip pretending we're not going to do this and just go ahead and extrapolate Barack Obama's policy initiatives based on the First Lady's selection of interior decoration.
---
Because isn't there something Barack Obama is not telling us about his stance on Afghanistan when he explicitly talks about his stance on Afghanistan? Something that can only be expressed through someone else's painting?
"One of the most striking – and apt, as Mr Obama wrestles with his Afghanistan policy – is Edward Ruscha's I Think I'll ..., a painting about indecision which superimposes phrases such as 'I think I'll ...' and 'maybe ... no' and 'wait a minute' on top of a blood red sunset."
"Glenn Ligon's Black Like Me No. 2, a Hirshhorn loan now hanging in the first family's living quarters, is a 'text painting' that reproduces words from the 1961 book Black Like Me, a non-fiction account by a white man who disguised himself as a black man and travelled through the South. Ligon, a black artist from Brooklyn in New York, said in an interview that the painting's theme fitted with Mr Obama's efforts to create a dialogue between the races."
"Jeri Redcorn, a 69-year-old Native American artist from Norman, Oklahoma, said that she started jumping up and down and screaming when she found out last week that a piece of her pottery was on a bookshelf in the Oval Office. Ms Redcorn, who uses the same pottery techniques that her Caddo ancestors relied on 500 years ago, said that the Obamas' artwork selections represented 'a bridge, and a reaching out to other cultures.'"
All the journalists are so stoked to be able to use these theoried-out college words! "Create a dialogue." Mmm.