Barack Obama's Monster Limo
News
January 14, 2009 10:41 PM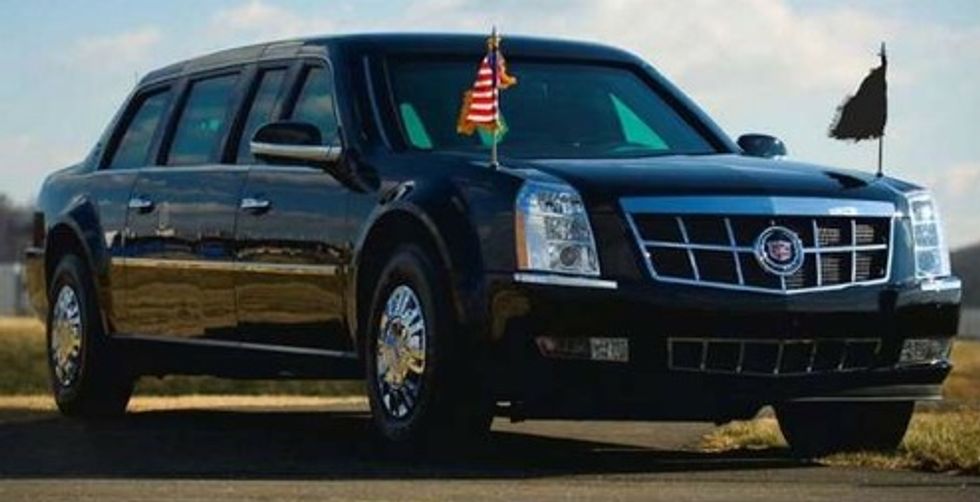 America, meet your new presidential limousine, this scary-ass legoland 100-foot-long bumper boat. It is a General Motors Cadillac!
---
The vehicle, referred to by the Secret Service as "the beast," will reportedly feature heavy armor that is at least 5 inches thick and comes complete with run-flat tires, bulletproof glass and a completely sealed interior to ward off a chemical attack, among many other high-tech security features.
That's swell and all, but it better come with a Prius or something in the trunk, so President Obama can drive home after this monstrosity breaks down, probably somewhere on Pennsylvania Avenue, next Tuesday.
As weird as it sounds to actually buy a new Cadillac, Barack Obama isn't really making a bold move to symbolically save the Detroit car industry. Presidential limos are always Caddies, and have been since Woodrow Wilson's inauguration.
Still, what a great chance to market your gas-guzzling faux-luxury brand. America's handsome young president rolls in a new Cadillac! You just know the whole Cadillac website would be all about the Obama limo, right? Right? Wait, there's nothing? Nope. Because GM is all about the Fail.
Speaking of Detroit, Obama's shitty old Chrysler is being sold on eBay. Buy It Now, for just $1 million dollars. What a steal.
Cadillac Unveils Images of New Presidential Limo [Fox News]
Cadillac Limo to drive Obama in style [Detroit Free Press]