Bill O'Reilly Pretty Sure Lincoln Would Not Have Japed And Jested With Zach Galifianakis
News
March 12, 2014 10:49 AM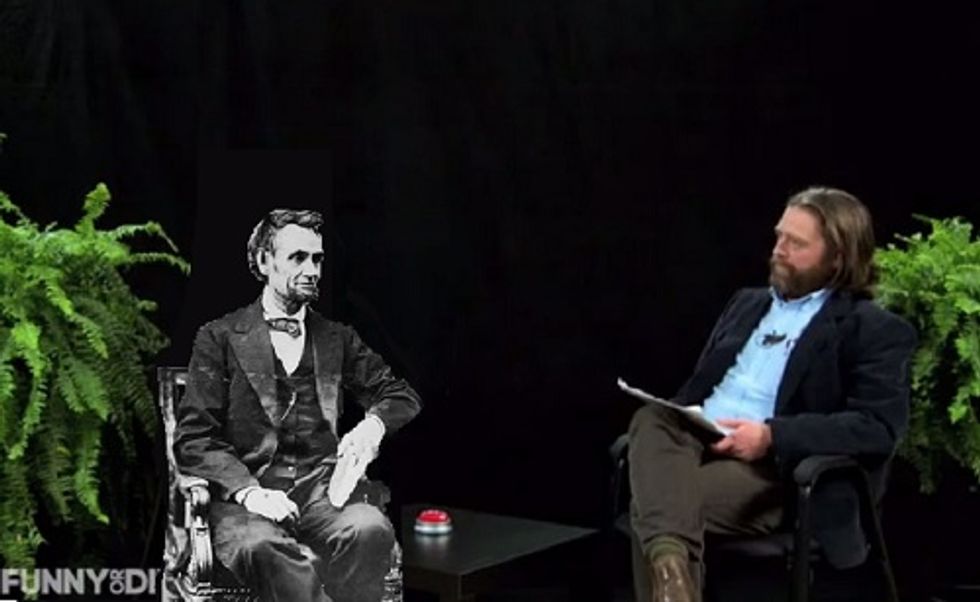 It looks like the consensus is in: Barack Obama must resign or be impeached because he was in asix minute comedy video. The presidency is obviously damaged beyond repair. And now we can add Lincoln Authority Bill O'Reilly to the list of astute scholars of What A President Mayst Do. On his Tuesday program, O'Reilly led with the scandalous scandal, explaining that based on his vast awareness of the 16th President, "All I can tell is you is Abe Lincoln would not have done it," because as everyone knows, Lincoln never went on any social media at all. Billo also suggested that the video was a sign that Obamacare must be a complete failure, asking whether "Using a comedic web site to enroll people is a little bit desperate, don't you think?"
---
Maybe it is! Though maybe it's not quite as desperate as having a snit fit just because somebody else had a far better interview with the president than O'Reilly did.
O'Reilly claimed that he wasn't really all that bothered by the video, but he does think that its release during the Great Big Crimean Crisis will probably encourage Vladimir Putin to do terrible things:
"Looks like Putin believes the president is a lightweight," he said. "Will a comedy video counter that? ...

"There comes a point when serious times call for serious action," O'Reilly said. "We're a divided nation which talking points believes is in decline. Mr. Obama is quick, has a good sense of humor, those are assets. But he needs to be aware, he needs to be aware of how his enemies perceive him, because I believe the testing of America is just getting started."
This is so very true. Doesn't Obama know that the proper thing to do during a crisis is to go to your ranch and clear some brush? That instills a sense that you are not bothered by the actions of a petty tyrant halfway across the world, while being in a comedy video shows that you are a weakling who enjoys the laughter and the rolling over for your enemies.
And the concern trolls continue to be concerned -- this morning, political talk show android David Gergenbot 5000 tweeted,
Unimaginable that Truman, Ike, JFK, Reagan would appear on Between Two Ferns. They carefully protected majesty of their office.
Yes, as we all know, presidents who fail to communicate using the prevailing tropes of thirty to sixty years ago are doomed to be unsuccessful. Quick, Obama, do something like Ike would... like maybe go golfing.
Our only question, assuming that this has become A Thing, is whether the scandal will become known as Fernghazi or Galifianakisgate. We're rooting for the latter, if only for the inevitable misspellings. But at this point, it's entirely possible that the criticism will continue to build, and that the administration will need a distraction from this sideshow. So don't be surprised when, within the next few days, Joe Biden farts on an ambassador.
[Mediaite]