Blame The Black Guy. Wonkagenda For Thurs., July 19, 2018
Russia
July 19, 2018 08:57 AM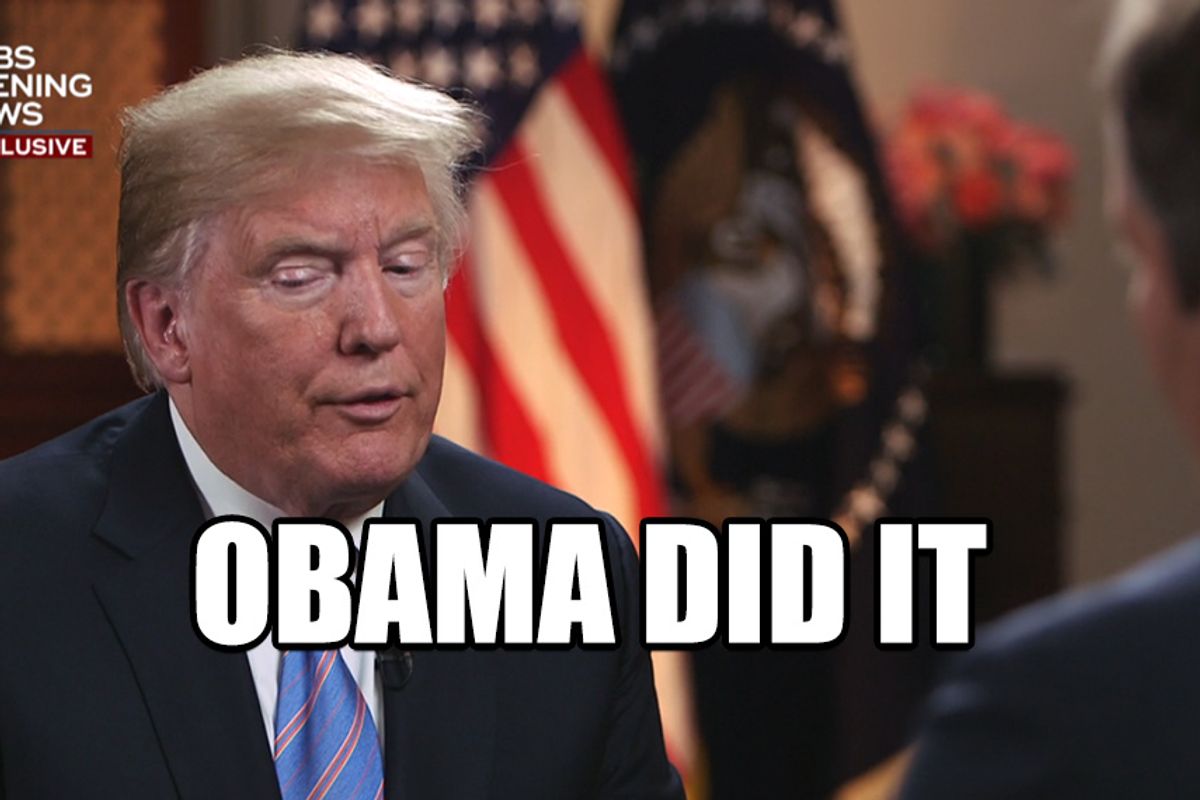 Morning Wonketariat! Here's some of the things we may be talking about today.
---
The schizoid narrative Trump has pushed about Russian fuckery is at direct odds with US intel officials who tell the NY Times that they showed Trump proof of that election fuckery two weeks before he was inaugurated. That included emails and text messages between top Putin aides ordering the campaign, material stolen from the DNC passing through Russian military intelligence networks monitored by British, Dutch and US intelligence agencies (and sent to Wikileaks), and even past examples of Russian intrusions in US defense networks and systems. But there was NO COLLUSION!

At the end of yesterday's episode of White House Apprentice, Trump appeared to say Russia was no longer screwing with the US. Sarah Huckabee Sanders came out a short time later to say that no, we didn't actually hear what we heard.
Russian officials have been trolling the US by talking about "important verbal agreements" made between Trump and Putin, and now the Pentagon is frantically trying to figure out what the fuck Trump just did.
Trump sat down for another interview with CBS's Jeff Glor where he bullshitted his way through a condemnation of Putin and election fuckery, shittalked Joe Biden, and blamed Obama for Russian fuckery.
Republicans are taking turns borrowing Marco Rubio's retractable spine to criticize Trump's continued spin on Russian fuckery.
Sarah Huckabee Sanders says Trump is considering handing former US ambassador to Russia Michael McFaul and Bill Browder over to Putin for a little chat, but State Department spox Heather Nauert called the idea "absolutely absurd."
Buzzfeed News has an in depth story about Lane Davis, the "alt-right" neo-Nazi troll who went from peddling conspiracy theories to murdering his dad last fall.
Trump's company failed to pay property taxes in five states last year, and now real estate experts are wondering if DJTJ and Eric are competent enough to run the family business.
DJTJ and Eric have cost taxpayers almost $250,000 in Secret Service protection while they traveled around the world promoting the Trump family business.
The Senate is flummoxed over the Trump administration's lack of concern about the more than 2,500 children being held in Trump's baby jails -- to the point where Sen. Catherine Cortez Masto actually asked if HHS Secretary Alex Azar was a robot during a heavily scripted conference call.
Later today the House will start negotiating the farm bill under the premise that poors will pressure their reps to support work requirements for food stamp recipients. Maybe you should give them a call?
Amid fears that climate change might trigger massive flooding ahead of midterm elections, the House is trying to rush through an extension on flood insurance coverage, but it's unlikely to sail through Congress as nobody can agree on subsidies, premium increases, debt forgiveness, and private insurers.
House Republicans have scheduled a vote for an anti-carbon tax bill today with the hope of using it against Democrats this fall, but the plan could backfire as vulnerable Republicans are already looking for trees to hug.
Despite blood curdling screams from geeks and the intel community, House Republicans plan to deny additional funding for election security later today.
Devin Nunes is fighting the "band of creeping correspondents" at his local newspaper who keep reporting on his shady dealings. With the largest war chest of any House Republican, and his own fake news website, Nunes is trying to paint himself as something other than a traitor. Good luck.
NICE TIME: City legislators in New York have passed a bill that will allow inmates at Rikers Island correctional facility to make free phone calls.
Police in the UK have ID'd several Russians suspected of poisoning former Russian double-agent Sergei Skripal and his daughter Yulia.
Some of the biggest names in tech have pledged not to develop killer robot AIs, but experts stress that the definition "lethal autonomous weapon" is fuzzy, and many countries are already clamoring for kill-bots.
Kara Swisher, the Ed Murrow of Silicon Valley, had a chat with Mark Zuckerberg on her most recent podcast. Zuck attempted to defend Facebook from allegations that it's complicit in Russian cyber fuckery and being an outlet for conspiracy peddlers and trolls, and pushed back against calls for regulation. After he appeared to defend Holocaust deniers, Zuckerberg later clarified his views ... and kind of things worse. [Transcript]
The Brady Bunch House is for sale, but some of the potential buyers are considering tearing it down since nothing is sacred.
And here's your morning Nice Time!
We're 100% ad-free and reader-supported, so consider buying us coffee, or get a subscription!
Follow Dominic on Twitter and Instagram!
Dominic Gwinn
Dominic is a broke journalist in Chicago. You can find him in a dirty bar talking to weirdos, or in a gutter taking photos.