Bob Dole Wants To Make Taiwan Great Again! Wonkagenda for December 7, 2016
Science
December 07, 2016 10:34 AM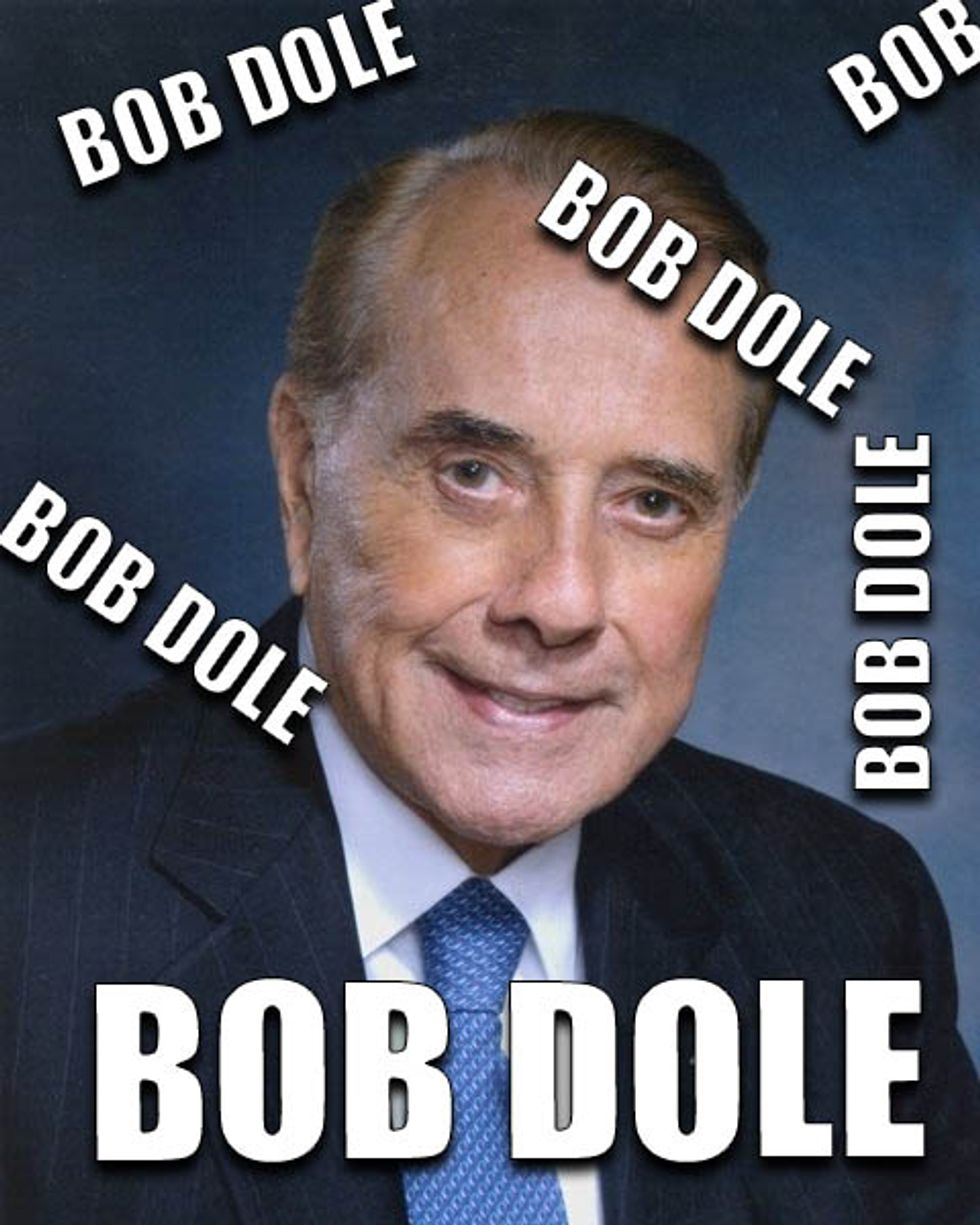 Bob Dole knows you forgot all about Bob Dole, but Bob Dole remind you!
---
Morning Wonkers! Here's some of the stories we might be talking about today!
Today is the 75th anniversary of the attack on Pearl Harbor. The Washington Post says that even if it had never happened, the U.S. and Japan would probably have gone to war anyway, and notes that the word "infamy" almost didn't get included in FDR's famous speech.
Not only will you be surprised to find out that former Republican presidential nominee Bob Dole is still around lobbying (he's 93 years young), but Bob Dole may have had "some influence" setting up Trump's Taiwan call. Formosa's unofficial embassy-substitute has been regularly paying Dole to lobby various Congress critters for weapons, TPP membership and access to elected officials.

Trump's team is saying he sold all his stock in June which would mean that he missed out on the the freak (yet, totally expected) stock market rally and spikes, but he STILL won't release his tax returns. Why would he do that?
Time magazine named Donald Trump its "Person of the Year," which is both no surprise and your strongest argument that 2016 sucked the hardest. Say, You know Who Else won that?

The House has told the tea party crazies more commonly known as the Freedom Caucus (because they want to take away your freedom to go pee-pee, get it?) that planned impeachment proceedings for IRS Commissioner John Koskinen will go back to the House Judiciary Committee to quietly wither away, proving that the House leadership is just a bunch of jerks, not lunatics.

Senate Republicans slipped a resolution to waive a longstanding law that bars General James Mattis from cabinet positions into a spending bill that has to pass lest it shut down the government; debate will be limited to only 10 hours. Quickly, let's all go to C-SPAN and study all those times Ted Cruz and Newt Gingrich acted like A Idiot!

Trump named Iowa Gov. Terry Branstad as ambassador to China which only makes sense, given the old expression "As goes Dubuque, so goes Beijing." Apparently it's all about soybeans.

Trump is taking credit for a Japanese state-owned bank's investment into the U.S. tech sector, even though the deal is primarily financed by Saudi Arabia and was solidified in October, because Trump's idea of an announcement is literally showing reporters paper printouts of PowerPoint slides!

People in West Virginia can't wait for Donald Trump to repeal regulations protecting coal states from death and environmental catastrophe, so now all the jobs that were mostly lost to automation and cheap natural gas will magically come back. That pesky Occupational Safety and Health Administration will finally mind its own damn business instead of making people wear safety hats and post warnings at work!

Corey Lewandowski says Trump has made it OK to say "Merry Christmas" again instead of Happy Holidays, or Happy Hanuka, or "Have a good freakin' Festivus," just in time for you to you blow $40 for an "official" presidential Trump hat for that special drunk uncle in your life.

Let's all take a deep breath right now and revel in the fact that Chris Christie has a 19% approval rating, the lowest for any governor ever, and most people think he should face charges over Bridgegate.

Some god-awful show that reveled in "alt-right" garbage has been canceled after its network received numerous complaints when was discovered that the shows creators were hiding swastikas in shots and saying racist and sexist crap on the show and Twitter.

The Weather Channel took Dead Breitbart to school for a bogus story about climate change that cherry-picked facts and used edited video to deny climate change despite the 100% scientifically accurate truth that 2016 was the hottest year on record. That is, dare we say, COLD BLOODED!

During a book-talky thing last night in Washington, Megyn Kelly said she's super steamed Donald Trump's social media director keeps winking and nudging people on the Internets to say mean, nasty, and horrible things to her on Twitter just because she won't jump on the Trump train and ride it down to Skidrow with the rest of America.

And here's your morning Nice Time, Klipspringer calves! They're wee African antelope that are similar to a dik-dik, but with horns and pointy hoofs so they can hop around on rocks. Time for all the dik-dik jokes!
Dominic Gwinn
Dominic is a broke journalist in Chicago. You can find him in a dirty bar talking to weirdos, or in a gutter taking photos.