Books Not Bullets! Wonkagenda For Mon., March 26, 2018
Guns
March 26, 2018 08:58 AM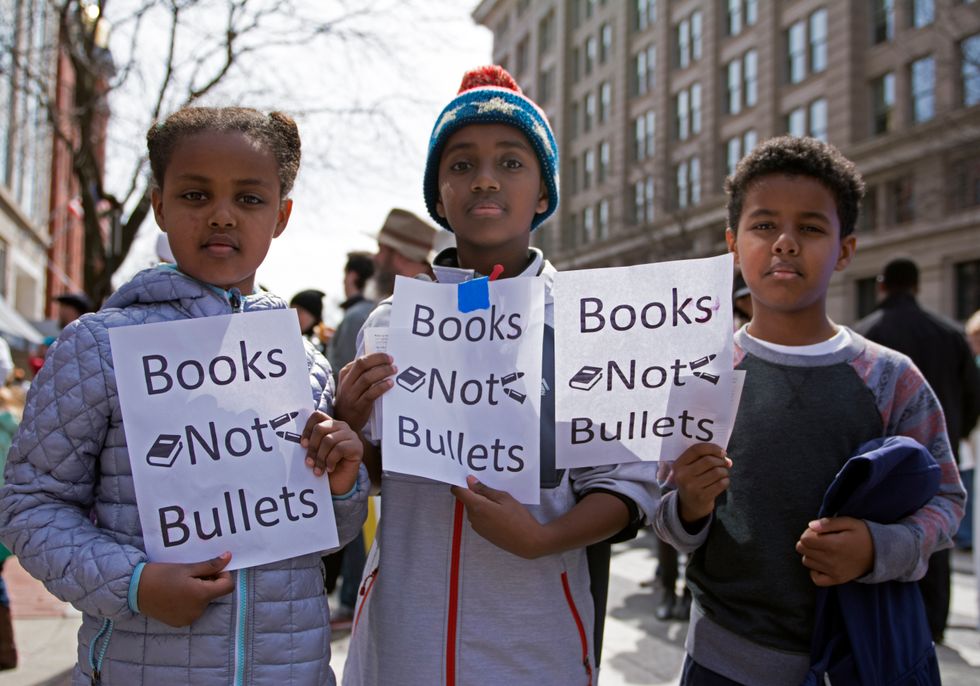 photo by Dominic Gwinn
---
Morning Wonketariat! We're still on the road, but here's some of the things we may be talking about today. And if you're in West Virginia, come see the editrix and her family TONIGHT at the Black Bear downtown, 132 Pleasant St., Morgantown, 5:30 to 7:30 p.m.!
Hundreds of thousands of people descended on Washington DC to protest against gun violence and call for tougher gun laws Saturday, and we were there!
The Pope is getting behind students marching for gun control too, telling a crowd gathered at Saint Peter's Square for Palm Sunday Mass that young people should "cry out" if the olds keep quiet. Christ, what a commie!
Iowa Republican Rep. Steve King is being an asshole (again) after a meme mocking Parkland survivor Emma González for wearing a Cuban flag while crying during the March for Our Lives was posted to his social media page.
Rick Santorum was frothing at the mouth (again) when he went on CNN to spread around the idea that CPR could save victims of school shootings.
Trump's legal defense is collapsing this morning after the dynamic duo of Fox News talking heads Joseph diGenova and Victoria Toensing bailed out over "conflicts," leaving Trump on his own.
George Nader, the Trump money man squealing to Robert Mueller, ALLEGEDLY paid $2.5 million to Elliott Broidy, a big GOP fundraiser, for policy proposals favorable to the UAE.
During the inauguration, Broidy acted as a gatekeeper, only opening the golden path to Trump for big spenders.
A number of former employees from Cambridge Analytica have come forward with details about their microtargeting operation, "Project Ripon," and how they ignored legal warnings not to use foreign nationals in US elections.
The parent company of Cambridge Analytica was screwing with elections as far back as 2007, according to their own advertisements boasting about politically subversive tactics in "shithole" countries.
New emails show that George Papadopoulos was encouraged to foster positive relations with Russia, and pro-Russian governments, by top Trump campaign officials.
Stormy Daniels was on "60 Minutes" telling everyone about that time she flogged Trump's ass with Forbes, and revealed that she and her infant daughter were threatened after their affair. WHOA, if true!
Steve Mnuchin got a crash course in constitutional law from Chris Wallace when he went on Fox News Sunday to bemoan Trump's inability to make line-item vetoes, but he didn't seem to be be paying attention.
Trump reportedly wants to "You're Fired" VA Secretary David Shulkin after finding out healthcare for veterans is hard.
More cuts to the Federal Labor Relations Authority are drawing the ire of former government officials who are warning against shitting on federal workers.
Matt Jones is a liberal sports radio guy challenging Mitch McConnell, railing about the benefits of speedo-wearing pro-wrestlers aborting NASCAR babies in Bourbon country.
Pennsylvania Republican Rep. Ryan Costello won't seek reelection because reasons. These reasons have nothing to do with the prospect of losing reelection. Nope.
Marie Newman is pissed the Chicago machine came out roaring for Rep. Dan Lipinski, and she's promising a rematch.
Republicans are scheming up new ways to screw around in the rurals by pitting Democrats against each other, hoping that infighting lets them keep seats in November.
Prospective Democrats are hoping to harness support from young people by criticizing the NRA, and that has political strategists warning about gun fetishists.
Now that Trump has plunged the US into a trade war with China, Steve Mnuchin is negotiating the terms of surrender with Chinese officials after global markets took a swan dive last week. [Archive]
The "Lost Mothers" series by NPR and ProPublica has helped to push awareness and legislation in red and blue states protecting new and expectant mothers. See? Good journalism DOES make a difference!
And here's your morning Nice Time!
We're 100% ad-free and reader-supported, like your local library, but with snark and dick jokes.
Follow Dominic on Twitter, and look at pretty pictures!
Dominic Gwinn
Dominic is a broke journalist in Chicago. You can find him in a dirty bar talking to weirdos, or in a gutter taking photos.