BREAKING: Is Chuck Schumer A Hipster? (No, No He Is Not)
News
July 12, 2010 09:38 AM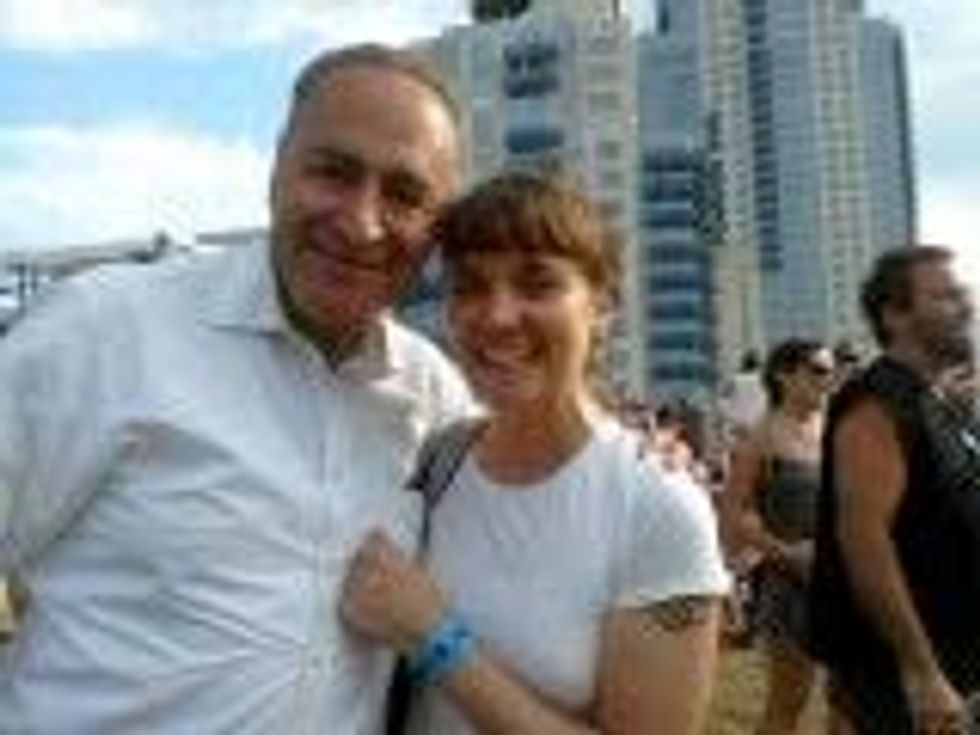 No, your eyes do not deceive you: That is in fact a tiny cell phone picture of some nice lady giving Chuck Schumer a "purple nurple." Would it surprise you to find out that this lady is a faithful Wonkette fan? Probably not! Would it surprise you to find out that she molested New York's senior senator at some unbearably hip outdoor concert in Williamsburg (the Brooklyn one, not the colonial one) and that Chuck Schumer single-handedly saved that show, only to be met by baffled disdain from New York's apathetic hipsters? That may in fact be mildly surprising, so read on for the details.
---
Wonkette hero correspondent "j0lt" has this report, which she thoughtfully sent to us rather than to (or in addition to?) Vice magazine:
This was Sunday at a free, outdoor show (Deerhoof & Xiu Xiu played Joy Division's entire Unknown Pleasures album!) at Williamsburg's East River State Park. I think somehow Schumer was responsible for keeping the show from getting canceled (bribed/threatened NY State Senate with sexual favors? Just sayin'). In return, he was allowed to walk around the crowd for a few minutes. Pretty much no one knew who he was. I was drunk and suffering sunstroke, so of course I mobbed him and demanded his picture. I was supposed to be giving a thumbs-up, but wasn't quite able to manage it -- I look like I'm either clutching his fancy button-down, or giving him a companionable punch in the ribs, as if to say, "Oh Chuck, who really needed financial regulatory reform anyhow?"

Also, just before Deerhoof et al. took to the stage, Schumer tried to mumble something into the mic (something about his nana in Brooklyn?), but the sound guys kept cutting his feed; really, no one in the audience cared at all, it was pretty sad. Then he wandered off, and the crowd resumed/continued to look bored/superior/really really thin throughout the entirety of an amazing performance.
Because this picture is only from the waist up, we cannot confirm or deny reports that Schumer was wearing suddenly-hip-again-for-some-reason cut-off jean shorts.